An aspect of business phone systems that is often overlooked is extension dialing. While less glitzy than internet chat, dashboards for queues, and company tools connectors, it facilitates easy, quick, and effective communication among coworkers.
We've gathered some useful details on this time-tested calling feature, how to call an extension on an office phone, how to dial an extension on a smartphone, and best practices to adhere to while setting up your extension dial plan. So, continue reading to know more!
What are Extensions and How do You Dial An Extension?
On a corporate phone system, extensions are numerical shortcuts to call a particular user, utilize a particular function, or go to a specific place. Usually 2 to 4 digits long, they are listed sequentially, and each extension is only used for one user or function.
People who share the same phone system can quickly call a colleague by simply dialing his extension on their phones. This practice is known as extension dialling. dialingIf you're familiar with the expression "If you know your party's extension, you may dial it at any moment," then you know exactly how this works! If someone outside the organisation knows a specific employee's extension, she can only call it after first dialling the main office line and following the instructions.
Your phone system's various functions and destinations can be assigned extensions, like voicemail boxes and hunt groups. The benefits of tying extensions to these features are numerous. If you see that a coworker is on another call, you can send the caller directly to their voicemail box, for instance. Additionally, you can transfer callers straight to the sales or support queue without requiring them to go back through the attendant menu and choose the appropriate menu option.
How to Dial An Extension on An Office Phone?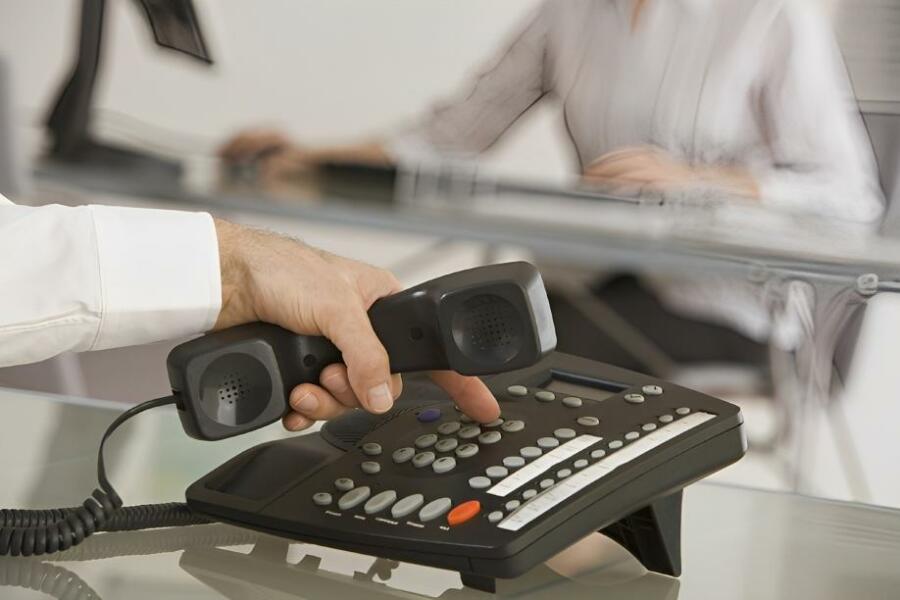 Make sure the phone you are using is connected to the phone system at your place of business. You use your phone's keypad to dial the extension and then press the Call button. You'll be connected to that extension through the system.
The procedure is the same whether you're on a PC, laptop, or mobile phone using a VoIP service's softphone. Make a new call on the softphone, enter the extension of the person you like to speak with, and then click the Call button to connect.
How to Dial An Extension on Smartphones?
By following the below-mentioned steps, you can easily dial an extension on your smartphone:
On your smartphone, open the Phone app and use the dialer to call the specified number.
If you are aware of the extension and do not want the automated call to redial the menu, you can add pause and add the extension number straight to save time.
The "star" button, located in the bottom left corner of the dial pad, can be long-pressed. Your phone number will now have a comma or a pause. You can dial the extension after the pause function has been correctly played, and the call will be immediately forwarded to the appropriate department.
By holding down the "hash #" key on your keypad for a prolonged period, you can add a "wait" when dialing the intended phone number, and it states that you can only dial the extension after the entire menu has played. The call will be automatically routed to the desired caller if you add your extension after adding "wait."
You may add your extension after implementing the wait or pause feature.
You can save the extension-equipped phone number so that you can call the person directly the next time you need to with the extensions already set up.
Best Practices for Your Extension Dial Plan
#Create An Extension Structure and Follow It
It's advisable to take your time and develop a strategy you'll follow while developing extensions for your organisation. Make all your extensions the same number of numbers, whether 3, 4, or 5. We recommend that you arrange the extensions to be 4 digits long and begin with a "7."
#Keep Extensions in The Proper Order.
When a new user is added to your phone system, make their extension the next number to appear on the dialing sequence. If the previous user's extension was 7049, the new user's should be 7050.
# Don't Start Extensions with A "1"
If you have a set-up auto attendant menu, starting your extensions with a "1" could lead to problems. If a caller hits "1" while trying to reach extension 110, the operator can connect them to option 1 of the menu rather than the extension they intended to reach.
Before routing people to extension x05, your phone service will automatically set them up for an outgoing line. Additionally, consumers of particular phone plans must dial a specific digit to receive an outgoing line. Don't begin your extensions with that number, whatever it may be, if it is part of your strategy.
Summing Up
Essentially, this is how you dial company calls when using extension numbers. For instance, if my wife needs to call me on my workplace landline, she can dial the office number and add the extension 399; this will cause the call to be instantly sent to my office phone.
This is a very helpful feature for businesses, but since we are all always carrying our cell phones, it may seem like we no longer need extensions.
Also read: Top 12 Reasons – Why is Workplace Safety Important?