A collection of images or items arranged in a way to support you in realizing your objectives or vision are called a vision board. This board may be digital or real.
The use of vision boards is quite flexible. They can help you realize your individual objectives or create a visual depiction of your particular mission statement. They're ideal for assisting you in visualizing your ideal existence. However, you can also utilize a vision board to list your career aspirations.
For long-term objectives, such as realizing your five-year plan, you can use a vision board. Or you could make a vision board for the coming year.
Please take note that the below-mentioned guide is my standard procedure. You are welcome to use parts of these instructions and make up the rest on the spot. Create your method! Below, we have provided some suggestions for other formats and procedures that you could find useful if you want to learn more.
How to Create A Vision Board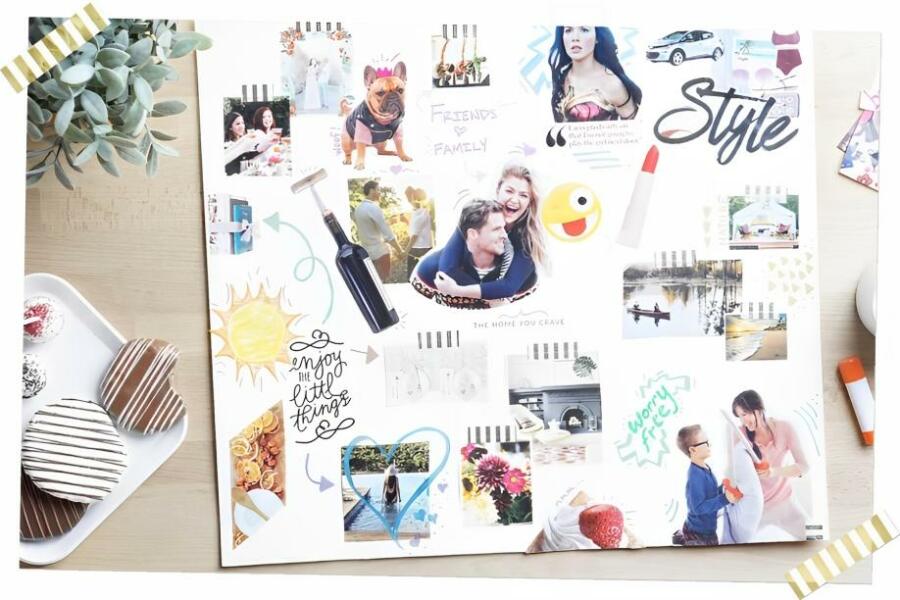 Performing A Status Review
I first take a seat with my journal and think back on the previous year. This first phase gives me the chance to reflect on where I am right now, what is going well in my life, and what isn't. I enjoy taking stock of the last year, noting what has happened, what objectives I have attained, what I have learned, and what I am thankful for. The groundwork for everything else is laid in this step.
Prioritize Your Objectives
With paper and a pen in hand, I then take a seat and consider my objectives for the upcoming year. This first step is my massive brain dump, and it contains everything from my big dreams and goals (write a book, learn how to meditate, take the family on vacation), to my smaller wish lists (like getting a new vacuum), intentions (like being more mindful and better connected with my family), and words for the year (clarity, joy, peace).
Look For Symbols and Words to Put On The Vision Board
It's time to look for and then copy any words or images that best describe your objectives or simply call to you. This move is great. I read a stack of magazines (generally from the free stack at the public library or bought for a quarter each from Goodwill). Then I cut out all of my favorite colors, words, and interesting pictures. However, I'm also looking for symbols and words that are connected to my objectives.
In addition, I run an image search on the computer if I can't discover a suitable image for a particular objective or intention. In truth, I use the internet more and more these days to find the ideal pictures to convey my objectives. It's so simple to conduct an image search to locate a specific item because there is so much information available.
My finished goal boards are a combination of words, graphics I print off the internet, and images from magazines.
Make The Vision Board's Basic Structure
This step is optional, but I frequently do it because I enjoy it so much. I occasionally cut the poster board into a nine-section and other times I create life area parts using radiating lines that extend outward from a central point.
Even though it's optional, it can help keep your objectives and vision board well-rounded by offering a great framework and some basic life themes.
Build The Vision Board
You should now arrange your words and graphics on your poster board. So, with your poster board in front of you and your collection of photographs nearby, sort through the images to determine what belongs there, then roughly arrange it in the portion where it will be. If you'd like, remove backgrounds or crop pictures as you go. Then proceed through the collection of clippings. Others of the photos will be placed on the poster board, some will be placed in a "later" pile to be used in a collage in the future, and some will simply be recycled.
Glue Everything Together
Start gluing everything down after you're happy with the layout. Turn each text or image over, add a coat of glue with a glue stick, and then adhere it to the poster board, working with one at a time. Use your hands to smooth it out as much as you can.
Embellish!
Another optional step, but one that adds creativity to the end of your vision board. With Sharpie markers, add your text, doodles, or sketches over and around the collaged images. You can also glue on enjoyable collage components like sequins, glitter, lace, ribbon, or anything else you like.
Show Off Your Board
When you're finished, hang your vision board someplace you'll see it often. The living room, bedroom, or office comes to mind. Making a vision board is crucial, but it's just as important to keep it in view. It can be taped to the wall without being previously framed. Moreover, photograph the vision board. This digital rendition could serve as your phone or computer's background image.
As A Road Map, Use Your Vision Board
The creation of the vision board is just the start! It's time to put it to use as a roadmap for -your new future.
You Can Accomplish This in A Variety of Ways, Including:
Make an action plan for your goals (then follow it through!)
Examine your to-do list for the day or the week as you make it on your board.
Journal about the goals that are written on the board.
Practice visioning exercises by closing your eyes and visualizing yourself reaching your goal.
Get assistance in the areas where you are aware that you may use it.
Conclusion
So, this was a complete guide and some tips that you may follow to make your vision board and follow your dreams. Stay tuned for more such upcoming posts!
Also read: Explore Art and Craft the Vinyl Heat Printing Way – Simple Steps to Follow