Do you like playing word games? Well, then, Bananagrams will indeed interest you. Needless to say, it is a fast-paced competitive word game with similarities to both Scrabble and Boggle. So now you might be wondering about what Bananagrams rules are. Unlike Boggle, the gameplay here happens quickly and does not involve turns.
So like Scrabble, each player builds their own interlocking grid of words until they have used all the letters. Therefore, try an alternate version of the game if you are playing alone or want to speed things up a bit. This can be an interesting game if you know and apply the rules well while playing.
In today's article, we will share some of the exciting aspects of Bananagrams rules with our readers, which will help them win the game. Stay tuned to us to know all the relevant aspects. Let us take a quick glance!
What Are The Traditional Rules That You Need To Follow To Play Bananagrams?
If you love playing word games, you will indeed love playing games like Bananagrams. However, before you delve into the game, you need to know some of the game's basic rules to proceed smoothly. The game is pretty simple if you know the rules well. Stay tuned to this section to know some of the significant aspects of this word game. Let us find out!
Bananagrams Rules: Place All The Tiles Facedown On A Flat Surface
You need to unzip the banana-shaped pouch and dump all 144 letter tiles in a central spot within everyone's reach. Playing on a hard, flat surface like the floor or a table is best. However, remember no letters should be visible once you have flipped over all the tiles. This group of facedown tiles is known as the "bunch."
Each Person Takes A Set Amount Of Tiles, Depending On The Number Of Players
If you are playing this game for the first time, you need to know that the number of starting tiles for each player is determined by the number of people playing the game. Moreover, you can also play Bananagrams with a minimum of two people and a maximum of eight.
For instance, for two to four players, draw 21 tiles each, and for five to six people, you need to draw fifteen tiles each. However, you need to draw eleven tiles each if there are seven to eight people. Now let us move over to the next important rule.
Start The Game By Saying "Split" And Flipping Over Your Tiles
Well, this is the signal for everyone to flip over their tiles so the letters remain upside down. So as you turn over your tiles, you should start thinking about words that could be formed using these letters. Therefore, you can understand now that the game is pretty simple and interesting. All you need to follow are the Bananagram rules.
Arrange Your Tiles Into Words That Intersect Like A Crossword
Are you playing the game for the first time? Well, then, you need to arrange the words vertically or horizontally. But remember to arrange it in a different way. Well, the goal here is to first use all of your starting letters in your words grid. Here you cannot use proper nouns or abbreviations.
If you have played the game previously, you will know that each player here creates their own personal word grid. This is unlike Scrabble, where all players add to one group grid. However, all players need to take part simultaneously as there are no "turns" here. But consider starting with a longer word which will provide more chances to you to form new words.
Exchange One Letter Tile For Three New Ones If You Are Having Trouble Using It
Now that you have proceeded here, this stage is known as "dumping." Needless to say, many people dump tiles if they have too many vowels, too many consonants, or just tricky letters like an "X" or "Q." You can place the tile you are dumping back in the bunch, say "dump!" then draw three new tiles.
However, be careful to dump your letter far away in a pile, so you wait to pick it up immediately if you draw again. This is a simple rule you should follow to play the game well.
Bananagrams Rules: Say "Peel" Once You Have Used All Your Tiles
As we said earlier, every player of Bananagrams needs to draw one new tile from the bunch. If someone else may use all their letters first, you must draw a new tile when they say "peel." It is always a good idea to double-check that all your words are valid and spelled correctly before peeling.
Bananagrams Rules: Incorporate The New Tile Into Your Grid Of Words
In this game, you can rearrange the tiles in any way once you have drawn a new tile. Yes, once you have used the tile, you can yell "peel" again. For instance, two-letter words like QI, IT, and OE are useful placeholders for new letters until you can work them into a larger word.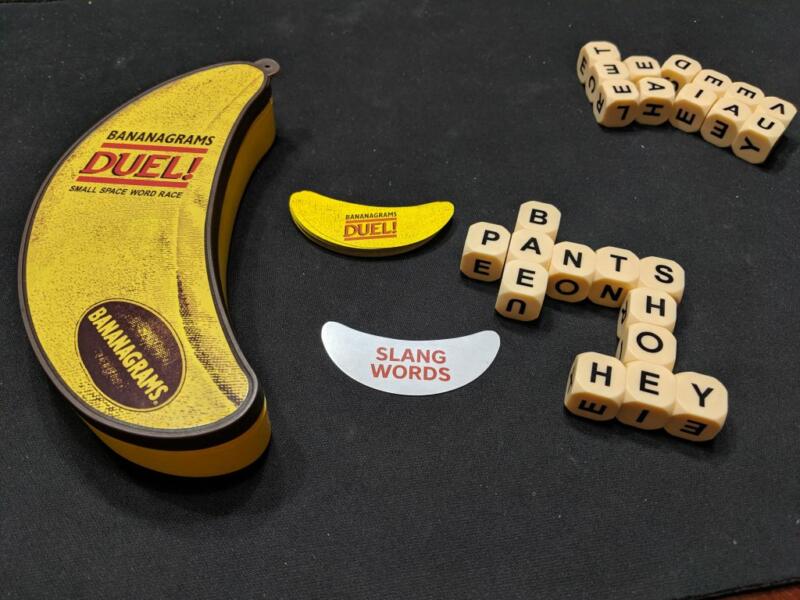 Continue Peeling Until The Bunch Has Fewer Tiles Than The Number Of Players
To explain this rule, let us give you an example. Suppose Player 1 peels, and after five players have drawn a new tile, there are only four tiles left in the bunch. Well, at this point, the first person to use up all their word grid wins the game. At times, the number of tiles divides evenly among players. So if this is the case, you will end up with no tiles left in the bunch after the final peel.
Yell "Bananas" If You Are The First Player To Use Up All Your Tiles
Since there are no more tiles in the bunch to draw, the game is now over. Well, the player who called "Bananas!" will be the first to win the game. However, if two people yell "Bananas!" at the same time, you have a tie. So, in this case, the player with the longest word in their grid can be declared the winner.
Ending Note
As we conclude, this game is pretty interesting if you know the rules well. Therefore, we have compiled the article keeping in mind all the relevant aspects of the game. If you are about to play the game, you can take a look at it to know all the rules.
Also read: Bruce Kelly: Wiki, Bio, Family, Career, Relationships, Net Worth & More