With the shift towards minimalist interior decor gaining some serious traction over the last few years, more and more people are looking towards neutral tones and palettes when it comes to designing their home spaces. If you're under the impression that neutral colours are "boring" or made up entirely of just whites, beiges and browns, we're here today to change your mind. When done right, neutral tones are one of the best ways to keep your home looking tasteful and elegant. As such, we'll look into the top 5 benefits of neutral tones in modern home design, so let's get cracking!
Defining Neutrality 
Before we dive into the numerous benefits of neutral tones in modern home design, we first have to have a clear grasp of exactly what neutrality means. If we're looking at the technical terms, neutral refers to "without colour". With that said, when it comes to home design, the term neutral can vary in hues and colours with different undertones, highlights and shadows.
Neutral colours are not found on the colour wheel simply because they are made up of shades of black, white ivory, grey, taupe and brown. Neutral colours are also commonly referred to as earth tones due to the organic and natural feel they bring into any space. 
5 Benefits of Neutral Tones
1. Textures and Patterns
One of the biggest plus points when it comes to introducing neutral tones into your home design is the array of textures it opens your decor up to. For example, if your walls are painted in a neutral hue, you'll be able to get away with an eclectic looking armchair that doesn't bear the risk of looking tacky. Similarly, neutral-toned pure linen curtains make the perfect backdrop for an array of tropical plants, making them the centre of attention without any distractions!
You can have as much fun as you want with different textured and patterned furniture, cushions and accessories without the risks of ending up with an overly stimulating space that looks a little too busy. 
2. Keep It Classy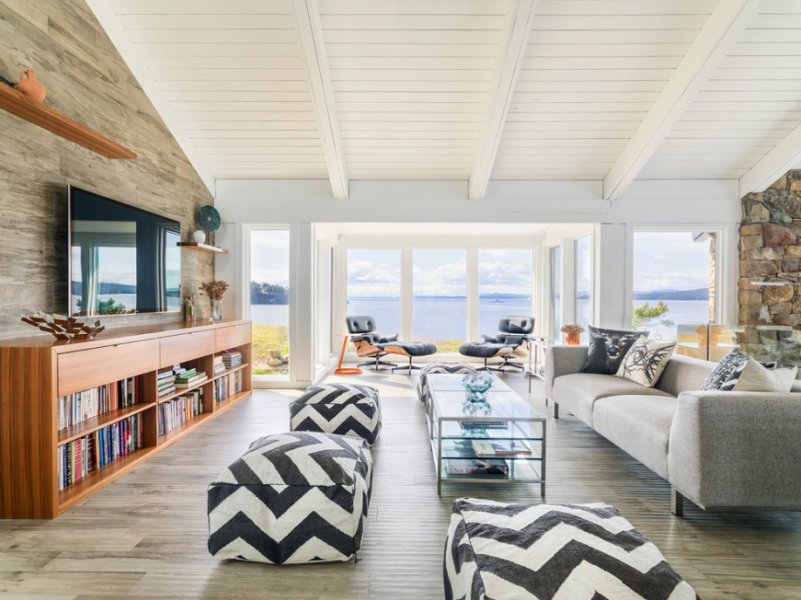 One of the most appealing aspects of neutral tones is their timeless charm. Neutral colours such as beige, taupe and ivory remain timeless and are a surefire way to ensure that you don't tire of your interior decor or, even worse, watch it slowly go out of style.
Because neutral tones give you…well, a neutral backdrop, you'll be able to easily switch up elements such as your accessories and furniture without having to worry that they will clash with your colour scheme. This way, you'll always be able to refresh your style without having to spend thousands of dollars on repainting or renovating your space. 
3. Increase Your Resale Value
Did you know that neutral tones have been proven to be viewed as more attractive to potential buyers? You may not be thinking of selling now, but somewhere down the line if you do choose to sell, neutral colours will appeal far more to buyers than bold or overly colourful tones. Bright colours can also be incredibly distracting, thus pulling a buyer's attention away from the potential they see in your home. Fun fact: neutral tones also help potential buyers envision their personal style and furniture in almost any setting. 
4. Visual Zen
While bright colors may help you express a more energetic vibe, they can also prove to be incredibly distracting and detrimental to the overall sense of calm you should feel when you are at home and looking to relax. Neutral tones on the other hand can provide you with a calming effect and help to create a soothing atmosphere that is simply perfect for unwinding after a long day of work.
To better understand what we mean, think of spaces meant for relaxation (such as spas, retreats and massage parlours) and how many neutrals they use in their designs. Instant zen! 
5. They Work With Every Style
Last but not least, one of the biggest benefits of neutral tones and colours is their ability to adapt to any type of interior decor style. Minimalist, traditional, eclectic — you name it; we can guarantee that neutral tones have got your back! Are you thinking of switching up styles in a couple of years? No stress — you already have the perfect backdrop for any type of decor you're looking to switch to!
And there you have it — just a few simple benefits of using neutral tones in modern home design. Using neutral colors in your home will help to ensure that you never grow tired of your design choices, thereby creating a timeless space that never goes out of style. What are some of your favourite reasons for using neutral tones? Be sure to drop a comment and let us know!
Also read: Selling Your Home? Here's What To Do Before Contacting a Real Estate Agent