Are you a chai lover? In English it is Tea but in India, we call it chai. We also have added our native flavours to make it amazing. Chai is a famous Indian evening and morning beverage. It keeps us fresh and alert on busy days. If we have a bit of a headache we can drink chai to get refreshment. That is why the people of India are Chai lovers. With the combination of ginger or other flavours, the Chai gets even more delightful to drink. That is why here we have gathered all the quotes about chai.
If you are a chai lover you can share the quotes with your friends. This will make your chats amusing. You can also use the quotes to start a conversation with someone. Some of the chai quotes here will be useful to you. So what not use the chai quotes? You will surely find the chai quotes listed here your cup of tea. 
Best Chai Quotes
महंगी गाड़ी में भी सस्ती 'चाय' पीया करते है

अपनी ख्वाबो की दुनिया में हम इस तरह जीया करते है..!
मैंने देखा ही नहीं कोई मौसम,
मैंने चाहा है तुम्हें चाय की तरह
Unhe Bahane ki Talash thi Hamse Milne ko,

Mauka dekh Hamne bhi Bata Diya, Ham Chai Achchhi Bana Lete Hain.
कौन कहता है कि शराब में ही नशा होता है।

कभी चाय से मोहब्बत तो करके देखो
एक तेरा ख़्याल ही तो है मेरे पास.
वरना कौन अकेले में बैठे कर चाय पीता है.
Ek Sham Coffee Ke Nam Kya Kar Di..!

Kambakht Chai Ne To Bewfa Kah Diya…!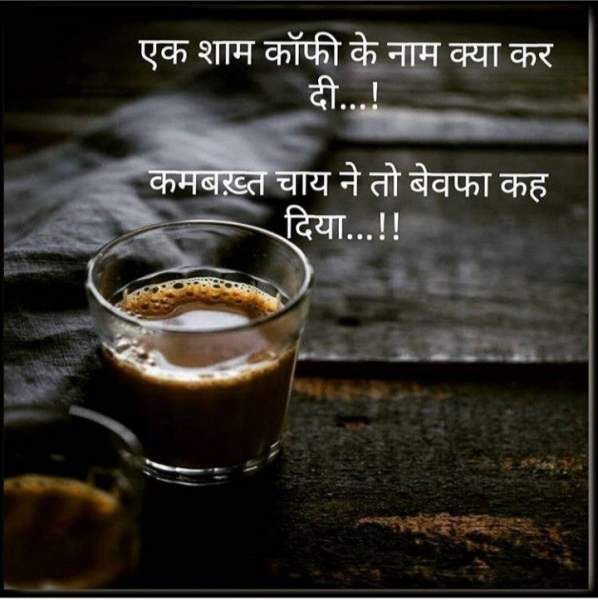 चलो इस बेफिक्र दुनिया को खुल कर जी लेते हैं,

सब काम छोडो, पहले चाय पी लेते हैं।
जब सुबह-सुबह तेरे प्यार के नग्में को गुनगुनाता हूँ,
लब मुस्कुराते है जब चाय का कप उठाता हूँ.
Sanvle Rang Pe Mat Ja Galib,

Maine Doodh Se Jyada Chai Ke Deewane Dekhne Hain.
चाय कोई शराब नहीं

सेहत के लिए खराब नहीं
चाय के बाद दूसरा रंग तुम्हारा है,
जो मुझे साॅवला अच्छा लगता है…
Chai Ke Nashe ka Aalam,

To Kuchh Yu Hai Galib…..

Koi Rai Bhi Puchhe,

To Adrak Wali Bol Dete Hain…..!!
यूं तो बहुत सख्त है मेरा दिल

पर कमबख्त चाय पर पिघल जाता हैं!
कुछ इस तरह से शक्कर को
बचा लिया करो,चाय जब पीओ हमें
जहन में बैठा लिया करो.
Ye Suhana Mausam, Ye Halki Sard Havayen,

Bolo Garmagaram Chai Pila Rahe ho,

Ya Kahin Aur Jaye.
गर्मी में भी सर्द हवा जैसी है,

मेरी चाय बिल्कुल दवा जैसी हैं।
तेरी यादों का नशा है मुझे
चाय की तरह
सुबह सबसे पहले
तेरी ही याद आती हैं
Chaska Jo Lag Jay Ek Bar To Har Dafa Kam Aayegi,

Chai Hai Yaron Mohabbat Nahi Jo Bewfa Ho Jayegi.
कि सवाल करने लगी हैं अब चाय भी मुझसे

अगर मैं ना होती तो तुम्हारा कौन होता?
सभी सिसकियों की हाय लाया हूँ,
अहल-ए-गम बैठों जरा मैं चाय लाया हूँ.
Sardi Ki Dhoop, Ghar Ka Aanga,

Thodi Fursat, Aur Garm Chai..

Koi Dhahra De Waqt, Yahi Par Bas..

Kuchh Der…!!
इत्र की खुशबू सिर्फ़ जिस्म तक रहती हैं।

मगर चाय की खुशबू तो रूह में उतर जाती हैं।
आज फिर चाय की मेज़ पर
एक हसरत बिछी रह गयी,
प्यालियों ने तो लब छू लिए
केतली देखती रह गयी.
Ham Chai Ke Deewano Ka To,

Blood Group Bhi…

"Tea Positive" Hota Hai.. !!
बरसात में घुल रही है महक अदरक की

आज बूंदो को भी चाय की तलब लगेगी.
रिश्तों की चाय में शक्कर
ज़रा माप के ही रखना
ऐ दोस्त फीकी हुई तो स्वाद नही
आएगा, ज्यादा मीठी हुई तो मन भर जाएगा
Coffee To Aksar Tanhaiyon Me Pi Jati Hain,

Mahfile To Aaj Bhi Chai Par Hi Sajti Hain
इंतजार का वक़्त इतना प्यारा ना होता,

अगर साथ में चाय का सहारा ना होता
एक कप चाय दो दिलों को मिला देती है,
एक कप चाय दिन भर की थकान मिटा देती है
Chai Ke Shaukno Ko, Rok Nahi Pate,

Ye Lekin, Agar aur Magar Ke Bahane..
चाय के प्याले में सारे गम घोल कर,

घर के कोने में हम बैठ गए Instagram खोल कर
दो चीजें जिंदगी में अच्छी लगती है
लहजे नरम, चाय गरम
Also read: Best Monday Memes That Will Keep You Laughing
Also read: 50 Best Red Lipstick Captions and Quotes for Instagram