For your new iPhone, a top-quality back case is important to protect it from damage. So, most people are searching for the best iPhone 7 cases with a card holder for using it multipurpose reasons. Additionally, to protect the personal data of your iPhone, you may need a good case with a card holder. Most people are carrying mobile phones in their hands wherever they go. In such a situation, you need to protect it from theft and other problems. Thus, you need to get a good case that provides you with both style and protection. If you are looking for some sleek design with a unique style, then go through this article.
You need to buy the best cardholder case that provides you with various features. Such features include holding credit cards, ID cards, and some cash. It means that you can simply avoid carrying a big purse or wallet.
Best iPhone 7 Cardholder Cases
1. Teelevo Dual Layer Card Holder Case
The first product on our list is the Teelevo, which is a practical case. It comes with a card slot holder to keep your credit cards, ID card, driving license, and some cash amounts. Additionally, the product comes with a built-in kickstand and is thus perfect to watch movies and videos.
This product fits your iPhone 7 perfectly. It comes with a proper manufacturing design with a soft rubberized interior. Thus, it offers a shock absorption feature with its interior design. To avoid getting scratches and bumps during tough drops, it uses the polycarbonate exterior design. You can get this case in different five colors. The cost of this product is $12.99.
2. Spigen Flip Armor Card Holder Case
A Spigen model is the best model when compared to other cases. It offers amazing Mil-Grade protection along with the Air-Cushion technology around all the corners. The mobile case provides you with an easy application to put the iPhone into the case. Even you can remove it easily without any problem. You can keep around 2 cards in the card holder slot.
The price of this favorite model is $16.99.
3. Vena Heavy Duty Cover
If you are in some toughest cases, then you should check this model which is Vena iPhone 7 case with a card holder. The case uses a dual-layer polycarbonate shell to protect your iPhone from scratches and other damages. Even to protect its corners, the case provides Corner Guard technology to prevent damages due to the sudden drop of the phone. You can use the kickstand feature to watch videos and new movies. The price of the mobile case is $17.99.
4. Vaburs Case with Card Holder
This mobile case uses high-quality PU leather. It is highly safe and protective to use this case to avoid getting any scratches on your iPhone. Furthermore, the case uses a unique flip cover design that protects it from damages to your iPhone. This phone case comes with cardholder slots where you can put your credit cards, cash, ID, etc. The case comes with 2 slots for cards and 1 slot for cash. Here the front cover design is mainly for the iPhone 7 and iPhone 8. The mobile case offers a fashionable design to give a beautiful look to your iPhone.
Also read: 7 Best Podcast Apps for iPhone You Should Try
5. SUPBEC iPhone 7 Case Cover
SUPBEC phone wallet case uses high-quality PU leather for its structure. With its two slots, you can out the necessary things inside them like a credit card, ID card, cash, etc. With its hard PC back cover, the case ensures protection against damages. Inside the case, it has a soft silicone inner skin to protect the phone from various angles. It is easy for application and removal than the other mobile cases.
Additionally, the case comes with precise cut openings to allow easy access to ports and buttons. There is no need to remove the case to connect it to the charger or headset. The case is lightweight but strong. It delivers a stylish as well as professional look.
6. Vofolen Slidable Card Holder Case
Vofolen is the cheapest iPhone 7 case that comes with a card holder slot. It comes with a card slot and the price is reasonable and it is just $9.99. The card holder case comes with a slot on its back, where you can store up to 2 cards. The case offers great protection with its dual-layer construction. Additionally, the case provides a shock-absorbent feature with its TPU.
7. Moonmini Shockproof Slim Fit Case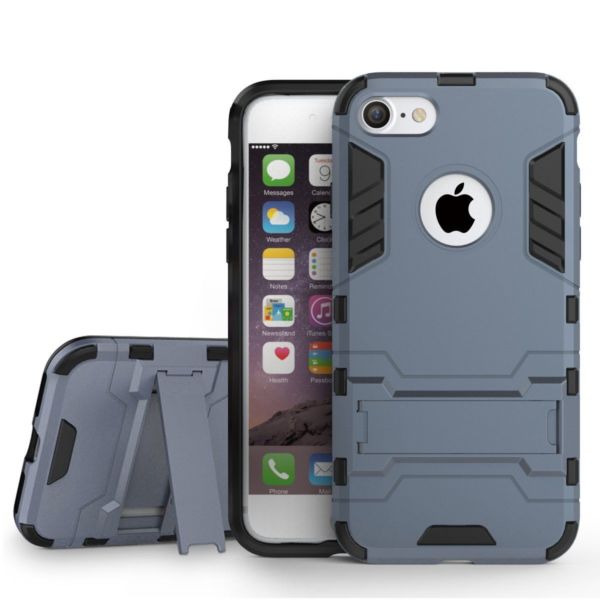 This iPhone 7 case is manufactured using premium polycarbonate and TPU. It uses a soft rubberized design on its interior surface for shock absorption. With its raised edges, it protects the iPhone from scratches. Here the special feature is the presence of a card slot on its back to put your credit cards, ID, and many more. Using its kickstand feature, one can enjoy the media freely. The product costs around $10.99.
8. Viflykoo Leather Case
This phone case is available in 7 different colors and delivers an elegant look. With its premium back cover and wonderful appearance, you can enjoy the combination of carbon fiber and leather. You can keep a credit card using the slot and enjoy good protection for your iPhone using this case. It protects your phone against scratches, dirt, and bumps.
9. Toru Protective Hidden Wallet Case
It is one of the top cases available on this list. The case comes with a unique design and offers you two slots for cards, ID cards, etc. With its rubbery TPU body, one can protect your iPhone from scratches and drops. With its kickstand feature, you can watch or browse videos comfortably. The price of this model is $14.99.
Conclusion
These were the top iPhone 7 card holder cases. You can choose and buy any one of the above cases for your iPhone 7 to protect it against scratches and damages. Read through the article to get an idea about the various products on the list.
Also read: Best iPhone 8 Cases with Card Holder