Famously touted as the 'land of ice and fire', Iceland will woo you with the sheer variety of experiences and things to do during your vacation. The Nordic country has the most incredible landscapes, hikes, and glaciers. If it is your first time in Iceland, making your bookings in advance is highly recommended. Also, the weather can be quite unpredictable, so check it before going out for a hike or excursion. You can take day trips from Reykjavik, Iceland's capital city, to witness Northern lights, pristine waterfalls, and other hidden gems.
Let us take a look at the best things to do in Iceland and make the most of your Nordic vacation –
1. Witness the spectacular northern lights (Aurora Borealis)
Your trip to Iceland is incomplete without witnessing the awe-inspiring phenomenon of the celestial dance of lights called the Aurora Borealis or northern lights. March to September is the best time to see the brightest northern lights against the dark sky. These are more pronounced during solar activity. You can book a tour or take around a 30-minute drive from Reykjavik to see this beautiful phenomenon.

2. Take a tour of the Golden Circle
The Golden Circle is one of the most booked tours of Iceland that covers three major attractions in its 190-mile route – Thingvellir National Park, the Geysir geothermal area and Gullfoss waterfall. You can also take a self-drive tour and partake in other activities such as snowmobiling, snorkeling, etc. at Thingvellir.
Geysir is a popular hot spring located at Haukadalur which erupts into the air after every 5 to 10 minutes. Gulfoss waterfall is located within close vicinity to the second-largest glacier of Iceland called Langjokull. A snowmobile tour at the surface of this glacier should not be missed. Along the Golden Circle tour, you can also visit Iceland's famed geysers called Strokkur Geysir. Strokkur erupts water as high as 30 meters in the air and the flashy show is relished by everyone around.
3. Hike up a glacier
Thanks to the frozen glaciers in Iceland, it is possible to go for a hike to experience these natural marvels. Sólheimajökull glacier hike is one of the best things to do in Iceland that can be covered during a day trip from Reykjavik. It is perfect for families and adventure-seekers. Make sure to follow the instructions of your guide religiously.
4. Bake a rye bread
It may sound bizarre but baking rye bread in the ground is one of the most popular things to do in Iceland by locals. You can head to places like geothermal springs or volcanic vents where you can bake rye bread underground. Many hotels can arrange the preparation and assist you in doing so. After 24 hours or so, you can have a fresh loaf to relish, and voila!
5. Visit Lake Myvatn
Lake Myvatn is the gem of northern Iceland which comprises multiple islands scattered across it. The entire area is known for its rich flora and fauna making it an ideal spot for bird watching as well. If you are visiting this lake in summer, you will find numerous midges flying around. That's where the lake's name comes from – myvatn translates to 'midge.'
6. Go horseback riding
Iceland has the friendliest horses that you can ride and go for troll spotting. Horseback riding is immensely popular in Iceland so you will come across a variety of tour packages. Expect spectacular and unique views of the rugged terrain that will leave you wanting more.
7. See the Jokulsarlon Glacier Lagoon
Jokulsarlon Glacier Lagoon is the most sought-after thing to do in Iceland. The gem of Iceland, the glacier is surrounded by the most incredible landscape that you can relish by sitting on the shoreline. You can also partake in a boat tour with a professional guide. It is an amazing feeling to witness the huge chunks of ice floating around and seals playfully diving around.
8. Explore the surreal ice caves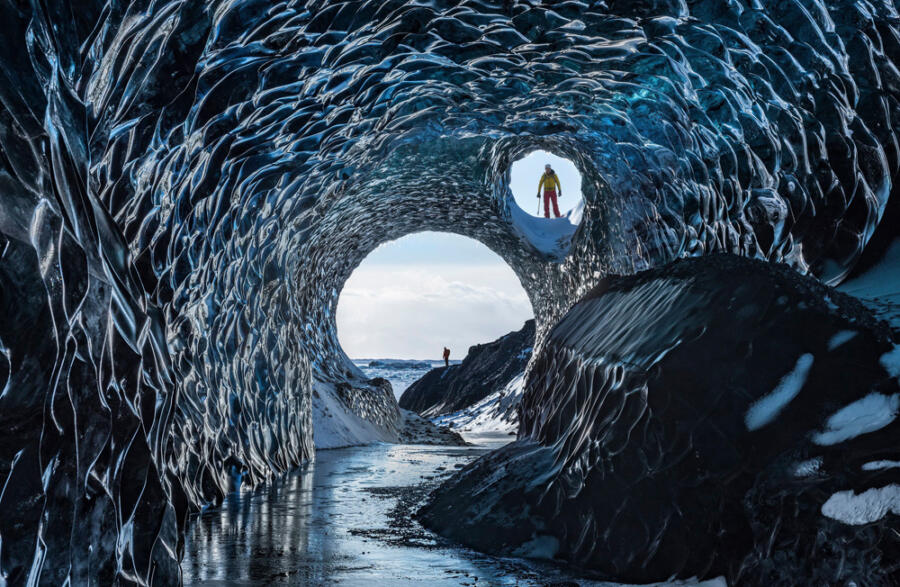 The frozen landscape of Iceland warrants other-worldly ice caves that will make you feel instantly teleported to some alien planet. The shimmering white snow trapped within caves for thousands of years is one of the coolest things to watch literally and figuratively.
For starters, you can book an ice caving tour of the blue ice caves. But bear in mind that caves are accessible in winter months.
9. Cozy up in the Blue Lagoon
What's better than a hot geothermal pool to cozy up in near-freezing temperatures? Iceland has no dearth of steaming hot volcanic vents and hot springs. Blue Lagoon is one of such natural wonders that attract millions of tourists every year. People love to spend hours and hours in this piping-hot geothermal pool and it is arguably one of the best things to do in Iceland.
Make sure to book tickets in advance as it can be quite crowded during the peak season. You can take your entire experience up a notch by arriving during the sunrise. The view will leave you truly speechless.
10. Take a volcano tour
Fagradalsfjall Volcano is an active volcano that is just 20 minutes away from the Blue Lagoon. You can hike to this volcano to see fresh lava fields up close. You can hike to different points to witness the eruption site from a unique perspective. It will get your heart racing to see the lava flow. The hike can be strenuous so bear in mind to wear your best walking shoes.
Iceland has a wealth of breathtaking destinations and adventure activities, unlike anywhere else. Make sure to plan your day trips after checking the weather, especially activities like volcano hiking and ice cave tours. Also, it may take hours to navigate around the country so check the road conditions in advance.
Bear in mind to carry warm clothes with you regardless of the weather and time. Owing to its close proximity to the Arctic, weather can change in a moment. Do carry your sunglasses, even in January to avoid getting light reflecting from the snow's surface directly into your eyes. Happy exploring!
Also read: Best Things To Do in St Lucia