Kulai, the smallest district in Johor, covers only 3.96% of the state area. Kulaijaya was a sub-district of Kulai that was upgraded and renamed on 1st January 2008, but later reverted to its original name under the order of Sultan Ibrahim ibni Sultan Iskandar on 28th October 2015.
Kulaijaya offers an array of natural attractions, including natural farms and recreational forests, that will delight every nature lover with their pristine and refreshing environment. If you're planning a day trip or vacation in Kulaijaya but unsure where to go,
I will recommend the following attractions to help you plan your itinerary.
1. Putuo Village
Putuo Village is a peaceful escape from the hustle and bustle of the city. With its vast greenery that blends Buddhism with nature, this village offers a serene environment to relax and unwind.
The journey begins with a shaded tree-lined road that leads to a bamboo forest and the main temple at the end. The bamboo forest is calm and tranquil, with natural whispers from the wind and rustling bamboo leaves. A surprise awaits visitors in the form of a hidden Buddha statue located behind tall bamboo canopies.
The main temple, known as the Guanyin Pavilion, is an eye-catching sight with its array of prayer wheels. These wheels, inspired by Tibetan Buddhism, have thousands of mantras written on the outside in Sanskrit form. Spinning them clockwise is believed to be as effective as reciting the prayers orally, provided that it is done with a sincere heart.
The Wishing Tree is another must-visit destination in Putuo Village, where tourists can write down their wishes and offer sincere prayers. It is believed that the wishes made here will eventually come true.
For those looking to experience vegetarian cuisine, the village's dining hall offers simple and light vegetarian food. A bowl of fragrant white rice, clear soup, and a simple portion of vegetable dishes are available, with the cost depending on what visitors are willing to contribute.
To fully enjoy the cool and refreshing weather, it is recommended to arrive early in the morning. Putuo Village with its serene environment is the perfect place to escape from the noise and stress of the city.
2. Noah's Ark Natural Animal Sanctuary
If you are looking for a peaceful getaway from the busy and chaotic city life, Noah's Ark Natural Animal Sanctuary in Pekan Nanas Johor is an ideal destination. This sanctuary is a miniature version of a zoo or farm, home to thousands of animals.
As a non-governmental organization, Noah's Ark Natural Animal Sanctuary provides a safe haven not only for abused or abandoned cats and dogs, but also for various other animals such as cows, goats, snakes, monkeys, and more. The animals are given a spacious field to play and roam freely, and upon arrival, visitors are greeted by hundreds of friendly dogs.
If you are an animal lover, a visit to Noah's Ark Natural Animal Sanctuary is a must. The experience of interacting with the animals and being surrounded by their affectionate energy is truly rewarding and unforgettable. You will leave with cherished memories that you will never regret.
3. Tasik Biru, Kangkar Pulai
Tasik Biru in Kangkar Pulai is an ideal destination for those who enjoy hiking and capturing photos of lush jungles and forests. The famous "Blue Lake" is only accessible after hiking for several hundred meters.
To reach the Blue Lake, you can take one of two paths. The first path is a wide and easy road that cuts through a palm oil plantation. The second path, on the other hand, is a smaller and more challenging jungle road that requires some hiking and climbing. The second path has six checkpoints that provide different views of the lake from varying heights and angles. Don't miss out on the chance to explore this incredible destination with your friends and family while admiring the fantastic views at each checkpoint.
Also read: 6 Most Beautiful National Parks in Malaysia
4. Star Fish Leisure Farm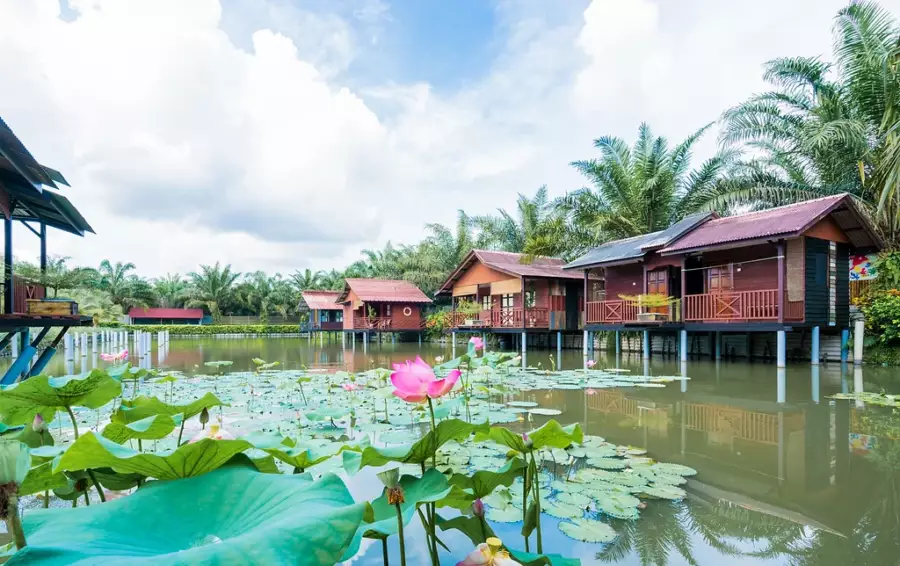 Star Fish Leisure Farm is the perfect retreat for those who wish to escape the stress and complexity of urban living. The farm, surrounded by trees, provides a peaceful and tranquil kampong lifestyle, making it a popular spot for locals to unwind with their families on weekends and holidays.
There are numerous activities to enjoy at Star Fish Leisure Farm, such as cycling, boating, fishing, and fish feeding. For families, a half-day package (8am to 12pm) is available at only RM30 per person.
Longer packages are also available, including a one-day package for RM30 per person or a two-day, one-night package for RM158 per person that includes accommodation, breakfast, and dinner.
If you're looking for a peaceful and serene environment to spend quality time with your family and rejuvenate your mind, Star Fish Leisure Farm is the perfect place for you.
Kulai Jaya has numerous attractions that are worth exploring, and the ones I mentioned above are just a small part of it. If you wish to discover more hidden gems, then you must not miss out on visiting this place.
If you face transportation issues while planning your trip, then I suggest checking out SGMYTRIPS. They are the leading taxi service provider for taxi Singapore to Malaysia. You can choose their services for a taxi from Singapore to JB (Johor Bahru) and enjoy doorstep pickup and drop-off services, providing you with the freedom to decide where you want to get on and off.
Once you're in the car, you can relax and rest while their experienced and friendly drivers take you across the Singapore-Malaysia border, making your journey smoother and hassle-free.
Also read: Amazing Travel in Malaysia: Important Things To Keep in Mind