One of the most extensive genera in the Piperaceae family and a close relative of the black pepper plant is Peperomia. This plants offer color and happiness to homes and offices. Due to their low maintenance requirements, these semi-succulents are popular among beginning plant parents. These plants, sometimes known as radiator plants, are slow-growing, robust, and air-purifying. Many Peperomia plants have thick, waxy leaves that hold onto water and are therefore regarded as semi-succulent.
They flourish in warm, sunny conditions. These plants are a terrific option if you want gorgeous, colorful foliage without much labor.
A Peperomia Plant: What is It?
Native to tropical and subtropical areas of Central America and northern South America are peperomia plants. Only a minor portion of the species is also present in Africa. Numerous Peperomia species are also epiphytes, meaning their aerial roots absorb moisture and nutrients from the atmosphere.
The Peperomia family has a wide range of hues and textures. Most species typically have stout stems with heart, lance, or oval-shaped leaves. Several plants have dark green leaves, while others exhibit marbling, variegation, or stripes in their foliage.
Paperomia growing areas
You may grow peperomia outdoors in pots or in a garden in a warm region. Putting them somewhere will protect them from the afternoon sun.
They thrive in solid light in either east or west-facing windows as indoor plants, although they can burn in direct sunshine. While some are compact and perfect for hanging baskets, others have trailing vines. To avoid problems like overwatering and root rot, use a container with sufficient drainage in either case.
Various Peperomia Plant Varieties
Here are some of the most well-known peperomia cultivars you may get online or at your neighborhood garden center:
1. Metallic peperomia
Compared to other wide peperomia varieties, this one has sharper leaves. The undersides of the leaves are deep crimson, while the tops are dark green with a silvery shine. Although the dark tint of this cultivar makes it excellent for areas with little natural light, it can blossom if it receives strong enough indirect light. Try this type if you want indoor life in a dimly lit room or if your home is darker.
2. Trailing Jade
You'll adore this type if you enjoy peperomia species with adorable, spherical leaves! These spherical, thick leaves have a succulent-like appearance. If you want something unique for a grey area in your house, consider this trailing type, a fun cross between a succulent and a trailing ivy. For this type, keep a consistent ambient temperature and humidity. The hanging baskets are where this plant thrives.
3. String of turtles
Due to the form and pattern of its small leaves, this species of peperomia is commonly known as the String of Turtles. It is a trailing plant that, when left to grow on its own, can form dense mats or gracefully flow over the edges of its container. The tiny, spherical, meaty leaves on the String of Turtles are. They have white veins and colors ranging from deep purple to green. The plant produces unscented, tiny, cream-colored flowers when it blooms.
4. Peperomia Jelly
One thing that makes the Peperomia Jelly such a popular houseplant is its fantastic color combinations. Another name for it is Ginny peperomia. The edges of the oval-shaped leaves feature a faint wave. They appear in a vivid mixture of pink, scarlet, cream, and mid-to-dark green variegation. Although it produces spikes of white flowers every spring, they are not quite as lovely as the leaves and lack any perfume.
Tips for Growing Peperomia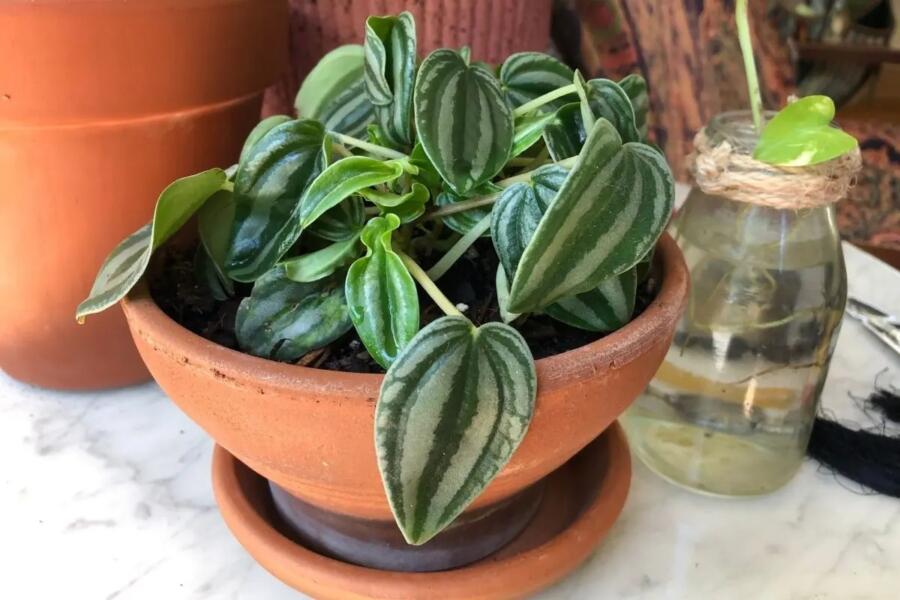 The peperomia plant is a wise pick for someone who is just getting into houseplants. However, the stunning range of colors and textures amongst species is something they cannot endure. It implies that you may acquire an intriguing collection of identically cared-for plants to fit every design and environment.
1. Light
Peperomia plants require medium to bright light to preserve their rich leaf hues. 12 to 16 hours of artificial light each day are OK, as are morning light and filtered light. There will be fewer leaves, leaf drops, and dull colors due to insufficient light.
2. Water
Peperomia plants' succulent leaves indicate that they don't require frequent watering to be healthy. Between waterings, let the soil's surface dry. Saturating the plant, which causes root rot and fungus gnat issues, is preferable to keeping it on the dry side.
3. Fertilizer
For the peperomia, less is more when it comes to fertilizing. Instead of poor nutrition, discolored or falling leaves are typically caused by insufficient light or excessive irrigation. The peperomia gets all the nutrients it needs from its planting medium during its whole life since it is a slow-growing epiphyte.
4. Soil
In the wild, several peperomia species develop as epiphytes. This is comparable to how orchids develop: picture a plant growing in a tree's crevice and sinking its roots into some mildly decomposing bark. Pick a soil type that is loose, acidic, and chunky to imitate these circumstances. A medium for orchid planting works nicely. Always add peat moss or vermiculite to regular potting soil to make it lighter.
5. Reseeding and Potting
In a comparatively tiny container, peperomia plants can survive for several years. You may leave them alone unless you notice roots emerging from the drainage holes because they live a relatively root-bound existence and develop slowly. Repot using acidic potting soil or orchid bark in a slightly bigger container.
How Do You Prune Peperomia?
When pruning peperomia plants, there's no need to be overly gentle. Don't be timid about trimming them; they take it quite well. Peperomia plants have a delicate, compact look, which is one of the reasons I adore them. To preserve their beautiful appeal, we thus tend to be very harsh while trimming them.
You should use this chance to remove any dead growth and leaves that exhibit damage or illness in addition to doing so for cosmetic reasons. Keep your plant healthy by identifying diseased foliage early, getting rid of it, and avoiding repeating the issue.
Conclusion
You will undoubtedly discover the perfect peperomia among the more than 1,000 types offered. These plants come in almost every size and have green, cream, red, purple, and gray-hued leaves. The foliage of peperomia plants, typically dark green but occasionally having red or white veins running through them, is quite attractive. These resilient plants are simple to care for and require periodic fertilizer applications and occasional watering when dry.
Also read: What are The Different Philodendrons, and are They Suitable Indoor Plants?