Coco Chanel once said, "White has it all; its beauty is absolute, it's a perfect harmony," and we couldn't agree more! From the runway to home decor, white is a classy neutral color that wouldn't be leaving our wardrobes any time soon. But the main point is – can you wear white to prom? Of course, why not! White can be a great color to opt for formal events. It can be as versatile as black in several ways while creating a whimsical statement. That being said, there is nothing wrong with wearing white to prom if you love it.
La Femme, Mac Duggal, and Jovani are some designers favoring the trend of white prom dresses in 2022, this time with an extra hint of elegance. As a result, you have a plethora of options in designer white dresses on sale to get into a formal spirit without effort. However, the style you choose should ensure you are not mistaken for a bride!
Here we take a look at the details if you would consider wearing white to formal occasions like prom, or if you are already in awe of a white dress and want to pull it off at its best!
Why Wear A White Dress To Prom?
Before going on to the best ways to carry a white dress to prom, it's important to find out "why?". So, take a look at reasons why white dresses for prom can be a great pick in 2022!
White Dresses are Timeless
Amidst all the changes in trends and fashion, white dresses have stood the test of time, and it's a no-brainer. From teen girls to adult fashionistas, white brings out the best among everyone, leading to a wonderful fashion game.
White Dresses are Elegant
One of the biggest reasons why white party gowns can be your go-to ensemble for prom is that they are elegant to the core. When paired with the right accessories, a white outfit can help you create an impeccable fashion statement that everyone at prom will adore.
White Dresses don't Absorb Heat
Elegant white prom dresses are more than just a fashionable pick. As they don't absorb heat from the sun, they can help playoff cool vibes in hot summer while you'll be dancing at your prom.
Now, Let's Discuss How To Wear White To Prom
White is a color of beauty, serenity, and grace, and now you want to wear it to prom! Right? Here, check out the best ways to pull off sexy white gowns to your high-school dance night.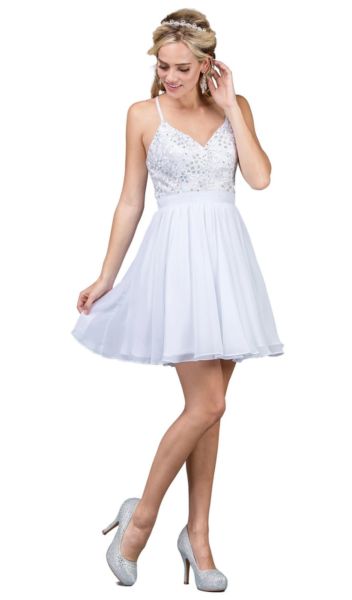 Find The Perfect Shade of White
Different shades of white have the potential to make or break your prom look. It is why you need to put some effort into selecting the right shade of white; particularly, the one that doesn't wash out your skin.
The rule of thumb – choose white gowns that have a matching undertone temperature but a tint opposite to your skin's undertone pigment. For example, pure white will look better if you've got cool skin, while off-white prom dresses will look better if you've got a warm skin tone.
Pick The Right Style
Going for white gowns on sale means having a chance to choose from a bunch of styles. However, you have to be quite considerate picking the dress style, so you don't end up looking like a bride.
Seize the white or off-white gowns with modern cuts and fit to avoid the bridal look. In addition, you can also play with the prints, textures, details, and sleeve styles to revamp your teenage style statement to OTT.
Go With Right Accessories
What's another best thing about taking pleasure in white dresses on sale? Of course, accessorizing! From gold to silver to colorful accessories, you can literally go with any type of jewelry, shoes, and bags when accessorizing your white prom dress.
However, if you are particularly looking forward to avoiding the bridal look, get rid of the monochrome white look by adding a tinge of color to your prom dress.
Final Words
White dresses are magical, and now you know it! Speaking of the prom, white cocktail dress on sale can be a flexible pick, especially if you are all heart at creating an elegant statement.
So, have no second thought; just shop for the right white prom dress and get ready to be Belle of the ball!
Also read: 12 Black-Owned Clothing Brands You Did Not Know About