After a long day's wait, suppose you want to enjoy a glass of wine, you surely require a perfect wine opener to open the bottle. Just as you sip the perfect wine, the wine bottle to requires the perfect opener to open them. There are some bottle openers that break after a few usages. In fact, some of them even require pressure, while some others take up the place. Therefore, it's of utmost importance to find the best possible options. There are different styles of wine openers available in the market. If you don't want to go through a huge list of options, then don't worry. In this article, we will provide you 9 best bottle openers and corkscrew that will make the job quite easy.
Here Are A Few Bottle Openers That You Might Like Using
With multiple designs and styles available to the bottle openers, like a winged corkscrew, electric openers, etc, it makes life difficult to choose the best. So, without much further ado, let's take a look at some options.
1. Winged Corkscrew
First, we have this type of opener, which has gathered a lot of positive reviews from people. Just as the name suggests, the corkscrew has a 'wing' shape to it. As for the design, it does look like high-end, premium stuff. However, you can get it at only $12 dollars. The stand-out feature would be the rubber grip, which makes the opening process a lot easier.
2. Two-Prong Cork Puller
If you are looking for a good cork puller within $15, then you will get this for only $11-$12. It's also pretty easy to maintain as you just have to stick the one end of the prong to either end of the cork you are using. Thereafter, wedge the wine opener down the bottle till it twists it upward and pulls the cork out.
3. Turquoise Laguiole En Aubrac Waiter's Corkscrew Opener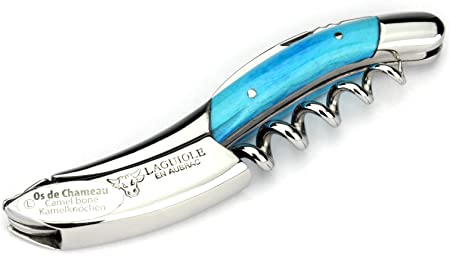 This product is 'elegante' to say the least. Immerse yourself in this timeless classic design that offers simplicity as well as durability. It costs around $250; however, it makes sense due to its dynamic design and premium quality. However, you need to clean as well as maintain it regularly. If you want to uplift your kitchen decor, then get this top-class wine opener from the French artisan knife brand 'Laguiole'.
4. Le Creuset Waiter's Friend Corkscrew
If you want a budget-friendly waiter's corkscrew, consider yourself lucky, as this product is pretty cool and saves your pocket. Only at $25, this classic wine key, or opener is a great option. In fact, from the service industry to home users, everyone has reviewed positively. It has a simple two-step design. Moreover, with maximum movement of the cork, it can make your life easier.
Also read: The Wonder Vintage Wines of Chateauneuf du Pape
5. OXO Steel Winged Corkscrew
This is another corkscrew option, that's convenient, simple as well as comfortable. In fact, it doesn't only work on wine bottles but can be used on any sort of corks. Moreover, the smooth and enigmatic design, the product at only $20 dollars is a steal, to say the least. With minimal effort, you can open the bottle as you desire.
6. Vertical Lever Corkscrew
Lever corkscrews are also pretty famous and loved by fine tasters. As it's really effortless to use, people love it a lot. Moreover, it has a compact design. With just two simple motions, you can open the wine bottle pretty easily. It also has a removal foil cutter inside. Therefore, it's kind of all in one thing. You can get this for only $40.
7. Cordless Electric Wine Bottle Opener
If you are looking for an electric wine opener, then this cool product can open 30 wine bottles on a single charge. Moreover, since it's cordless, you can easily use it anywhere you like. In fact, its smooth and slim handle and build quality is something to ponder about. That's why it has so high reviews.
8. Table Model Wine Opener
This is another pretty useful product. The timeless sleek design of this product makes it one of the best indeed. It's like the modern version of the traditional twist corkscrew. Moreover, it has a five-inch spiral worm, which can easily tackle any sort of corks. It's easy and affordable at only $20. It's good for decoration and useful as well.
9. Compact Wine Bottle Opener
It may look a bit bulky, but let us tell you that a bulk of certified buyers have given this product a perfect score. In fact, it's one of the best wine openers of all time. According to the description of the model, you can use it to open any sort of wine bottle within a second. Most importantly, it's durable and has a solid feel to it.
Final thoughts
So there you have it. These were some of the best options you can think of getting. It will be a nice addition to your kitchen decor and offer effortlessly open a wine bottle. These models are durable, design-wise, sleek, and can make your life easier.