Home audio speakers have come a long way from relying on components, amplifiers, and wires to produce the diverse sounds we expect from them. Since compact all-in-one speaker systems with built-in amplification, streaming services, and wireless and physical connectivity have become more popular. As a result, PSB, a Canadian loudspeaker manufacturer, has now released the Alpha iQ Streaming Powered Speakers.
On October 19, a set of powered bookshelf speakers priced at $1,500 will be available for pre-order online. BluOS power them. It is a multi-room wireless network audio system developed by PSB's parent company. It is an Ontario-based Lenbrook International, which also owns NAD and Sonos rival Bluesound.
World of music
The Alpha iQs have surprisingly many connectivity options for a small set of bookshelf speakers. It includes HDMI ARC for connecting home theatre systems like TVs and AV receivers. Optical input for CD players or gaming consoles, a 3.5mm AUX input for connecting analogue sources. It can also have a built-in phono preamp for connecting a turntable directly to its RCA line input. 
Additionally, there is a subwoofer-out jack that, when used, employs low-pass and high-pass filters. In order to enable a subwoofer to perform all of the heavy low-end lifting for the main speakers, enabling deeper bass in both music and movies.
Smartphones, tablets, and computers, which are supported by BluOS and Controller software, are what enable Alpha iQs to communicate wirelessly.
BluOS supports more than 20 streaming services and internet radio stations. It includes high-resolution audio sources like Amazon Music Ultra HD (the highest-res tier), Deezer, and Tidal. In addition these can send this audio to any BlueOS-enabled speaker in your home.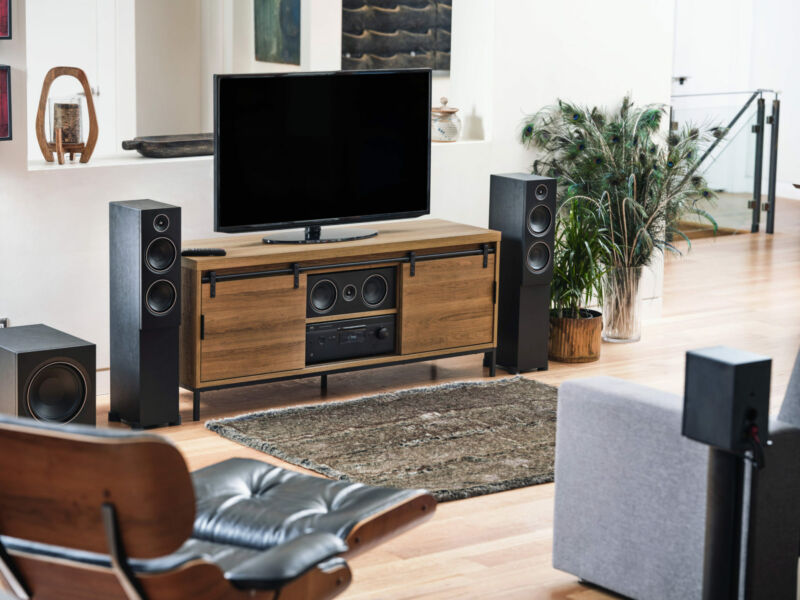 BluOS is able to wirelessly transmit lossless music up to 24-bit/192kHz with full MQA decoding and rendering capability.
Additionally, you may stream Apple Lossless from Apple Music to the speakers thanks to AirPlay 2 compatibility.
Additionally, there is Bluetooth connectivity with two-way aptX HD support for wirelessly streaming music from smartphones and pairing Bluetooth headphones for private listening.
There is nothing to worry about in terms of speaker hardware, given PSB's reputation for "True to Nature" audiophile-quality sound.
Serious sound
Powered by a 180-watt class D amp, these little bookshelf speakers deliver a powerful sound from their 4-inch midbass driver and 0.75-inch dome tweeter. 
The left and right speakers are connected via a lossless wireless link, which removes unsightly cords and expands speaker positioning options. They are available in black and white.
Although the cost may seem high, however, it is actually comparable to certain other powered streaming speakers in the market, such as the superb $1,400 KEF LSX IIs. 
There are also more accessible solutions becoming available, such the significantly larger Fluance Elite Ai81 tower speakers.
And this industry will only expand as more people look for all-in-one speaker solutions to power the several sources they presently own.
Plug and play
Streaming isn't the only use for the Alpha iQ. Vinyl enthusiasts can connect a turntable to the main speaker's ground terminal, RCA jacks, and built-in MM phono preamp.
Most importantly, an HDMI ARC connector enables you to enjoy "True to Nature" sound.