Are you looking for a new exciting family vacation filled with adventure and fun? Look no further than Pigeon Forge, Tennessee, a perfect destination for your family. Located in the foothills of the Great Smoky Mountains, this small city offers a wide range of attractions and activities that will please everyone in your group.
Spend time outdoors hiking nearby trails or enjoy delicious food and drinks at one of the many restaurants in town. You can even catch a comedy show or enjoy attractions like amusement parks, historical sites, aquariums, museums, and more in this small city.
Follow along on our detailed guide as we explore all the unique things to do on your vacation in Pigeon Forge!
Planning Your Trip
Pigeon Forge is a year-round destination, and the best time to visit really just depends on your family's preferences. If you're looking for warm weather and outdoor activities, plan to visit during the summer. However, if you want to see some beautiful fall foliage, consider visiting in late September or early October.
Vacation in Pigeon Forge is easy, as it is located just off Interstate 40. If you're flying in, the closest airport is McGhee Tyson Airport in Knoxville, which is just 30 miles away. Once you're in Pigeon Forge, you'll have many options for where to stay. From cozy cabins to luxury resorts, there's something for every budget.
Things to Do in Pigeon Forge
With so many enjoyable activities offered in Pigeon Forge, families will never be short on things to do. Check out these attractions you should definitely not miss:
1. Comedy Barn Theater
The Comedy Barn Theater is a family-friendly show that is a must-visit for families who love a good laugh. Featuring hilarious acts, including comedians, jugglers, ventriloquists, and even trained pigs, the show is packed with slapstick humor, clever jokes, and silly gags. Each performer will have everyone in your family rolling with laughter from beginning to end. It is perfect for families looking for a fun night out and will be a highlight of your trip to Pigeon Forge.
2. Dollywood Theme Park
Dollywood is a world-renowned theme park that offers something for everyone in the family. The park has over 40 rides, including some of the world's fastest and tallest roller coasters. Dollywood is also known for its live shows, which feature country music and other forms of entertainment. Younger children will love the playgrounds and rides that are designed just for them. The park is also home to Splash Country, a water park with water slides, wave pools, and lazy rivers that is perfect for hot summer days.
3. The Island in Pigeon Forge
The Island in Pigeon Forge is an entertainment complex offering everyone something. The centerpiece of The Island is the 200-foot-tall Great Smoky Mountain Wheel, which offers panoramic views of the Smoky Mountains. Other attractions at The Island include a variety of rides, such as a Ferris wheel, bumper cars, and a carousel. There's also a ropes course, an arcade, and various shops and restaurants.
4. Great Smoky Mountains National Park
Great Smoky Mountains National Park is a must-visit destination for families who love the outdoors. The park is home to over 800 miles of hiking trails, including the famous Appalachian Trail. There are also scenic drives offering breathtaking mountains and valley views. The park has various wildlife, including black bears, elk, and white-tailed deer.
5. Titanic Museum Attraction
The Titanic Museum Attraction is a unique experience that takes you back in time to the ill-fated voyage of the Titanic. The museum features over 400 artifacts from the ship and interactive exhibits that allow visitors to experience what life was like on board. The museum also offers guided tours by actors portraying passengers and crew members.
Family-Friendly Dining in Pigeon Forge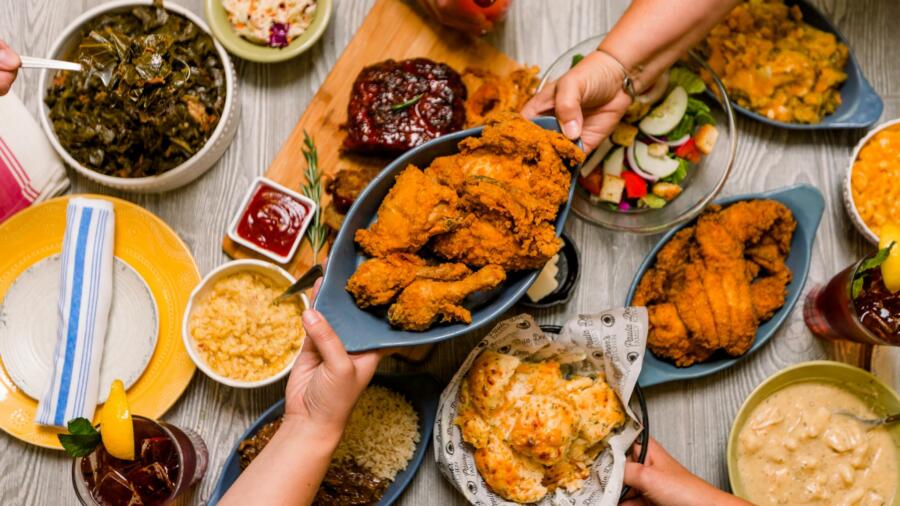 After a day of fun and adventure, your family will be hungry, and Pigeon Forge has plenty of options for family-friendly dining.
1. Old Mill Restaurant
It is one of the most popular restaurants for families. Located in a historic mill, the restaurant offers Southern-style dishes made from scratch, such as fried chicken, mashed potatoes, and fresh-baked bread. You can even watch the mill in action while you wait for your food. The Old Mill Restaurant is just a short distance from the entrance of Pigeon Forge, making it a convenient stop for families.
2. Mama's Farmhouse
This restaurant is another great option, serving family-style meals that are perfect for sharing, and the menu includes comfort food favorites such as meatloaf and fried catfish. Kids will love the homemade biscuits and apple butter served with every meal. Mama's Farmhouse is located in the heart of downtown Pigeon Forge, making it a great spot to grab a meal in between activities.
3. Mel's Diner
If you want to try something different, visit Mel's Diner. It is a 1950s-themed diner that serves classic American fare, such as burgers, fries, and milkshakes, and the decor will transport you back in time. Kids will love the jukeboxes at every table, where they can select their favorite songs to play. Mel's Diner is located on the Parkway in Pigeon Forge, which is quite easy to find from anywhere in Pigeon Forge.
Tips for Traveling with Kids in Pigeon Forge
Traveling with kids can be challenging, but with a little preparation, you can make your vacation in Pigeon Forge stress-free and enjoyable for everyone. Here are some tips for traveling with kids:
Pack plenty of snacks and drinks for the car ride. This will help keep kids from getting hungry or thirsty, which can lead to crankiness.
Bring a variety of activities for the car ride, such as coloring books, games, and books. This will help keep kids entertained during the long drive.
Make sure to bring appropriate clothing and gear for your outdoor activities. This might include hiking boots, rain jackets, and sunscreen.
Always make safety a priority. When hiking or exploring the outdoors, make sure to stay on designated trails and keep an eye on children at all times.
Conclusion
Pigeon Forge is a fantastic family vacation destination, with many attractions and activities to entertain everyone. From the thrilling rides at Dollywood to the educational exhibits at the Titanic Museum Attraction, there's something for every age and interest.
With a little planning and preparation, your family's vacation in Pigeon Forge will surely be a memorable experience you'll treasure for years to come.