The chore of Woodworking is always synonymous with men. Many think that men have the muscle to take an active part in woodworking. But some women are becoming popular because of their excellent woodworking skills. Do you know that many female woodworkers have started their trade-in woodworking? Their business is also flourishing. So if you are also interested in woodworking what are you waiting for?
Some inspiring women have left a mark in this world with their talents and you can too. Have a look at nine Female Woodworkers who are masters in the art of woodworking.
1. Jen Woodhouse, House of Wood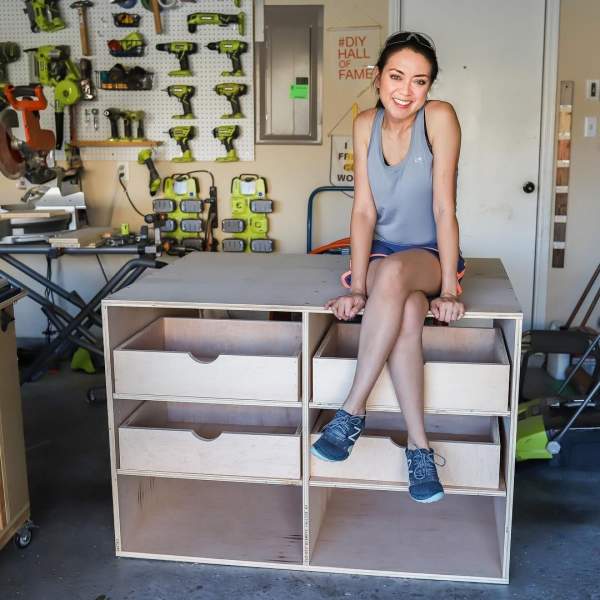 Woodhouse is an excellent carpenter who is a self-taught genius. Her works shows her talent for detail in decorative items. Also, she offers tutorials for her followers to do some woodwork. Her websites contain many pictures and process of her designs and woodwork. You will get inspired when you see all the woodwork.
Furthermore, everything in it is easy to understand. Have a look at her site and get more ideas for your woodworking projects. Learn from Jen Woodhouse who is a master of woodworking arts.
2. Ana White, Ana White DIY
If you want to find lots of great woodworking arts, then you can visit the website of Ana White. Some of the projects are from beginners to advanced. Moreover, many people were able to create woodworking projects because of her. Her plans are excellent and many who want to perform good projects can benefit from her work. Some of the small decorative items from her plans, you can do yourself with less time. So definitely visit her site.
3. Alma Villalobos, Pink Soul Studios
Villalobos is from Chicagoland. She is a women woodworker and a maker of many things. From the first, she had an interest in woodworking so she made it her business. Then she began the Pink Soul Studios named after herself. Many of her personalised wood items are splendid. She makes her custom push sticks with her Iconic CNC. You can have a look at her profile on Instagram to have a glance at her work.
4. Claire Baldwin, Polish and Power Tools
Claire Baldwin found her passion for woodworking when she made a coffee table for her house. Then she became enthusiastic and created lots of furniture for her house. After that, she started the Polish & Power Tools. Her company is in Tennessee where she crafts excellent coffee tables, chairs and other wood products.
Her designs are exquisite. She shared in an interview that woodworking is not only about physical strength but about creativity too. You can have a look at her social media handle on Instagram to know about her work.
5. Ashley Nielsen, Build Like a Chick
Ashley Nielsen named her woodworking company Build Like a Chick to show that women can also take part in woodworking. Now she is designing personalised furniture and other items from Utah. Also, she likes to craft DIY items for home use. Currently, she is designing tables that look like a work of art. She is using all the genius in her business. Sometimes she adds metal to her furniture to make it different. It is her personal touch.
6. Sadie Mae John, The Awesome Orange
Sadie Mae John works sixty hours a week in her woodworking company named The Awesome Orange. Also, her motto is great "Build Loud, Build Wild.". One of the wild projects of Sadie is "How to Make Drawer Boxes – The Easy Way.". Therefore, every project of hers helps people to do woodworking quickly. Moreover, the slides she created offer a satisfying close for the users. Also, she is inspiring many women to learn the art of woodworking.
7. Anika Gandhi, Anika's DIY Life
Her company is in California and she offers easy woodworking plans for home decoration. She is a master at DIY techniques with wood. Therefore, when you see her projects you would get the passion to build. Her biggest inspiration to build is Anna White. Furthermore, some of her favourite projects are making nightstands and end tables.
8. April Wilkerson, Wilker Do's
April Wilkerson started her blog Wilker Do's where she builds wood furniture for her house. Now she is a famous woodworker and metal worker. Many people watch her videos to build things easily. Some of her famous works are "Building a Large Outdoor Staircase," and "How to Build a Queen Size Bed with Drawer Storage". Also, her step by step process has benefited many people.
9. Molly, WoodBrew
Molly is one of the best designer and woodworker. Her partner Dylan is her backbone. They both have created WoodBrew which is a great business. Furthermore, they also have a Youtube channel where you can learn to build furniture. Also, some of their latest works are DIY Planter Box and Outdoor Coffee Table.
Conclusion
These are the nine female woodworkers who are masters at their work. They are an inspiration for many women.
Also read: 20 Countries with The Most Beautiful Women in The World