Introduction:
Let's face it- MOV file format is known for its high-quality video and audio playback capabilities. But we can't ignore that users sometimes encounter unexpected errors while trying to play a MOV file. This can be very frustrating and could lead to confusion.
If you're encountering an error message saying – "MOV file not playing" or "Cannot play file", don't panic. The good news is there are different solutions that you can employ to get rid of the error.
In today's post, we'll discuss the possible reasons for "MOV File Not Playing" error message and show you how to play MOV files without hindrance using five different methods 
Part 1. The Reasons Why My MOV Files Not Playing
The MOV File Not Playing error could be caused by different reasons. And this includes the following;
A virus or malware attack can damage the MOV file or the media player application that is used to play the file, resulting in errors.
CODECS are software programs that compress and decompress video files. If the required CODEC is not installed on the computer, the MOV file may not play or may play with poor quality.
Incorrect Importation of MOV File:
If the MOV file was not imported correctly into the media player application, it may not play or may play with errors.
Error During Synchronization:
If the MOV file is being played from an external device like a USB drive or an external hard disk, an error during the synchronization process can cause the file to not play.
A MOV file may become corrupted due to several reasons like incomplete downloads, improper shutdowns, or power failures. Corrupted files will not play or may play with errors.
Improper Update of Media Player:
If the media player application is not updated properly, it may not support the latest version of the MOV file format, and the file may not play.
Bad Sectors of Storage File:
If the MOV file is stored on a hard disk with bad sectors, the file may not play or may play with errors.
Part 2. Fix "MOV Files Not Playing" Issue with 5 Methods
Now you have an idea about the possible causes of MOV files not playing error, let's dive into the solutions to help you get rid of the error without hassle.
Method 1. Repair Corrupted MOV Files With Video Repair Tool
One of the best ways to fix MOV not playing issues is to repair corrupted MOV files by using a video repair tool. But not just any video repair tool. Instead, the Wondershare Repairit Video Repair. It is an advanced video repair software trusted by many tech experts for fixing any kind of video error, including video black screen, videos not playing, blurry videos, and lots more.
With Repairit Video Repair, you will be able to automatically fix MOV files not playing errors without requiring advanced knowledge. Besides, it does not matter how badly the video is damaged, the tool will get it fixed flawlessly.
Key Features
Automatically fix video errors within a few minutes.
Supports 15+ popular video formats, including MOV, MP4, AVI, M2TS, MKV, etc.
Repair damaged videos with all levels of corruption, including video not playing, video black screen, video no sound, etc.
Repair corrupted video files without reducing their quality.
Supports repair of HD and 4K videos.
Support Windows 11/10/8.1/8/7/Vista/XP and macOS 10.10 ~ macOS 13.
Step 1. Install the Wondersahre Repairit Video Repair software on your computer.
Step 2. Launch the tool and select Video Repair and upload the MOV file(s) you want to repair by using the Add button as shown in the image below.
Step 3. Click Repair at the bottom right corner.
Step 4. The software will begin the repair operation immediately after you click the Repair button. Just be patient for it to finish the repair.
Step 5. Finally, Preview the video and click the Save button to choose a path to save the repaired video on your PC storage. Just ensure you don't save the repaired video in the same path where the damaged video was saved.
You can also use the Advanced repair mode on Repairit Video Repair if you have a badly damaged MOV file. The steps below explain how the advanced mode works;
Advanced Repair
Step 1. Click the Advanced Repair button.
Step 2. A pop-up should appear on your screen asking you to upload a Sample file. Click the Folder icon and upload a better version of the same MOV file created with the same device and the same format as the corrupted video.
Step 3. The uploaded sample file will be automatically checked by the software. If it meets up with the required standard, you'll be prompted to proceed to the next step.
Step 4. Click the Repair button to initiate the repair process. Repairit will take one to two minutes to complete the operation. Afterward, save the repaired MOV file to your device's storage.
Method 2. Repair Corrupted MOV files Online
Besides third-party software, you can also use online tools to fix MOV File Not Playing issue. And the Wondershare Repairit Online Video Repair is one of the best options that you can always count on. 
Unlike regular online video repair tools, Repairit Online Video Repair uses modern technology to automatically eliminate errors in video files. Thanks to its simple interface, you don't need to be tech-savvy to navigate your way around the tool's interface.
Key Features
Repair corrupt video files online in just three steps.
Supports 10 various video formats: MOV/MP4/M2TS/MKV/MTS/3GP/AVI/FLV/MXF/M4V.
It supports customers repair 150 videos per month and supports each video of 3GB online.
Boasts top-notch security that protects users' files from unauthorized access.
Method 3. Try Alternative Media Player
Your media player might be the reason why MOV file is not playing. So, it's advisable you trying using another media player to open the file. You can use either VLC, QuickTime, or Windows Media Player.
Method 4. Change File Extension
You can also change the MOV file extension to fix the problem. All you need is to follow the steps outlined below;
Step 1: Create a copy of the MOV file that's not playing. Then, launch VLC on your computer and click Media from the menu bar and select Convert/Save.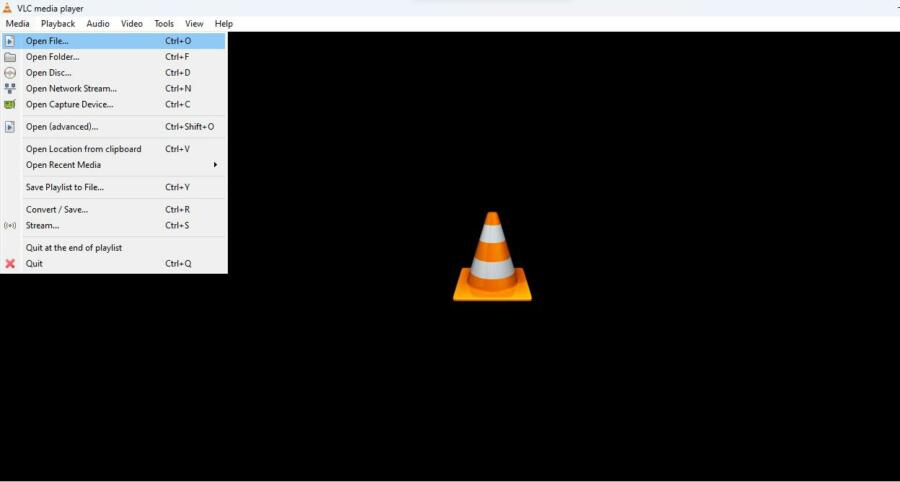 Step 2: Click the Add option to upload the corrupt MOV file. Then, select AVI as the new video format and click Convert/Save.
Step 3: Now, navigate to Tools and select Preferences. Then, select Input/Codecs.
Step 4: Navigate to Damaged or Incomplete AVI file section and choose the Always Fix option. Then, click on the Save to finish.
Try opening the file to see if it works.
Method 5. Fix the Incompatible Codec of the video
Fixing the incompatible codec of a video is another great way to fix MOV file not playing issue. And you can also use VLC media player to get this done. See how this works below;
Step 1: Launch VLC Media player on your PC or Mac. Click Tool from the menu bar and choose Preferences.
Step 2: Click on Input/Codecs and scroll to Damaged or Incomplete AVI File section. Then, click the drop-down next it and select Always Fix.
Step 3: After that, click the Save to finish.
Try opening the video file again using VLC to see of it works.
Conclusion
Ultimately, you don't need to be tech-savvy to understand how to play MOV file or fix MOV file not playing error. By implementing the techniques discussed in the article above, you should be able to get rid of errors preventing your MOV video from playing and enjoy the high-quality video and audio experience that this file format provides.
Also read: Why Google Kubernetes Engine is The Future of Cloud Native Computing