Just when you think ebikes couldn't get any better, Heybike comes up with a marvelous new addition to their already impressive folding ebike series. The Ranger S is the latest product in the company's fast-growing selection of stylish and powerful electric bikes that will make your daily commute so much easier and more comfortable. A significant upgrade from the earlier Ranger, it shows a gamut of improvements from its predecessor, from motor to colors and everything in between.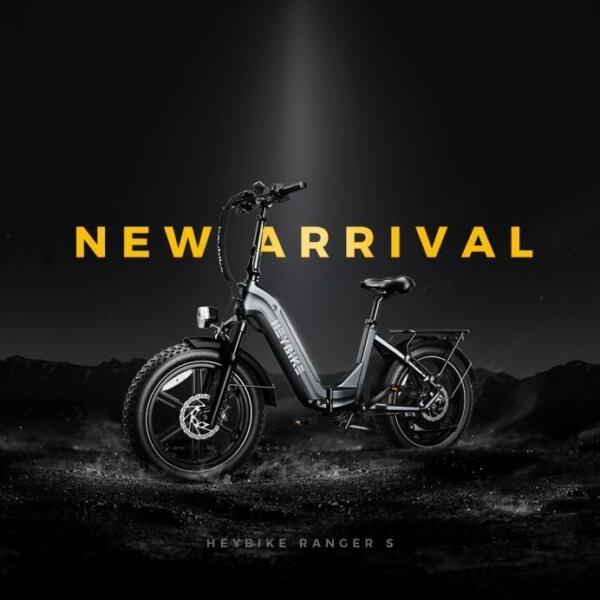 A New Level of Riding Performance
Equipped with a 750W brushless motor and a 48V 14.4Ah battery with LG cells, the Ranger S is capable of taking you to distances of 55 miles on a single charge. Charging time has also been cut nearly in half. From 5-6 hours, you can now have a fully charged ebike ready for your next trip in just 3-4 hours of straight charging. Not only that, but it also comes with a 4A fast charger to tide you over in case you run out of juice while on the road.
The Ranger S also gets you to your destination more quickly as it can reach a top speed of 28 mph. The ebike's fat tires with a formidable width of 4 inches will ensure that you enjoy a consistently smooth and stable ride on different kinds of terrain.
The Ranger S is an ideal ebike for running errands around the city or for commuting to and from work every day. In addition to the reliability of its performance, it also comes with a convenient rear rack that can hold your bags or other cargo.
This folding ebike certainly has a sleek and elegant design but don't let that fool you because it has a load-bearing capacity of up to 400 lbs. And even if you don't have any bags to bring, you can actually have a friend ride along with you, and the Ranger S will be more than capable of taking your weight!
Advanced Features for Safe Riding
When it comes to safety, Heybike has made sure that the Ranger S covers all the essentials. It features hydraulic disc brakes for better stopping power, increasing your safety when driving fast on busy streets. It also comes with a hydraulic suspension front fork that will make for a much more stable ride.
The auto-on headlights will give you clear visibility when riding after sundown or during low light conditions, and will also ensure that you are plainly seen by other motorists and pedestrians on the road. And when you are taking a turn, the turn indicator taillights can adequately warn drivers behind you to slow down and keep their distance.
Monitor Your Ride with the Heybike App
This folding ebike is fitted with an LCD that shows you valuable information during your ride, like battery power, speed and so on. You can also download the Heybike app onto your phone for free. From here, you can review all your ride data but more importantly, you can use the app to lock or unlock your bike to keep it secure. You can also update and customize your bike settings from the app.
Ride in Style
With the Ranger S, Heybike has decided to give riders a more adventurous color selection. Instead of just black and white, you can now choose from four exciting new colors – stone blue, merlot red, metallic sand, and shark grey. Find the perfect shade to match your personality and showcase your style to the world each time you go out for a ride.
In its ready-to-ride state, the Ranger S can easily accommodate a wide range of rider heights, from 4'11" all the way to 6'3". But when folded, the ebike is no bigger than a regular suitcase, making it comfortable for you to store and carry wherever you go.
Final Thoughts
Portability, power and style – these are what the future of commuting is all about, and what the Heybike Ranger S delivers. With all the impressive features that this latest Heybike has to offer, it is no wonder that commuters everywhere are clamoring to get one of these beauties for themselves. Check out the Heybike website and upgrade your ride today! And Ranger S will be available on Amazon in early June.
See more information about the Ranger S eBike or purchase directly from Heybike.
Also read: How You Can Get Ready for Your First Ride