Organizing a garage is an improtant project that need lots of creativity and hacks. So we have come of with some of the best garage storage ideas. Check out these DIY tips to make your garage organized and get ample of space to use.
Every homeowner will accept the fact that a garage is an important requirement. Without a garage, it will become difficult to keep cars, small vehicles and other equipment. That is why a garage is essential. If there is less space in the garage you may have to keep your car outside and it can get affected by factors like bird poop, sun, rain and other exposure. Because of this your car or vehicle can become dirty more often. Sometimes it can also get damaged. 
Therefore only if you keep it in a garage will it be convenient for you. In this article, you can know about 20 Garage storage ideas that will come in handy. Then you can keep your garage clean. These DIY garage storage ideas can help you to create more room in your garage so you can keep all the necessary things in it.
Follow the Garage Storage Ideas given here to make your garage look precise as a pin. 
1. Start cleaning your garage
Plan a whole day to clean your garage. You may find that some of the items in it are not of use. So get rid of the items you do not use or need. This will offer you lots of space for you to keep things that you use. Along with your family, plan this decluttering project to clean the garage. Then you can do the DIY garage storage activities.
2. Plan what to store in the garage
There are some things that you must not store in the garage such as paper goods, pet food, propane storage and the refrigerator. These can get damaged if they are in your garage. Storing them in some other place can help you to follow garage ideas effectively.
3. Arrange the baskets and bins vertically
If you have lots of baskets and bins in your garage then there is one tip for you. You can try arranging the baskets and bins vertically. Through this, you can save lots of space. Also, try getting different coloured bins to group the things in them. You can also label the bins to know what you have kept in it. After this, you can arrange the bins vertically on a shelf or storage towers. You will have lots of room for other kinds of stuff so it is one of the best garage storage ideas.
4. Build cabinets to keep products
If you have things like lubricants, paint, fluids or others then you can make a cabinet and arrange these in it. Therefore you will have a particular place for keeping these products. It will just cost you a couple of bucks to build a wood cabinet. Therefore install one in your garage. It is the best Garage organization idea to keep it tidy. 
5. Use Canvas storage bags
If you have seasonal decorations or wreaths that you want to keep safely then buy canvas storage bags. These bags will come in handy because they will keep the decorations safe. Hence buy canvas bags to store your decorations or other gentle items. To get rid of the insects you can buy a dryer sheet and keep it inside the bag.
6. Overhead storage
Instead of keeping many items on the floor of the garage, you can even store some things in the ceiling. It is the perfect place to store lightweight things. For instance, you can store the camping gear or other lightweight decorations in the ceiling. There are plastic storage bins available in the shops which you can use to store things. First, build a ceiling frame with wood and screw.
You have to take the size of the bin into account so it can easily slide in and out of the ceiling frame. So whenever you require the things in the bin you can slide them out and take things. This is one of the great Garage organization ideas to save space in your garage.
7. Storage wall in the garage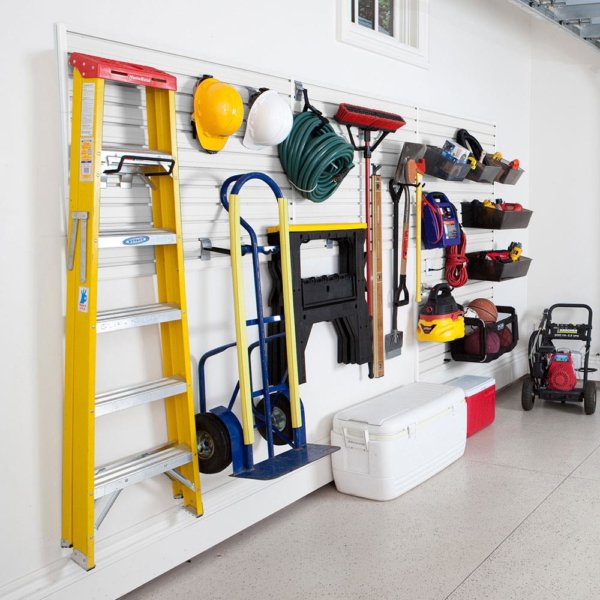 Choose a place in your garage for building a storage wall. This will help you to arrange all the important things in the garage wall so that you get space to park your car. The best solution to create a wall-mounted storage space is to build a framework of horizontal wood strips. This shelving will help you to store lots of stuff. Then you can also hang other gears in the space in-between the shelves. Therefore if you arrange all your things on the wall-mounted shelves then you will get more room for your car.
8. Add corner shelves 
Are there any corners in your garage? These corners can serve you well because you can add shelves in these areas to store things. These nifty corners can offer you a great storage space to arrange glues, oils, wax, paint or other things. So you can arrange small items on these corner shelves.
9. Storage tubes
If you use a lot of fishing equipment and sporting gear then storing them can be hard. They can clutter your garage if kept haphazardly. Therefore you can make use of storage tubes to keep the long items on it. They also save plenty of space. There are cardboard tubes available in the shops which you can use for storing your gear.
You may also like: 7 Benefits of Carport on Your Property
10. Monkey bars on the wall 
If you require storage space above the wall unit of the garage then you can make use of monkey-bar-style shelves. These are engineered steel that can hold lots of items. So you can store all your equipment in the monkey bars. So instead of keeping your tools on the table, you can keep them stacked neatly in the monkey bars. 
11. Tools racks to stack
You can build tools to store shovels, rakes, a sledgehammer, mops or anything with long handles. There is a design of the tools rack unit available which you can build on your own. Every garage must have this tool rack because long-handled items can be arranged properly in it. It saves lots of space and you can keep these tools out of the reach of children.
12. Storage locker for sports gear
If you or kids in your home are into sports then there will be a lot of sports gear lying around in your garage. So to keep them neatly arranged you can build a sports locker. This sports storage locker will help you to keep all the sports gear in one place. For instance in the square-shaped shelves in the locker, you can keep the sports bag, clothes, towel, shoes, bat, ball, and more. Also, you can add a personalised nameplate to it.
13. Throw and Go storage 
If you have kids in your home then it will be hard for you to keep the garage neat and clean. They may not keep things in place. But if there is a throw and go storage space in your garage your kids will love them. These shelves are easy to maintain because you only have to clean them now and then. Your kids can keep their toys on this shelf. They can just throw their toys on these shelves if they are in a hurry.
14. Recycling storage racks 
The recycling bins can take up lots of your garage space. But there is one great Garage storage idea for you. You can keep them vertically in the rack. These racks are easy to build as you just have to fix them on the wall. Then you have to hang the baskets in it.
15. Sliding shelves
The sliding shelves in the garage are space savers. You can store all your garage things on these sliding shelves. Also, they will give a very neat appearance to your garage. They are very easy to build too. You can fix these sliding shelves in your garage and it can change the look of it. That is why it is one of the great garage shelving ideas.
16. Roll around workshops
If you are using your garage as a car space and your workspace then you have to certainly buy roll-around workshops. This can help you save lots of space. Also, it is one of the best garage storage ideas. You can roll the table when you need to work and easily slide it to a corner after you complete your work. So there is space for your car as well as your workshop.
17. Bike storage
If there is less room to store bikes in your garage then you can create room for it in your garage. One of the great garage ideas is to fix cycle glides. Once this storage glide is fixed you can store your cycle on it and slide it closer to the wall. The hook will slide back and forth so you can easily take your bike when you have to use it. Follow this tip if you have two or more bikes but a small garage.
18. Pegboard walls
If you fix the pegboard to the walls in your garage then it will offer the best storage space to store your bikes and other heavy items. These pegboards are useful for small garages. Also, they are available in metal, hardboard, plastic and other materials. So buy them and fix them on your garage walls.
19. Cubbyholes for storage
By fixing the pegboard on the walls you can also add cubbyholes on them to store pencils, rulers and other items. To create cubbyholes you can make use of PVC pipes. Cut them into pieces you prefer and fix them on the pegboard. They will work wonderfully as storage for your little items.
20. Epoxy floor coating is best
If you use epoxy floor coating in your garage it will prevent oil stains and other dirt. So it will be easy for you to sweep and mop the garage. Therefore buy the epoxy coating which is available online and use it on the floor. This is a useful garage organization idea for you.
Conclusion
These are the best garage storage ideas for you. You can follow the 20 tips given above to keep your garage neat and clean. Also, there will be a lot of space for you to store all your important items in it.
You may also read: 7 Secrets That Will Help You Save Space in Your Home