HVAC, which stands for heating, ventilation, and air conditioning is an important component of any home. It is responsible for keeping the indoor environment comfortable and healthy by regulating the temperature and air quality. However, like any other system, HVAC can experience issues that require repairs. Here are some tips on fixing heating, ventilation, and air conditioning process of your house.
Identify The Problem
While regular maintenance and inspection of your HVAC system can help to ensure that it's running properly, at times you may find yourself in need of an accurate diagnosis and repair. When first looking into a potential issue, it's important to try and give yourself an idea of where the problem might be originating from. Start by checking for common issues like blocked filters or drain lines or even thermostat settings that could be preventing the system from working properly. If these don't appear to be the cause of your problem, then it may be time to call in a professional who can evaluate more complex components like motors, compressors and electrical wiring. Additionally, once the issue is identified they can inform you of what repairs are necessary and help guide you through the process. Knowing how to identify the source of your HVAC problems is key to keeping your home's climate control systems efficient and functional.
Check the thermostat
Inspecting your thermostat regularly is a great way to quickly identify any potential problems that could be impacting your HVAC's performance. Start by checking the thermostat's calibration. This can be done using a thermometer, or if you have a digital model, you can use the built-in testing feature. Additionally, inspect the wiring for any signs of damage as well as checking the entire unit for dust and debris buildup. Making sure that your system's temperature readings are accurate and that all of its components are in good condition is a simple yet essential step in helping ensure that your HVAC works properly and efficiently in the future.
Call a professional
If you are not comfortable fixing your HVAC system yourself, or if the problem is beyond your expertise, call a professional HVAC technician. A professional can diagnose and fix the problem quickly and efficiently, saving you time and money in the long run. It's also essential for the dwellers to keep their technologies durable by fixing the HVAC in their home.
Check the ducts
Checking the ducts of your HVAC is an easy way to identify potential areas of leakage which can negatively impact energy efficiency and waste money. Start by inspecting the supply and return ducts for any visible signs of damage, such as holes or cracks. Use a flashlight to look for anything out of the ordinary, such as bends in the piping or obstructions. Additionally, you can use a digital thermometer to check and make sure that the air temperature from each vent is within acceptable parameters. Properly sealed ductwork can not only help ensure your system's performance, but also potentially decrease your utility bills in the long run.
Check the refrigerant level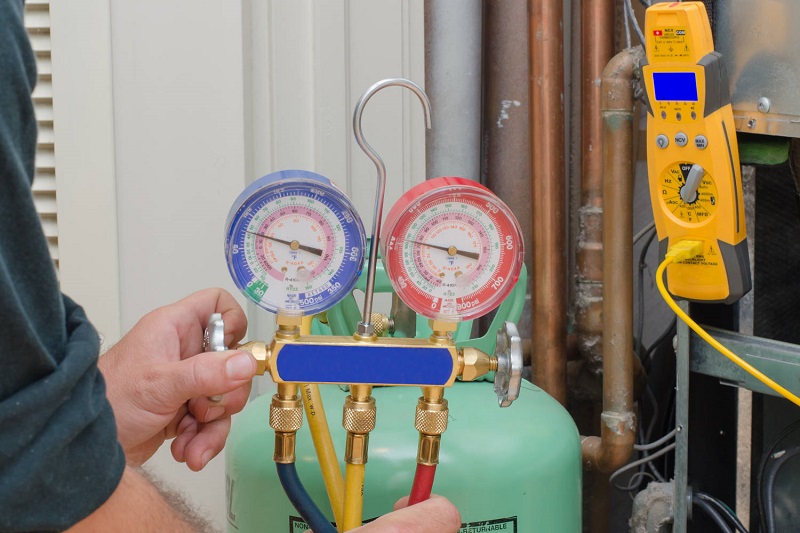 Checking the refrigerant level of your HVAC is important since it can have a big impact on the overall efficiency and performance of your system. Start by looking at your unit's owner's manual or contact the manufacturer to determine what kind of refrigerant your system uses, as each type is different. You will then need to find out what the optimal level should be. Once you know that, use a pressure gauge to test the current pressure levels and compare them to the ideal range. If you find that there is too much or too little refrigerant in your system, call an HVAC technician as soon as possible for assistance. Keeping an appropriate amount of refrigerant in your system can help maximize its energy efficiency while also reducing maintenance costs.
Clean the coils
Dirt and debris can accumulate on the coils of your HVAC system, reducing its efficiency. Clean the coils regularly to improve the efficiency of your HVAC system. Start by turning off the power and removing the access panel, which will expose the evaporator or condenser coils. Use a soft brush to gently scrub away any accumulated dirt or dust, and then use a vacuum to remove any remaining particles. Double-check that all panels are securely reinstalled and no wires are pinched before turning the power back on and checking for proper operation. Cleaning your unit's coils on a regular basis can help improve air circulation and reduce energy costs in the long run.
Conclusion
Fixing HVAC in your home can be a daunting task, but it is essential for the comfort and health of your indoor environment. By identifying the problem, cleaning or replacing air filters, checking the thermostat, checking the ducts, checking the refrigerant level, cleaning the coils, and calling a professional when necessary, you can keep your HVAC process running smoothly and efficiently. Regular maintenance and repairs can also extend the life of your HVAC system and save you money on energy bills.
Also read: HVAC Repair Services: Everything You Need to Know