Developing your business in this fast-moving world is challenging. Businesses worldwide plan to grow over time so that people can recognize them as an entity. Enterprises spend costs for advertising their products in fascinating ways to ensure their brand is recognized. Businesses worldwide were searching for the ideal answer to keep their budgets under control while guaranteeing the development of a unified brand identity.
BOPP bags are the best option for businesses that allow companies to market their brand by printing advertisements on the bags. This has the potential to lower the cost of branding significantly. If your company deals in products, BOPP woven bags are the perfect solution for your demands. It can not only make your company more well-known, but it also allows you to pack your goods in quantity.
Below you will see how a BOPP bag is different from a printed woven bag:
What is BOPP bags?
The BOPP film is stretched to both ends to create molecular chain orientations that span two directions, resulting in biaxially oriented polypropylene bags. It is also known as BOPP bags. This helps create a water-resistant, long-lasting, and sturdy bag, and its stereo-graded rubber and nylon external finish makes it perfect for printing.
It is used to package things in small to large quantities. This establishes the BOPP bag design framework, which is utilized for packaging and branding.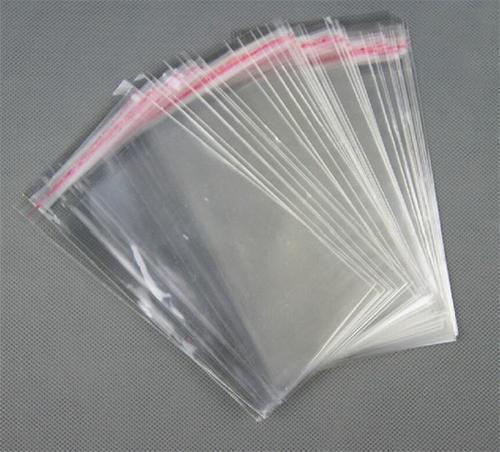 Uses of BOPP bags
The goods stored inside these bags are protected from the elements and moisture by the way they are made. BOPP bags are made of polypropylene film, in which you can pack heavy items. Your company will benefit significantly from having a shipping product made to keep its structure intact when used.
1. Pet and animal feed
Waterproof Bopp bags protect the items kept inside from mold and mildew. When shipping out animal food, the last thing you want to happen is for it to get wet. A health danger would result from mold and mildew getting into the food.
Additionally, because automated bagging machines can quickly fill them, they make a fantastic choice for animal feed. They can be readily stacked in the stores, which is another benefit. Making the store floor display of your merchandise attractive and organized.
2. Fertilizer and pesticides
These purses' designs are created using a pinch technique at the bottom. By doing this, you can be positive that the product inside the bag is dry. Nothing can seep out either because of the way they are sealed rather than sewn. They are also impervious to tearing and punctures. The fact that the ingredients and instructions for your product can be printed directly on the bag is a valuable way that these bags can help you save money.
3. Construction materials
BOPP bags are excellent for packing concrete mix, sand, plaster mix, and other mixtures. Once more, they are kept secure and dry due to packing that doesn't add significantly to the product's weight. To meet any need, these bags are available in various sizes.
4. Grass seed
For grass seeds, these robust bags work wonderfully. BOPP bags can ensure that the merchandise is fresh. They will safeguard the product from the elements and maintain its dryness. It is simple to open the bag and pour out what you need. BOPP woven bags also have a UV coating, making it easier to withstand prolonged solar exposure. These bags can withstand movement and are not readily punctured.
Difference between BOPP bags and printed woven bag
As both appear the same at first look, it is difficult to distinguish between them. Yet, touching it allows one to tell the difference apart.
Here is the list of the difference between the BOPP bags and printed woven bags:
1. Manufacturing
The BOPP bag is constructed from polypropylene woven cloth. The lamination of a biaxially oriented film is the only difference between BOPP bags and other bags. The film is transparent, laminate- and printing-friendly.
The most common type of bag is a Printed woven sack or bag. The bags are white, fluffy, and durable. Lamination makes them slightly more complicated. It provides the necessary brittle and makes the BOPP bag suitable for branding and printing.
2. Application
Because they make branding and printing easier, BOPP bags are most frequently utilized in the retail sector. Moreover, the biaxial orientation increases the material's strength and gives it a glossy appearance. This bag provides the necessary strength to support the weight. It stores various items, including flour, sugar, rice, lentils, etc.
Several businesses employ PP woven sacks or bags for various purposes. It is mainly utilized for storing different products, including crops, chemicals, cement, etc. In the logistics sector, it is also employed as a packing material.
3. Properties
Due to the minimal water retention characteristic of PP woven fabrics, woven bags are sometimes referred to as water-resistant bags. Only a few printed woven bag manufacturers customized the material, maximizing its water-resistant property. The end product is PP Laminated Fabric.
In comparison to standard PP woven bags, BOPP is more weather resistant. BOPP woven bags are mainly used for packaging flour due to their excellent moisture resistance. Its widespread use is due to its ability to protect flour from moisture for an extended time.
However, despite being a material that resists water, PP woven bags cannot be used to keep flour directly. The bulk packing of flour packets is appropriate. In this instance, it serves as an additional layer of defense.
4. Durability
Polypropylene is the primary component of BOPP bags and PP braided bags. As a result, they both receive the same marks for the sustainability criterion. Both purses are strong and environmentally friendly.
5. Size of bags
PP bags are available in various sizes because they are mainly used for packing and storing different goods. These bags are big and open-mouth bags. Bulk materials are stored in these bags.
BOPP bags are primarily used in shopping because they can be printed. As a result, it is only available in specific quantities, such as 1 kg, 5 kg, 10 kg, and 50 kg bags. Depending on the needs, manufacturers also give size customization for these bags.
6. Visible product
The three-layer and four-layer bags' front, back, or gussets can all be customized with transparent sections. Doing this lets, you make your product evident inside the bags without compromising the bag's quality.
Allowing your high-quality product to be on display while being securely stored inside the BOPP woven bags gives your product the advantage of the customer seeing it clearly within the bag, providing a marketing opportunity. In the printed woven bags, you cannot see the inside product.
Bottom line
Are you interested in using BOPP bags for your company? These bags could be a valuable asset for your company. Due to its reliable benefits, more business people are buying these BOPP bags. Thus, with the above-discussed points, you learned how a BOPP bag differs from a printed woven bag.
Also read: Is A Gucci Bag worth The Price?