The most effective and common technological method of advertising has always been and remains the presentation of visual material. And since visual perception is the main source of the most important and relevant information for a person, we can draw a very definite conclusion — the most effective tool for promoting goods and services is gallery walls. The art wall is actually a specially allocated space in the exhibition pavilion, where the general exposition is formed.  
To create a gallery, you need to approach it wisely and creatively, so that the paintings adorn the walls and create a harmonious image of the building. One picture, as it were, pulls another, so choosing one style, one direction, or simply hanging fairly successful paintings in one row is not the whole job. Art walls, or rather their arrangement, the creation of the interior serves as the background of the composition.
Based on the composition, you can use the following design options:
portable walls;
removable walls;
create panel-wall art.
Modular walls are a collapsible structure designed to accommodate photographs, paintings, drawings on several levels. Stand length 600 or 1200 mm. This is a universal complex that allows you to quickly create various exposure options.
What are The Rules for Decorating Gallery Walls?
The first thing that designers focus on is the level of a person's gaze. Therefore, the rule is called the 'Eye Level Rule'. Paintings must be at a height of 152 centimeters, as is generally done in museums. This is considered the center of the canvas and ideal accessibility. Secondly, it is important to showcase the entire collection and take up most of the wall. Your collection will attract the main attention.
They should not be as similar as possible, but some common idea should unite. Stands and partitions are assembled from completely ready-made portable walls, they are distinguished by ease of installation, assembling stands for an exposition of any complexity can be carried out by just two people.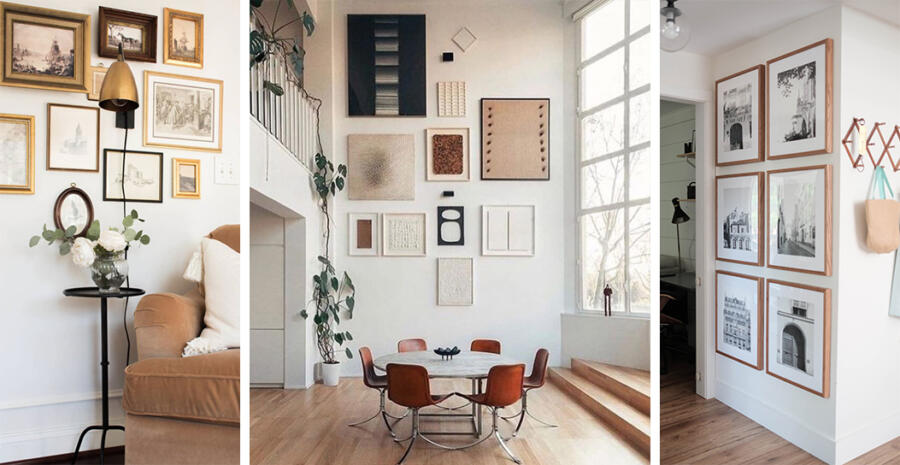 There are also art wall panels. Most people are used to the fact that a painting is a single canvas on which there is a thematic or abstract image. But it's not that interesting. Firstly, the picture can be divided into several parts – they are modules. They can be divided both apparently by hanging parts at a distance, and physically — beat with modular walls. This technique makes it interesting to place an art object.
Usually the modules are hung, keeping the same distance. But it all depends on the composition. According to the arrangement of the picture, there are horizontal and vertical paintings for which you can use gallery walls. 
Panel wall art can be a solid finished wall, which is why it is a fine and decorative art. Of course, they can be fabric, hinged, paper, but more often they are used as a ready-made version of wall painting. Not limited by weight, light, such panels can be large, occupying almost the entire wall, and miniature.
In addition, unlike decorative painting, panels can also perform practical functions. Textile panels can be placed on absolutely any surface. With exhibition walls you can create modular showcases, combine room and gallery walls in one idea.
Also read: How to Select the Best Ceiling Paint?