Poker is a wonderful game that has been enjoyed for years by people all over the globe. It is indeed a great pastime that brings people together, having seen a surge in popularity in recent years. The rise of poker is due to the growth in the number of poker clubs and casinos available, the broadcasting of poker games and tournaments on the media these days.  
All these factors have played a crucial part in the game's growing popularity. The available casinos and poker clubs have made it easier for players to find a place to game in person while Online poker has made it possible for people to play poker games such as Texas Holdem online anywhere and anytime from the comfort of their own homes. 
In this article, we'll get to discover how to construct the right poker set-up for a fun and exciting atmosphere for your next game.
Key Items for the Perfect Poker Set-Up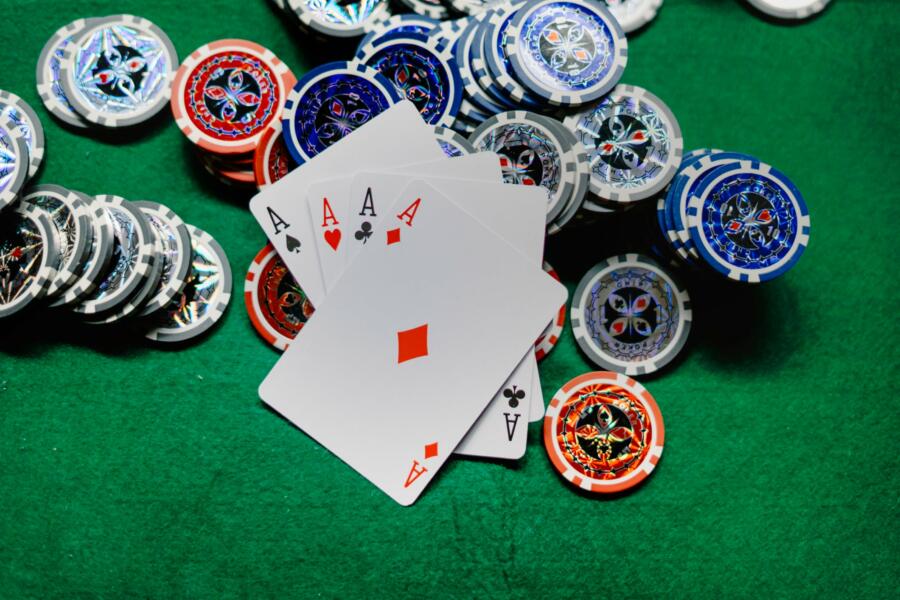 Creating the perfect poker set-up can sometimes be tedious, but it's worth it to have a comfortable gaming experience with friends. Listed are key items needed to create the perfect poker set-up:
1. The Poker Table
The poker table is the most important factor of any good set-up and the centrepiece for any poker game. The table must be durable, carefully planned, and large enough to satisfy all the player's needs. The table needs to contain a padded railing with cup holders, both of which are important to prevent spills and maintain a smooth gaming atmosphere. Investing in a high-quality poker table is fundamental for creating a pleasurable gaming environment that would not only suit your needs but would last for years.
2. Poker Chips
Poker chips are very necessary items for any poker game. The best part is they come in a wide range of trends and forms. It is essential to select chips that are of high quality, easy to operate and stack, as low-quality or flimsy chips can snap and cause distractions from the playing experience and ultimately make the game less enjoyable.
Poker chips are necessary for keeping the game unbiased, tracking bets and winnings. It can also be used as collectable items that can add a touch of class and finesse. These poker chips are available in a vast array of categories and colours. Making it easier to find the ones that best meet your needs.
3. A Deck of Cards
There's no poker game without a deck of cards. The standard deck necessary are 52 high-quality cards. It is important to make sure the cards are meticulously shuffled and are in great condition before each play. Players are to select quality cards that are easy to operate and shuffle. Plastic cards are preferable options due to their dependability to withstand constant use.
4. Chairs
Everyone needs to have a comfortable and convenient chair to sit in while they are playing for a perfect poker set-up. It's important to get chairs that are comfortable and supportive, with a durable frame and lots of padding.
When selecting chairs, it is important to look for chairs that are the right height and length for the table. One should also avoid chairs that are too soft or hard. Adjustable chairs are sometimes better options as they give room for players to customize their seating position for full comfort, which is necessary to keep players relaxed and focused during a long game.
5. Accessories
Accessories are a necessity. The inclusion of accessories such as a chip tray, dealer button and a poker clock can augment your poker set-up making the game more satisfying. A poker clock can be efficient in keeping tabs on time during a long game. Making sure that the players remain engrossed and progress smoothly.
Similarly, a dealer button is a petite and easy-to-use object that is used to keep track of the dealer (player) for each hand. Note that these accessories are not necessary, but by adding these accessories, players can create a more proficient and polished poker set-up that would enhance the overall gaming experience.
6. Comfortable Environment
A spacious room is necessary for everyone to move around to create a comfortable environment that can provide a good gaming experience. It is considerable to use soft lighting that doesn't cast shadows to create a perfect atmosphere.
In conclusion, there are a lot of items needed to create the perfect poker set-up. These may include but not limited to a durable poker table and chairs, high-quality poker chips, a deck of quality cards and options for accessories. Spending on these items can create the right poker set-up that will provide hours of fun and excitement for you and your friends. 
Also read: How to Verify Your Casino Account – 2023 Complete Guide