Have you ever felt uneasy that someone is watching you in a bathroom, dressing room or any private space with a mirror? Let's have a look! If there is a wall behind a mirror or say double sided mirrors you can use a few easy approaches to see if it is transparent by looking at how it is placed. There are more precise ways to determine whether a mirror is two-way than the fingernail test, which you may have heard of.
Consider the Location
Take Note of the Mirror's Installation.
Look to check if the mirror appears to be hanging on the wall. Or if it is a part of the wall. Whether it seems to be dangling, try to see if there is a wall behind it. A double sided mirror must be fixed into the wall rather than hung from it. Therefore if the mirror appears to be a part of the wall, it probably is. People standing on the opposite side of the wall can see someone looking in the mirror in this manner.
A glass piece with a micro pane coating is a two-way mirror. You can see your reflection if you're standing on the treated side, but the untreated side is a tinted window.
It's likely just a normal mirror if a wall is visible behind it.
Consider your Location.
A double sided mirror is unlikely and prohibited if you're in a public setting. Or, precisely in a place, anyone will expect privacy, like a loo. On the other side, law enforcement routinely makes use of two-way mirrors. For instance, lineups and interrogation rooms both use two-way mirrors.
Most states have also approved laws banning two-way mirrors in restrooms, hotel rooms, locker rooms, showers, and dressing rooms.
Due to the risk of users damaging glass mirrors, many locations, including petrol stations, use one-way metal mirrors.
Consider the Lighting.
Take a look around to see whether it seems like the lighting is very bright. Then you may be looking into double sided mirrors. But if the room's lighting is rather low and you can't see through the mirror immediately, it's probably just a regular mirror.
The light on the mirrored side of a double sided mirror must be 10 times brighter than the light on the opposite side to be effective.
Examine the Mirror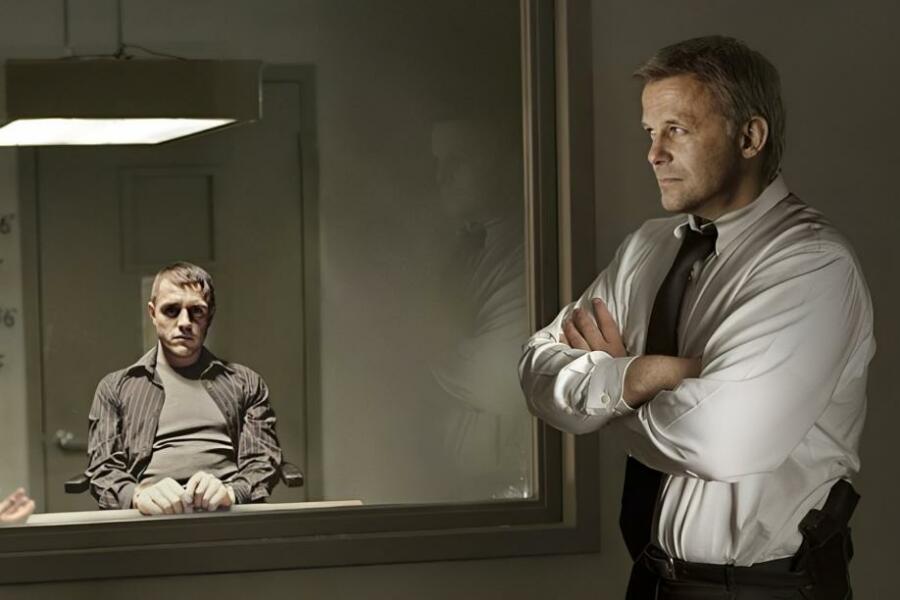 Sound it Out.
With your knuckle, tap the mirror's surface. Due to its placement in front of a wall, a typical mirror will make a flat, dull sound. The fact that there is an open area on the other side of an observation mirror causes it to make an open, hollow, and echoing sound.
Try to Look Through the Glass as Best as You Can.
Try to block out as much light as possible by pressing your face against the mirror and enclosing it in your hands. You should be able to see through the glass if the light in the observation room is even slightly stronger than the light on your side of the mirror when you do this.
Shine a Light on it.
If you're still unsure, turn out the lights and shine a flashlight against the mirror. It will be lit up, and you will be able to see the room on the other side of it is a two-way mirror.
You May Try the Fingernails Test.
You can use your fingernail to tell whether a mirror is a first or second mirror. But, it is not exactly reliable. Put your fingernail directly on the mirror's surface. You cannot feel your reflection when you touch a mirror with a second surface; instead, you will see a gap created by the second layer of glass covering the mirrored surface. A first-surface mirror has no additional glass layer between it and your finger. So, you can indeed touch your reflection in it. First surface mirrors are pretty uncommon; thus, if you find one, it was probably found for a very special cause, and it's likely a double sided mirror. Mirrors with a second surface are the commonplace mirrors you see everywhere.
It can be very challenging to discern whether or not you are touching your reflection due to factors like lighting and the material the mirror is made of. The first surface of a mirror could appear to be touched when it is not.
A second surface mirror could also be a two-way mirror. Don't let the fingernail test be the determining factor if other elements of the situation, such as the mirror's setup and illumination, clearly show that what you are seeing is two-way.
Consider Breaking the Glass as an Extreme Measure.
The mirror's backside or a solid wall would be visible if it were a normal mirror that broke. You can view the room behind the mirror if it is a two-way mirror. If you feel threatened or in danger, think about this option. There will be damage and safety risks if you break the glass.
Wrapping Up
So, these were some of the tips and tricks. You may follow to know whether it's a double-sided mirror. We hope this guide might help you save yourself from uneasy and weird situations in life!
Also read: https://www.gudstory.com/factors-to-consider-when-buying-bathroom-mirrors/