There's something special about spending the night in a hotel. In particular, the finest five-star facilities offer a magical experience characterized by high-end furnishings, exceptional amenities, and of course plenty of plush bedding. Whether you're checking in for a single night or planning to stay several days, you can expect to walk out the door of the hotel feeling happier and more relaxed than when you arrived.
Still, consumers often struggle to create a luxury experience at home then you might try our luxury comforter sets. While we might not be able to transport you to Paris or Tahiti, learning to make a bed at a luxury hotel can go a long way toward reducing your stress levels and helping you live life more joyously. Read on for tips on creating a hotel-worthy bed courtesy of the team at Latest Bedding.
High-End Sheets and Duvet Covers
Sheets are the foundation of any bed and for good reason. After all, they're the article of bedding that makes the most contact with your skin. If you want to make your bed like you're staying in a five-star facility, start by choosing a truly luxurious sheet set. We recommend 100 percent Egyptian cotton sheets by a top brand such as Pure Parima. Silky soft and exceptionally breathable, these percale and sateen sheet sets will keep you cool and cozy on even the hottest of nights.
Choose from an array of colors including White, Ivory, and Icy Blue. Top off your new sheets with a lusciously soft duvet cover like our Lili Alessandra Soho Ivory Matte Velvet Cover.
White Luxury Comforter Sets
Close your eyes and picture the last luxury hotel where you were fortunate enough to spend the night. The odds are good you're imagining clean, crisp, deliciously soft white bedding. A majority of five-star facilities choose all-white sheets and duvets because it makes guests feel they're sleeping on a cloud.
To create a luxurious hotel experience at home, opt for all-white bedding like the Mackay White 4-Piece Comforter Set By J Queen. Clean, fresh, and endlessly appealing, this set comes with a bed skirt and matching shams so you can spend more time sleeping and less shopping.
Premium Pillowcases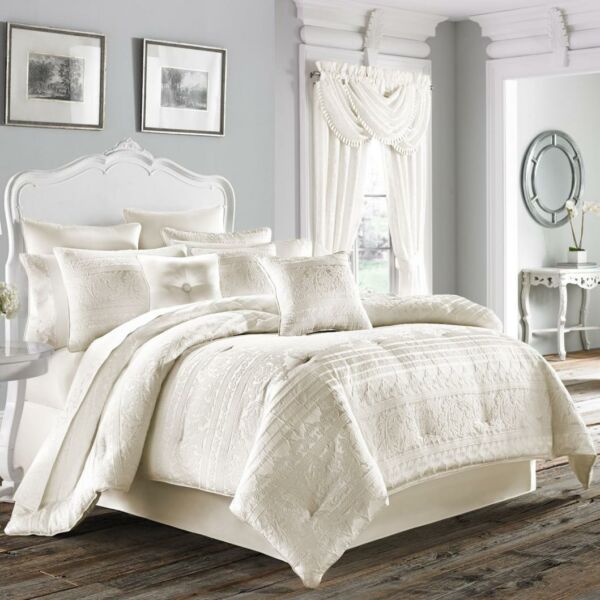 It's hard to rest easily if you have a stiff neck. When it comes to making your bed like a luxury hotel, choosing the right pillows is essential. Start by assessing your sleep style. For example, those who tend to slumber on their sides will likely need pillows with a higher loft.
Then again, stomach sleepers do best with thinner pillows. Fresh white cotton pillowcases protect your pillow and your skin while giving your whole bed the appearance of a fluffy cloud. Add a few throw pillows, and your hotel-quality bed will be complete.
Experience Hotel-Quality Bedding Without Leaving Home
You don't have to book an exorbitant hotel stay to enjoy truly exceptional sleep. By investing in luxury comforter sets, premium sheets, pillows, and more, you can turn any bedroom into a five-star haven. Shop Latest Bedding today for the widest selection of twin, full, queen, king, and California king comforters.
Also read: 8 Important Reasons Why Egyptian Cotton Is the Best for Bed Linen