SEO has become a core skill for business owners and digital marketers alike. In essence, SEO stands for optimizing website content for search engines to perform better with Google's ranking factors such as:
Website loading speed
Mobile-friendliness and responsiveness
Page Authority (PA) and Domain Authority (DA)
Security certificates
Website structure and navigation
SEO is typically divided into 3 main subsets:
On-page SEO; on-page elements like images
Off-page SEO; off-page activities like backlinks
Technical SEO; website health factors like sitemaps
Finally, there are other subsets such as local SEO targeting local audiences through Google My Business (GMB), while Instagram SEO optimizes Instagram content specifically.
Why your Website Domain matters for SEO
SEO is indeed crucial to rank a website on search engine's first pages for targeted keywords as that's where most clicks happen.
But how does your domain name make a difference here?
Well, the first criterion that matters is your TLD – top level domain. This is the ending of your domain name such as .com or .net. A .com TLD is mostly used for commercial websites, whereas a .co.uk or .de domain name registration is primarily chosen for localized markets targeting country-specific TLDs, e.g., the .de domain for Germany. A country-specific TLD can boost a website's SEO performance on local searches for example.
The second criterion is your domain name choice. If you set up a business website, you'd want to ensure that your business or brand name is reflected in your domain name. And you should also try to find that domain name with the same or similar spelling to make it as easy as possible to find or search for.
When building a brand with marketing and SEO, a branded domain name will help significantly with easy recognition and better visibility.
Why your Brand & Domain Name should match
Your brand and domain name overlaps with 3 main subjects:
1. Keywords
A keyword in your brand and domain name can act as a relevancy signal on search engines and enable easier SEO and marketing campaigns. 
2. Search intent
Another crucial factor with regards to ranking on search engines is matching search intent. If your brand and domain name contain a search term such as "cleaning" for example, your website is more likely to show up in related searches.
3. Branded searches
Once you have established your brand, your brand name will factor into how many branded searches you will get and this is obviously easier to achieve when using existing related words rather than imaginative words. 
Your brand name is your online identity and web address and the first point of contact for visitors. It's what backlinks in your off-page SEO strategies will link to, hence, your brand name needs to tick these and smaller, but still very practical, boxes. In doing so, it will benefit your SEO and marketing directly and indirectly.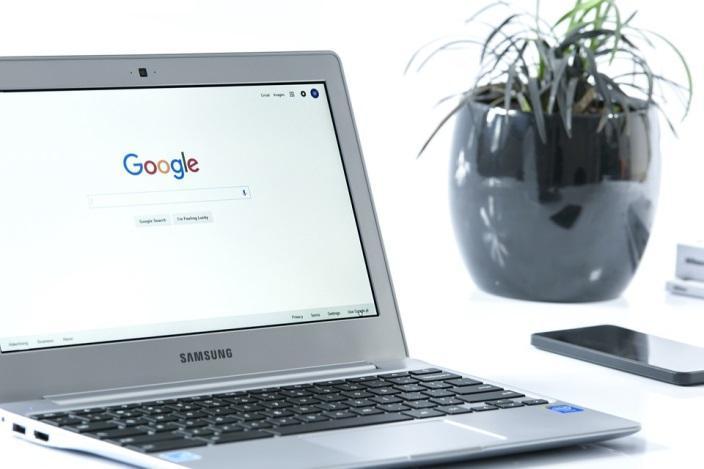 Picking the perfect Brand and Domain Name
If you struggle with where to start, here are some tips to help you identify and find your perfect brand and domain name.
#1 Use a domain checker tool
A domain checker tool can quickly and easily check if your chosen brand and domain name is still available for domain registration with your preferred TLD, here's how it works:
Pick a word you'd like your brand and domain name to include and submit it via the search bar.
Then, pick one of the suggested domains that are available if you like it.
If you don't like it, continue your search until you find one that is the perfect match.
Finally, check search engines like Google or Bing for your chosen name; the fewer similar results, the better.
You should ensure you'll have less competition for your brand and domain name as this will be beneficial for SEO and in marketing.
#2 Keep it short and readable
Keeping your brand and domain name brief will make it more memorable, easier to spell, and more readable.
There are 3 main factors with regards to length:
Words. Single-word names may be harder to come up with, but ideally, you shouldn't exceed two words.
Syllables. Fewer syllables will also help with the above. Ideally, you should strive for two to three syllables per word.
Characters. Finally, characters are the final arbiters of length, and the suggested number is 6-14 characters, but some domains can have up to 60 characters.
For easier spelling and readability consider the following:
Avoid hyphens. Hyphens can get in the way of word-of-mouth traffic and frustrate visitors trying to remember your brand and domain name.
Avoid repeating characters. The same applies to repeating characters between words; "onlyyou.net" may visually confuse, while "justyou.net" may not.
Choose easy spellings. Spelling mistakes can also cost; consider "figure" over "silhouette", for example.
#3 Go for uniqueness 
Use your creativity and consider the following starting points:
Make up new words. While risky, new words that phonetically resemble existing ones can be very catchy like "Canva" – "Canvas".
Use existing but rare words. Should they meet your criteria, you may use words that aren't typically in the public discourse. A great example of this would be Bing.
Modify existing words or phrases. Lastly, you may put a unique spin on existing words or phrases as Amazon did.
As unique as a brand name may be, it still needs to be brief, readable, and phonetically pleasing to be memorable.
#4 Optimize it for SEO
Your brand and domain name should have high search volumes and low keyword difficulty to rank easier and faster on search engines. You can use different SEO tools to research keywords you have in mind for your brand and domain name to identify which ones tick those boxes. 
Conclusion
Your brand and domain name can be your best SEO and Marketing trick by targeting relevant keywords and facilitating easy branded searches on search engines. It is the very first point of contact visitors have with your business, so it needs to be memorable and distinguishable. Good luck with your hunt!
Also read: How Do You Design A Website? Everything You Should Know