The diverse land of India is known for its glorious past, incredible culture, heritage, wildlife, architecture, stunning landscapes, and historical monuments. Its unique cultural heritage, magnificent glory, and remarkable history attract thousands of visitors over the globe. India has many tourist attractions to visit; you may end up stuck at where to begin.
The Golden Triangle tour is the best way to taste what India is all about and its vibrant culture. It is one of the most famous travel circuits connecting major tourism cities Delhi, Agra, and Jaipur. Located at almost 200-250 Km from each other, these three cities are the vertex of a Triangle in the Map. The months of October through March are great for exploring the Golden Triangle in the best way. During these months, the temperature falls around 22 to 32 degrees Celsius, making it pleasant to visit these places. We would recommend you to look at Thrillophilia Reviews before planning your trip for the Golden Triangle.
Have a closer look at all three destinations of the Golden Triangle and must-visit places to cover in your itinerary.
Delhi
The Golden Triangle trip itinerary begins from the busiest but unique city, Delhi. Delhi, India's capital, is a fascinating mix of historical past, culture, and modernization. Delhi has it all from stunning architectural wonders, exquisite gardens, excellent museums, temples, and mosques to bustling markets, nightclubs, adventures, tasty cuisines, and shopping.
Must visit places
1. India gate
Among the most popular Indian monuments, the India Gate is a 42-meter tall war Memorial. Built-in sandstone is known for its magnificent structure, beautiful carvings, and plush lawns.
2. The lotus temple
The lotus temple is famous to the Baha'i faith and is an ideal spot to relax. Its structure of a stupendous white petal lotus constructed with marble makes it one of the unique landmarks in Delhi.
3. Red Fort
The shadow of the grandeur of history, Red Fort is the most visited tourist attraction in Delhi. Spread in an area of 254.6 acres, It is the largest monument of Delhi. It is known for its fascinating architecture with many major structures like Diwan-i-Khas, Diwan-i-aam, Lahori gate, Moti Masjid, etc.
4. Humayun's tomb
The tomb of Mughal emperor Humayun is a captivating structure built in the mid 16th century. Surrounded by lush gardens, the tomb is constructed in a beautiful blend of Persian, Turkish, and Indian architecture.
5. Qutub Minar
Among must-visit places in Delhi, Qutub Minar is the tallest brick Minaret globally, with a height of 73 meters. It is a 12th tower featuring five Storeys covered with carvings.
Some other places to visit
Raj Ghat, Chandni chowk, Akshar Dham temple, Jama Masjid, Rashtrapati Bhawan, Fun n food village, Kingdom of dreams, the world of wonders, Connaught place.
Agra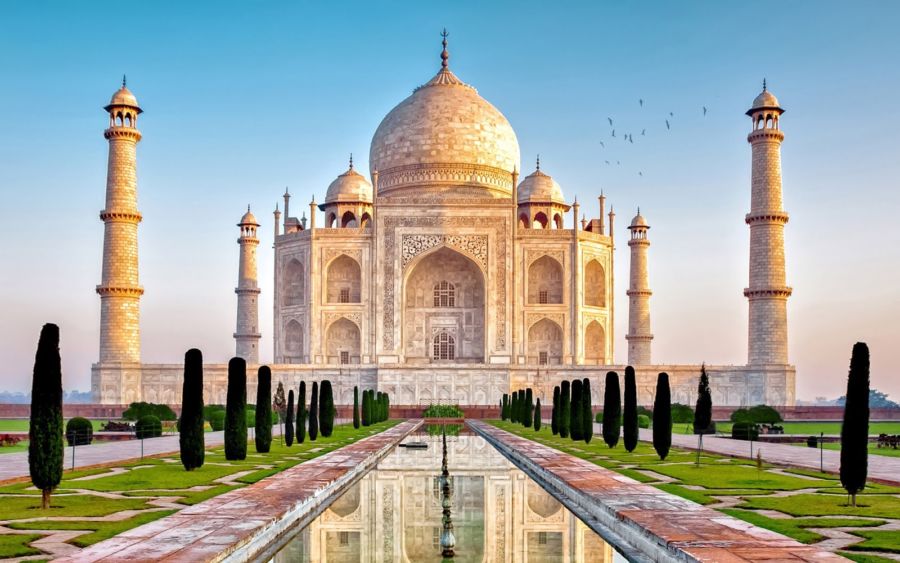 The second destination in the Golden Triangle itinerary, Agra, is located at a distance of 240 Km from Delhi. It is easily accessible by road, however a train trip from Delhi to Agra is time-saving and fun-filled.
Home to the world-famous Taj Mahal, Agra is a historical city representing the reminiscence of the Mughal era at its utmost. Nestled on the banks of the holy river Yamuna, Agra is known for stunning monuments, mausoleums, gardens, and old Bazaars.
Must visit places
1. Taj Mahal
One of the Seven Wonders in the world, The Taj Mahal, draws millions of tourists to the city of Agra. The beauty of the Taj Mahal is impossible to describe in words. Known as the monument of love, Mughal emperor Shah Jahan built it in the memory of his beloved wife Mumtaz after passing away.
The construction of the Taj took 20 years in the mid 17th century by 20,000 labourers. The Taj is a white marble mausoleum decorated with floral carvings, semi-precious stone, inlays, and calligraphy. Must visit the Taj during sunrise and sunset times for the best visuals. You may also take a boat cruise on the Yamuna River while seeing the Taj Mahal.
2. Agra Fort
Agra fort is among the most robust and historically significant Mughal Forts in India. Spread in 94 acres, The Agra fort is made of red sandstone and white marble, featuring several magnificent palaces, gates, halls, mosques, and gardens. Witness the exciting sound and light show recreating the history during the evening times.
3. Fatehpur Sikri
Located 38 Km from Agra, Fatehpur Sikri is a must-visit destination in Agra. It is an ancient town constructed in the 16th century by Emperor Akbar. Owing to its name, the Town of victory was built after his memorable win over Gujarat.
Some other places to visit
Mehtab Bagh, Sikandra fort, Sheesh Mahal, Korai village, Itimad-Ud-Daulah's tomb, Moti Masjid, Jama Masjid.
Jaipur
Representing the Royal culture and heritage of Rajasthan, Jaipur is known as a pink city due to its pink colour of buildings. Jaipur is all about Royal Palaces, majestic forts, Havelis, museums, markets, art, and unique architecture.
Must visit places
1. Amber Fort
Amber Fort is the most visited tourist attraction in Jaipur, attracting lots of tourists throughout the year and sprawling in an area of 4 sq. Take a thrilling elephant ride from the bottom of the Fort to reach the main Fort.
2. Hawa Mahal
The most iconic monument of Jaipur, Hawa Mahal, is an architectural building constructed with red and pink sandstone. Famous as the Palace of wind, It is a 50 ft tall Five Storey monument known for 953 small windows covered with latticework.
3. City Palace
It was built in 1727 and is currently the home of Jaipur's royal dynasty.
4. Albert Hall muse
Albert Hall Museum is Rajasthan's earliest gallery, located in the famed Ram Niwas bagh. Built-in Indo-Saracenic architecture boasts a rich collection of artefacts, paintings, jewellery, carpets, and metal scriptures.
Some other places to visit
Jal Mahal, Nahargarh fort, Jaigarh fort, Moti Dungari, Birla Mandir Temple, Galta Ji, Chokhi Dhani, Johri Bazar.
Also read: 5 of The Most Unique Things You Will Get To Experience Only In India