Let's be real, be it elementary school or high school, going to the school bathroom wasn't an inspiring experience, to say the least. In fact, you probably wished to do a complete makeover if you had a choice. Even though school bathrooms aren't the most pleasant areas at all, they remain an essential part of the school for daily usage. Therefore, schools are thinking a bit differently now. They are now looking for some inspiring changes to the awful bathrooms. With a touch of creativity, you can do a full make-over to a bland school bathroom.
However, if you aren't able to find any sort of inspiration, then try to give this article a read. You will find some of the inspiring makeover ideas that'll make visiting the bathroom a pleasant experience for the school kids.
Let's Check Out the Best school bathroom makeover ideas
So now it's time to apply all that creative energy to make something unique. Without further ado, let's head down to the top 10 inspiring bathroom makeover ideas.
1. Driving Home the Most Essential Bathroom Rule
Oh boy, now what's it going to be? Well, of course, the same old 'wash your hands.' However, the trick here is to be creative. Therefore, you can grab a bucket of paint and paintbrush and write the rule on the bathroom wall. Moreover, you can also use a pre-cut vinyl decal for the lettering.
2. A Trip Over the Rainbow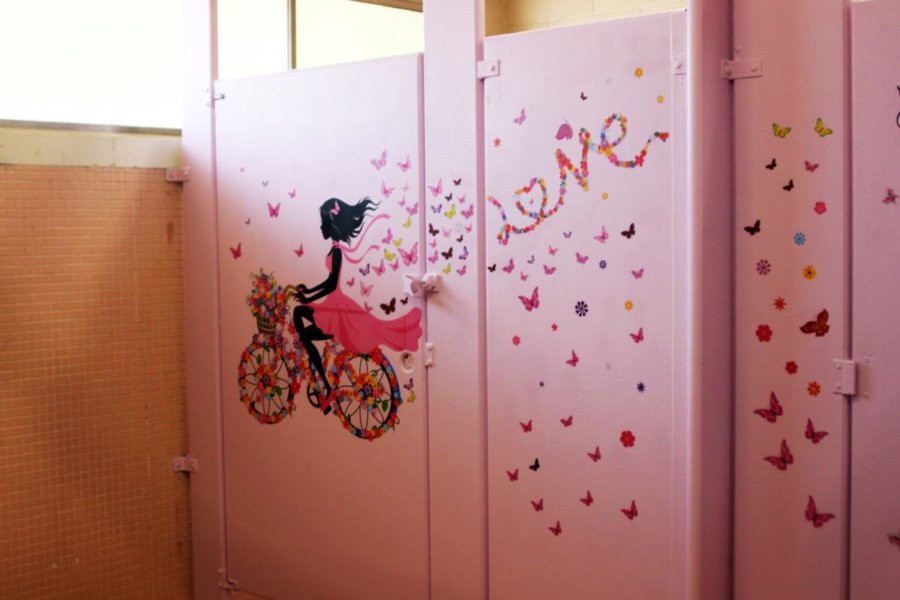 Believe us, children are going to love this. So, all you have to do is to paint a rainbow on the bathroom doors or walls. You can also add nice little texts as add ons. Moreover, you can also let the students participate to make this.
3. Using Bulletin Board Sets to Good Effect
Well, if you don't want to paint the walls, then you can also add colorful posters. It will look so nice that it will completely change the dull atmosphere. You can use your creative mind to think about how to place those posters.
4. Hiring A Local Artist
If you aren't so sure of your creative capabilities, it's best to hire someone to do it. There are a lot of artists out there who will make the school bathroom gorgeous. So, this way, you can rest easy and have the work completed in no time.
5. Making It Colourful
There's a saying that, the more the color is, the better the thing looks. Therefore, make the bathroom doors colorful with paint. You can also make decals, circles, and other interesting designs. In addition, you can add some inspiring words as well.
Also read: 8 Simple Home Decor Tips To Freshen Up Your Home And Decorate It for Spring
6. Keeping It Easy and Simple
Sometimes, it's best to just keep the bathroom simple. Therefore, for a school bathroom makeover, you can make the layout of the bathroom simple enough. So, only focus on the bare essentials in a bathroom. In addition, don't forget to add quality appliances.
7. Motivating kids with Quotes & Superheroes
Children love to talk about superheroes. So, why not use the same thought to good effect and renovate the bathroom walls and doors with superhero pictures. Moreover, don't forget to add superhero quotes, as the kids will follow them, for sure.
8. Having A Positive Atmosphere
It's essential to keep a positive vibe around the school. Therefore, a dull-looking bathroom won't help the cause. So, try to change it up and add some motivational quotes. With uplifting quotes, you can be there for a student who's upset for some reason.
9. Minimalist Approach
Too much color or too many quotes may at times seem overwhelming. In fact, it will also depend on the size of the school bathroom. If your school has a small bathroom, then you can use mono-colors and apply minimalist designs to keep it simple.
10. Expressing Talent
It's time for the art teacher to shine outside the classroom. Talk to them and you will get some idea about how to make it an excellent place to go. For example, they can suggest some cool DYI, or paint something themselves.
Final thoughts
So, these were some cool ideas for a school bathroom makeover. If you liked any of these above ideas, then it's time to renovate the bathroom with colors and delight.
Also read: 5 Life Changing Interior Design Ideas for Small Spaces