If you enjoy playing poker, would you like to increase the bets? Consider playing a flirtatious and mature version of the traditional card game, where adult players risk losing everything they own—and possibly more. When playing strip poker, participants bet on clothes they are currently wearing.
By the time the game is over, several players are typically down to their underwear or even naked.
Strip Poker Basics
1. Gather a mixed group of adventurous friends
Instead of offering the game after everyone has assembled, make sure that everyone is an adult who is willing to participate. If they choose not to participate, bringing it up at the moment could make some individuals feel awkward.
Consider just planning a night of strip poker if your team is already flirtatious or at ease with one another. Otherwise, you might gather your buddies and let the game evolve naturally.
2. Suggest a game of strip poker and make certain everyone agrees
If someone doesn't want to engage, don't pressure them or make them.
But if someone is too shy, you don't have to force them out if they want to stay and watch. After seeing a few hands, they could change their minds.
3. Agree on the rules of Strip Poker
Decide which of the strip poker variations listed below you wish to play.
Decide how long the game will last and when it will end. Some people may be willing to play until they are entirely naked. And others might simply feel at ease stripping to their underwear. The rules and if and how players will continue playing when they run out of clothing to shed should be agreed upon.
4. Make sure everyone begins with nearly the same amount of clothing
Make participants remove or add accessories until everyone is wearing an equal amount. For example, if some girls wear dresses and the guys wear socks, ties, and belts. Even though this is optional, it improves game fairness.
5. Pick a kind of poker
Poker is a well-liked card game in which players are dealt cards and wager on the potency of their hands. People play it with a standard deck of playing cards. Make sure your buddies understand how to play and rank the standard poker hands—starting with the high card and moving on to pairs, flushes, four-of-a-kind, straights, a full house, and so on. There are several well-liked poker variations, but not all are ideal for strip poker.
6. Deal cards and play hands as you would in poker
The goal of strip poker is to maintain your clothing as the losing players take it off one piece at a time, unlike standard poker, where you play to earn chips or money.
7. If you lose a hand, strip
The game isn't fun if you can't enjoy losing and winning, so have fun with it! Maybe do a flirty dance when it comes time to remove a significant piece of clothing.
8. Keep playing until someone is entirely naked, or possibly until everyone but the winner is down to their underwear.
This marks the game's usual end. After a winner is announced, everyone should get their garments back!
You can play strip poker and truth-or-dare at the same time. Just keep your challenges at an acceptable range for everyone. Allow players who lose all of their clothing to continue playing. But with alternative consequences if they fail, including being forced to tell the truth or accept a dare.
Strip Poker Variations
1. Let the winner choose who strips
This variation is excellent for revealing flirtations and crushes that are going on behind people's backs. Play each hand as usual, and at the end, the player with the highest hand gets to pick one group member to remove a piece of clothing.
Make sure nobody in your game is likely to become envious or territorial when using this variation. It can be entertaining to ask a group of friends who wants to reveal a little more skin, but not if the answer is likely to upset anyone.
2. Bet clothes instead of chips
Deal out the hands and allow players to wager on an item of clothing instead of using chips; anyone who wishes to call must match the bet with an article of clothing of equal or greater value. Players that don't have strong enough hands may fold. The players that stayed in and lost the battle took off the clothing they bet.
3. Exchange clothes for chips
Play a standard game of poker with chips or real money bets, but permit players who are out of chips to trade in their clothing to the bank or another player in exchange for a loan of chips. This game variation features betting, bluffing, and strategy the most closely.
You should decide if a player is permitted to purchase back some of their clothing if they trade in some apparel and subsequently win a sizable sum. While letting players remain naked stops the game from stagnating, allowing them to buy back some modesty adds another layer of strategy to the game.
4. Play heads-up with your lover
Although strip poker is traditionally a group activity, you can modify it to become a fun foreplay activity with your partner or potential paramour. Deal out the hands and make the results visible since only two players exist. The person who has the lower hand loses an item of clothing.
Strip Poker Etiquette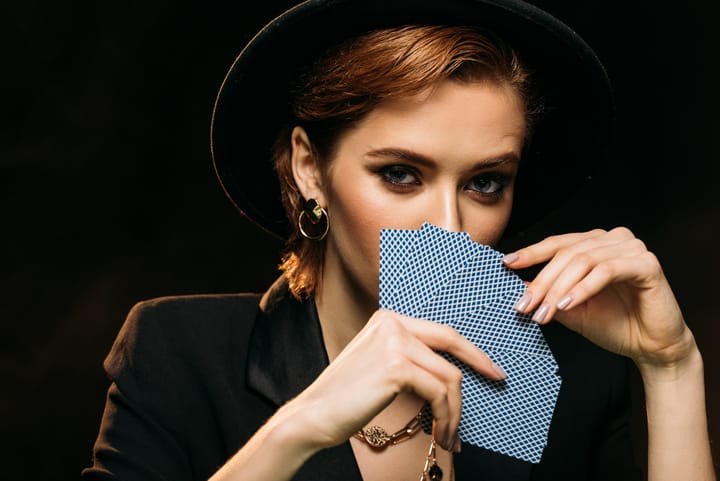 1. Stop the Strip Poker game if someone gets upset
Ensure that everyone is participating in the game out of pure enjoyment and don't make anyone stay who doesn't want to. Cut your losses and let everyone go back to the house if something happens to spoil the positive vibes.
2. Don't get jealous
Seeing someone else see them naked while playing strip poker with your loved one or a buddy you find attractive can make you feel uncomfortable. You may spoil the game for everyone very quickly if you act petty or furious, so control those feelings.
3. Don't sexualize or objectify other players
It's acceptable to flirt a little, but overdoing it will turn off everyone.
Follow the rules carefully, and you are all ready to play your best poker!
Also read: What are Some Secrets to Know About Online Casinos in Canada?