The Maldives, an archipelago of 26 oval-shaped atolls and thousands of coral islands in the Indian ocean. A romantic honeymooner's dream getaway, It is among the most exotic and famous honeymoon destinations in the world. The Republic of Maldives is jam-packed with a plethora of romantic & honeymoon places to visit, luxurious stays, private Islands, couple's spa massages, and lively nightlife amidst the pristine beaches, swaying palm trees, and clear skies.
Apart from this, you can enjoy thrilling activities like scuba diving, snorkeling, water skiing, windsurfing, kiteboarding, and banana boat ride with your better half to make your honeymoon trip more memorable. 
Check out our best Maldives package and book your honeymoon trip. Here are the 6 most popular romantic locations to visit on your honeymoon in the Maldives.
1. Hulhumale Beach
Nestled in the south of the North Male atoll, Hulhumale is among the most charming beaches in the Maldivian country. Set amidst the serene atmosphere, white sandy beaches, and crystal clear water, it is a human-made beach offering warm hospitality, lively culture, resorts, delicious cuisine, and water sports. Sprawling in an area of 188 hectares, this artificial beach is built by pumping sand from the sea to meet future housing and industrial demand.
The artificial beach is a major tourist spot attracting a large number of honeymooners and tourists throughout the year. Hulhumale mosque, Centro mall, central park, national museum, Secret paradise, and dune Maldives diving center are must-visit attractions near the beach.
2. Vaadhoo Island
Imagine a calming hand-in-hand walk with your beloved glancing at tiny blue dots washing up on the shore under the moonlight. Isn't it fascinating? Known as the sea of stars, Vaadhoo is one of the most stunning beaches located in Raa Atoll, Maldives. The beach is famous for glowing in the dark due to bioluminescence plankton that is indeed a wonder of nature. Witnessing the glow in the dark is an incredible sight to behold with your partner.
This beach should be on your bucket list on your Maldives honeymoon. June to October is the best time to visit the Island when the natural phenomenon occurs. 
3. Bandaara Kilhi
One of the two freshwater lakes in Fuvahmulah, Bandaara Kilhi is the largest lake in the Maldives. Covered in an area of 14 acres and 12 Ft deep, The lake offers scenic charm and tranquillity bounded by rich flora and fauna. You can spot some unique species of birds at the lake. It is a protected area, swimming is not advisable due to depth and muddy shorelines. Enjoy a romantic meal at the lakeside beholding a stunning sunset.
4. The Ithaa Undersea restaurant
The Ithaa is the world's first undersea restaurant located at Conrad Maldives, Rangali Island in Alif Dhaal atoll. The restaurant is situated 16 Ft beneath sea level offering panoramic views of coral reefs and the undersea world through the acrylic and transparent glasses and ceilings. European cuisine with Asian touch is a specialty of the restaurant. Make sure to book your table in reservations.
The Ithaa undersea restaurant is a bit expensive but it will be an exotic dining experience like nowhere else. The restaurant is mainly famous for private dining, wedding parties, and special events. 
5. Banana reef
The banana reef is a must-visit site located in north male Atoll, Maldives. It is one of the oldest and most popular diving sites featuring dramatic landscapes, majestic cliffs, caves, and overhangs. Go for a dive session of 3 to 4 hours with experts at a range of 5 meters to 30 meters underwater. You will get to witness a wide range of flora and fauna, a plethora of colorful fishes, sharks, barracudas, and groupers.
Early morning time from 9:00 Am is best to experience exotic marine life in clear and visible waters.
6. Male City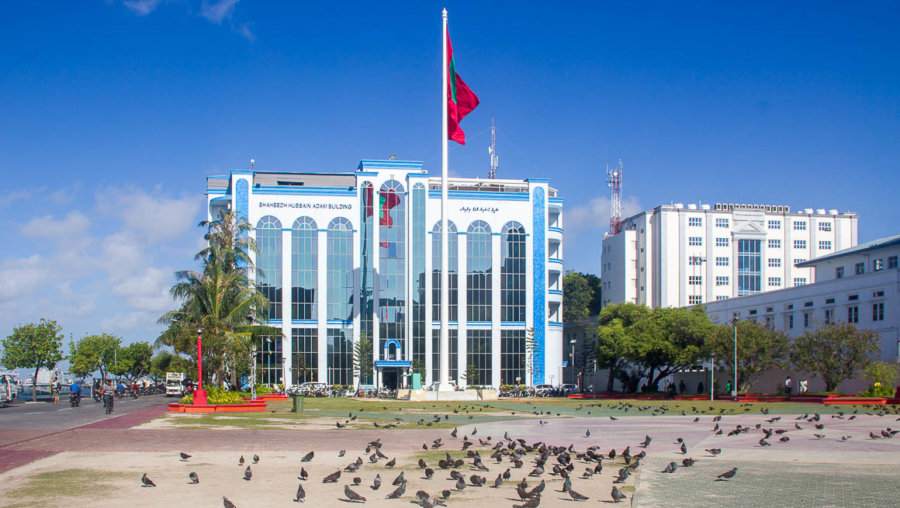 The capital city of Maldives, Male is the most preferred getaway for honeymooners and couples. Located at the southern edge of North Male Atoll, Male is known for its British and Portuguese architecture, culture, art galleries, and heritage sites.
Male is blessed with numerous tourist attractions like Male market, Grand Friday Mosque, Hukuru Miskiiy, National museum, artificial beach, Sinamale bridge, Tsunami monument, and Sultan Park.
You can stay at luxurious resorts and enjoy a wide range of things to do and delicious seafood with your beloved partner. Velana international airport is the city airport of Male located 5 Km from the city center.