Drainage of your yard so that you never have standing water on any part of it is a must for a well-maintained property. After all, who would want to slog his way through water and probably slush, when you go into your garden to perform any needed chores while tending to the plants that grow there. Standing water in a yard can also greatly affect the growth of plants and lawns, as water logging can reduce the air and oxygen in soil, and this can affect the health of plants. To add to that, if you have heavy rain at any time, the chances of your property being flooded will greatly increase, as water is not being effectively drained away. It is always better to redirect water away from a home as this can also reduce the chances of your basement walls and floor from getting damp.
Improving yard drainage requires you to plan your yard in such a way that water is always carried away. Create a water feature if necessary, to serve as an outlet for the water. This can even make your landscape looking unique and aesthetic. Your roof must always have gutters connected to downspouts that carry away the water. Water just falling over the eaves and onto walls can damage the walls and their foundations. Extending the outlets of these down spouts so that water is carried away instead of just running on to the ground near the house can help in yard drainage.
Understanding of Proper Yard Drainage
Study the levels on your land and always grade the land around so that it slopes away from the home. Mark on how the water moves on your land when it is raining and you can soon realize that spots are either high or low. The low spots are where the water accumulates and can lead to water pools being formed. The low spots are where you need to have a proper drain from where the water can be led away from your property.
It can always help if such surveys are made even before you start construction, so that you can make sure that the plinth of your house is higher than the low spots, even if it is artificially so. Then you can grade all the land around so that it all slopes away from the house and gathers at a point from where it can be drained.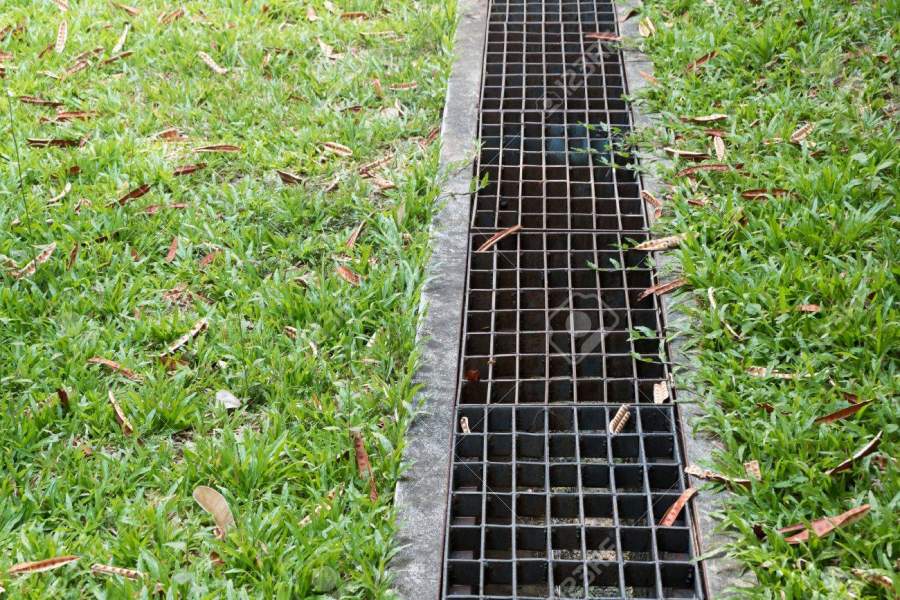 If your house is a location from where water comes into it from surrounding areas, one way of ensuring better drainage of your property is to intercept that water by installing a drain and then leading the drain to take that water out of your property. French drains can act to take away the water that falls on your property and the roof and can go a long way in preventing water logging. These drains consist of deep trenches in which a perforated pipe is laid down at the bottom of the trench, and the trench then filled in with gravel, sand or porous material that allows any surface water to percolate through into the pipe.
The pipe and trench have to have a suitable slope that allows the water to flow out to municipal drains or to any nearby watercourse that can carry away the water. It is very easy to perforate PVC pipes that can then be laid down in the drain. The great advantage of these drains is that they are never visible and you can also plan your garden or other landscape over it.
We have already mentioned the creating of pools or other water features for taking excess water until it can be disposed of to prevent your yard getting flooded or waterlogged. You can take advantage of this water and build a rain garden that contains water loving plants. Plants that are native to the geographical area where you have your property and deep and fibrous rots are the best for such gardens.
The type of soil your house is built on can also affect yard drainage. Clayey soils will tend to retain water, while those with a sand content will facilitate the water being absorbed into the ground. Soil can also get impacted during construction and this can prevent it from absorbing water.
It is advisable to dig up the centre land all around your home to a depth of 6 to 9 inches, after the house is constructed, and loosen the soil to prevent the effect of this impaction. This can also help the soil to get rejuvenated to some extent, and the loose soil will always help in the aeration of the roots of any plants that you may want to grow. 
Make sure that your driveways or walkways do not obstruct the natural flow of water. If they do, arrange for some drainage. Take all these steps and you will have solved most of the problems concerned with yard drainage.