It is difficult to apply for a master's degree in a public university in Singapore. For students who want to study a master's degree in Singapore, it is also a good choice to choose a private university.
Most of Singapore's private universities are language and diploma courses transition platforms, and most of them have established partnerships with overseas universities. Most of the master's degrees of Singapore's private schools are awarded by well-known universities in third-party countries. The diplomas of private universities in Singapore are of high quality and cost-effective, and they can also be certified in many countries.
James Cook University Singapore Campus
2023QS World Ranking: 461st
Established in 2003, James Cook University's Singapore campus is an important milestone in the university's internationalization. The courses offered at the Singapore campus are exactly the same as those offered at the Australian campus, using the same assessment criteria. The academic degree obtained by the student is certified by the Chinese Service Center for Scholarly Exchange and other organizations in the world, and the student's transcript and graduation certificate are issued by the alma mater, and do not display the words "Singapore International Campus".
The Singapore campus of James Cook University, Australia currently offers more than 170 undergraduate and 120 postgraduate courses ranging from master's degrees to doctoral degrees.
Professional settings: MBA, International Tourism and Hotel Management, International Tourism and Hotel Management and MBA Joint Master, Information Technology Master, Information Technology and Business Administration Joint Master, Entrepreneurial Marketing, Finance, Global Talent Management, Exhibition Tourism and Hotel Management, Entrepreneurship, Analytics and Business Solutions
Curtin University Singapore Campus
2023QS World Ranking: 193rd
Curtin Singapore is Curtin University's second overseas campus. It provides an Australian model of university education in Singapore for both local and international students. Curtin University ranked 180th in the 2017 ARWU World University Academic Ranking, ranking among the top 1% universities in the world, and its business school was accredited by AACSB as the best business school in the world.
As one of the directly affiliated campuses, Curtin Singapore inherits the academic standards, teaching mode, teacher recruitment, curriculum arrangement, design and teaching plan arrangement of the main campus. The degree certificates are issued by the main campus in Australia, without any difference between the campuses, and the five campuses have zero-condition transfer, and credits are mutually recognized. The degree certificate is certified by EduTrust in Singapore.
Professional settings: Master of International Business, Master of Supply Chain Management
East Asia Institute of Management, Singapore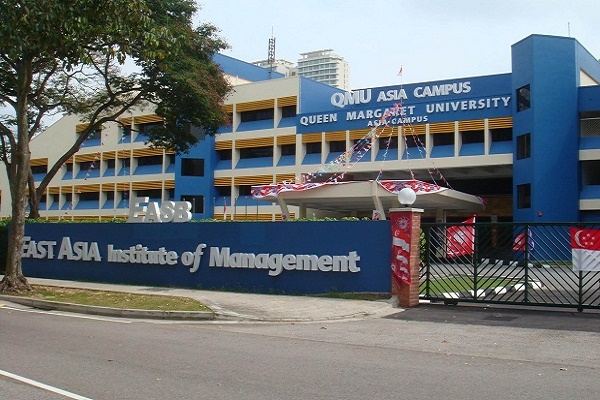 Partner University: Heriot-Watt University, UK
2023QS World Ranking: 281st
IELTS requirements: 5.0 (taught in Chinese), 6.5 (taught in English)
East Asia School of Management is one of the first institutions in Singapore to be accredited by the Statistical Quality Control (SQC), and also one of the first institutions in Singapore to be awarded the four-year Edutrust accreditation by the Council for Private Education.
Professional settings: Chinese-taught MBA, English-taught MBA, Finance, Strategic Planning, Human Resources
Singapore Institute of Management Development
Partner University: Bangor University, UK
2023QS World Rankings: 601st – 650th
Established in 1956, the Singapore Management Development Institute is the earliest and largest non-profit professional institution in Singapore for lifelong learning. With rich teaching experience and strong faculty, MDIS is one of the most prestigious and powerful education colleges in Singapore.
The college was certified by SQC and Case Trust in 2003 and 2005, and is now certified by the EduTrust, and is one of the first colleges to be accredited and recommended by the Education Office of the Chinese Embassy in Singapore.
Professional settings: MBA, Banking and Finance, Education, Supply Chain Management, Marketing, Human Resources, etc.
To learn more about the universities and courses in Singapore, please visit cateight.com. It is a platform full of overseas education information.
Also read: 5 Reasons Why Singapore's Education System is More Successful Than Any Other Nation in The World