Romeo Jon Bongiovi is the son of famous rock singer Jon Bon Jovi. That is why he is one of the famous celebrity kids. His mother's name is Dorothea Hurley. Also, he is the youngest member of his family so he is a much-loved member. Since the day his parents welcomed him into the world he has been famous. This is because of the celebrity status of his parents. But he is less recognized than his older siblings because his parents want to shield him from media exposure.
If you want to know more about Romeo Jon Bongiovi then find all the details here. Learn about his Early Life, Family and Parents, Sister's Drug Overdose Case here.
Romeo Jon Bongiovi Quick Wikis – Bio
Personal Info

Name
Romeo Jon Bongiovi
Nick Name
Romeo
Profession(s)
Celebrity kid
Birthday
March 29, 2004
Age
17 Years (As of 2021)
Gender
Male
Birthplace
United States
Nationality
American
Famous as
Jon Bon Jovi's son
Zodiac Sign
Aries
Net Worth
NA (As of 2021)

Family (Parents & Siblings)

Father Name
Jon Bon Jovi
Mother Name
Dorothea Hurley
Sister
Stephanie Rose Bongiovi
Brother
Jesse Bongiovi
Brother
Jacob Hurley Bongiovi

Relationships & Kids

Marital Status
Single
Girlfriend
NA
Early life
Romeo Jon Bongiovi celebrates his birthday on March 29, 2004. His father's real name is John Francis Bongiovi Jr who is a famous singer and musician. His mother's name is Dorothea Hurley a Yoga instructor. Moreover, he is the youngest child in his family. The names of his elder siblings are Sister Stephanie Rose and Brothers Jesse James Louis and Jacob Hurley.
According to Jon Bon Jovi his kids are not interested in his career. They even do not want to come to the events and get attention. Therefore, Romeo wants to stay away from the lime light.
Family and Parents
Romeo Jon Bongiovi parents Jon Bon Jovi and Dorothea Hurley studied in the same class in St. Joseph High School. They met in 1980s. But during that time Dorothea Hurly was dating another boy. Then the boy went for service so at that time Jon Bon Jovi and Dorothea Hurley got close. Yet there was an obstacle because Jon Bon Jovi was in a publicised relationship with Diane Lane. But he got together with Hurly no matter what.
In 1989 Jon Bon Jovi released a successful album called New Jersey' album. Therefore, while he was performing in Los Angeles the couple eloped. Then they secretly married at Graceland Wedding Chapel in Las Vegas, Nevada. The couple faced lots of backlash from the female fans of Jon Bon Jovi who did not like his secret marriage.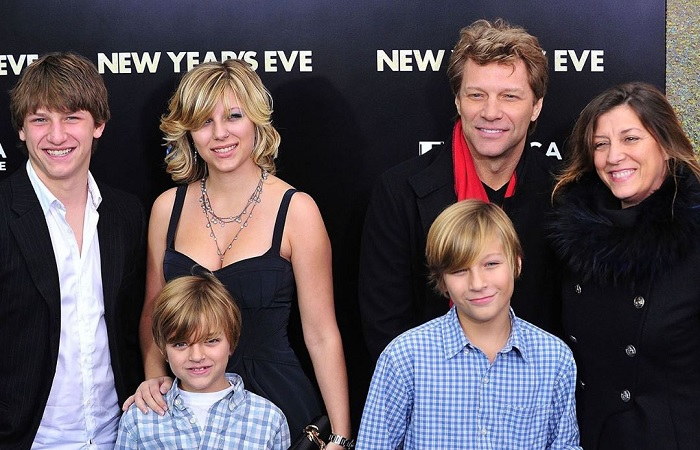 Now the couple is one of the successful ones in the industry. For more than three decades they are together unlike the many celebrity marriages that do not last long. Bovi has credited many times that their marriage is good because of his wife. That is why he likes her ten times more now.
Sister's Drug Overdose Case
The nineteen-year-old sister of Romeo Jon Bongiovi named Stephanie Rose Bongiovi took to drugs in her college days. One time she got taken to the hospital because of a drug overdose in 2012. Also, she was in total collapse and was found in an unconscious state in her college dorm in Hamilton College.
She and her twenty-one-year-old roommate Ian S. Grant got arrested because of the possession of heroin in their room. But they later dropped the charges when New York prohibited the arresting of people who suffer from a drug overdose. Because of this issue, many people began to criticise the Bovi family. They even called Jon Bon Jovi and Dorothea Hurley bad parents.
But Jovi shared with the media that he did not have any attraction for drugs. Also, he cannot understand why the current generation is very obsessed with it. Furthermore, Dorothea Hurly stated that their family went through lots of criticism in the following months that she hoped that the critics never have to endure what her family did.
The net worth of Romeo Jon Bongiovi
Romeo Jon Bongiovi is still studying in a prestigious institution. As he is not interested to follow his father's footsteps in music, he will choose a different career. But he will get lots of fortune from his father. The net worth of his father is $410 million. The career of his father was successful and he sold a great many albums as a rockstar. That is why his family is rich.
Interesting facts about Romeo
His parents were childhood sweethearts.
His father's age is fifty-nine.
Romeo is helping many charities.
His family is Catholic.
His family is close with New England Patriots owner Robert Kraft.
Conclusion
Romeo Jon Bongiovi is a good child. According to his father, he is humble and also helps his father to stay humble. Also, all the attention from the media never got over his head.
Also read: Ella Scott Lynch Biography