Stacey Solomon, the star of Loose Women has finally tied knots with the former actor of EastEnders Joe Swash at their Essex Home of Pickle Cottage at the weekend. However, it seems that it wasn't legal. In fact, it was Stacey who on her official social media page announced it. She said that her marriage to Joe Swash at the Pickle Cottage in their Essex home wasn't legal. 
Well, as we know, Stacey Solomon is famous as a TV personality and a British singer. She has received fame for her outstanding performance in X Factor 2009. Moreover, it's also worth noting that she has appeared in Loose Women. 
Stacey is a mother of four, for those who didn't know. So, she took on her Instagram profile to explain the situation. Well, she said that first of all, she and Joe have to register their marriage separately from the big day. It was because they didn't have the correct license for a proper home wedding. So, in other words, their marriage at the Pickle Cottage wasn't legal.
Now, it's worth noting that Stacey, who is around 32 years old now, tied knots with Joe Swash in the garden of their Essex home, Pickle Cottage. The other stars of Loose Women were present at the ceremony. Moreover, James Argent was the DJ at the wedding. The revelation of the fact that the marriage wasn't legal has bittersweet moments. A lot of fans showed excitement over the marriage. So, if you want to know more about Stacey Solomon and Joe, then it's time to go through this article and get everything that you need to know. 
A Few Things To Note on Stacey & Joe's Wonderful Relationship: The Journey 
After being together for more than six years now, the couple, Stacey Solomon and Joe Swash have finally decided to escalate it to the next step. In other words, they are absolutely ready for their marriage. The duo has even transformed their home Pickle Cottage with an extravagant white floral door display and with other sublime decorations. 
Initially, they had to postpone their special day due to Covid. However, later on, Stacey became pregnant with their daughter Rose. The parents of Stacey wished all the kids to be present and see them walk down the aisle. So, if you want to know about their journey, then let's take a look at their journey at a glance.
Stacey Solomon & Joe Met Each Other in The Jungle in 2010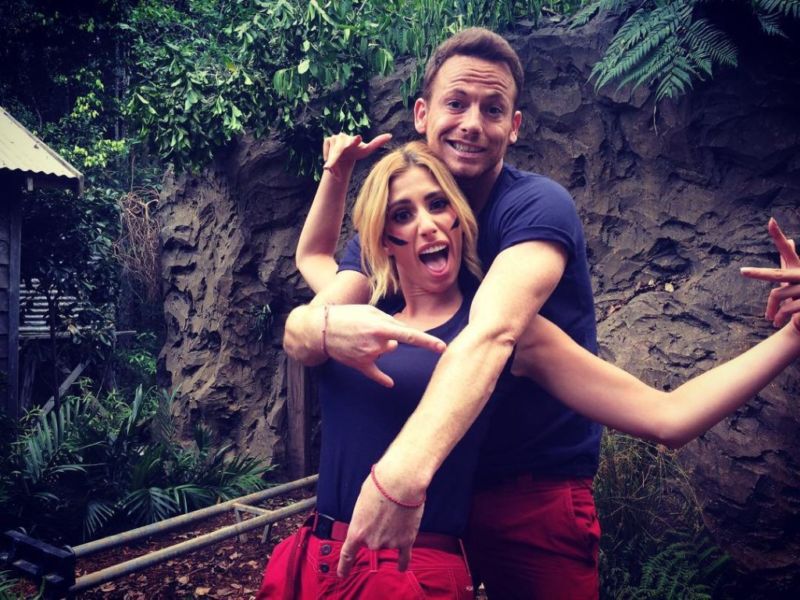 The year was 2010 and it was the first time that the couple actually met each other. According to the sources, Stacey Solomon was the queen of the Jungle on 'I'm A Celebrity…Get Me Out Of Here!' show. 
The sources also tell us that Joe was hosting the ITV2 spin-off at that time. He had won the show back in 2018. The pair Stacey Solomon and Joe Swash instantly developed a thing for each other. However, there weren't any romantic feelings between them at that time. Later on, the EastEnders star Joe did admit that he had fancied Stacey, the X Factor star. However, it wasn't the right time he felt.
Also read: Who Is Seargeoh Stallone: All About Sylvester Stallone's Son
Stacey Solomon: Development of A Relationship in 2016
After being friends for almost six years, the duo finally found love in each other. Stacey's split from Steve-O, the Jackass star was quite hard on her. There were even rumors that she and Joe were dating in 2016. In fact, there was a picture of them holding hands as well.
According to the reports, it was right- they were indeed having a relationship. In fact, it was Joe who confirmed the news. He said that he was lucky and they then they made their first red carpet appearance at a Game of Thrones screening.
So, after that, Stacey joined his love Joe to host the 'I'm A Celeb' spin-off in 2016. Naturally, the couple gained lots of fans in no time. Stacey's social media was full of fans wishing the duo luck and love. Moreover, we should also add that Stacey during an interview in 2017 said, "It's going really, really well. I'm so happy. Everyone says we're made for each other."
Buying The First House Together
Did you know that Stacey Solomon and Joe Swash even have their own house? Yes, it's the Essex house that they bought. So, after three years of togetherness, Joe and Stacey bought their own house. 
In 2019, They Welcomed Their Baby Son 'Rex'
Well, in 2019, May, Joe confirmed the birth of their son, Rex. He shared a picture of Stacey in the hospital bed with the baby. So, he captioned the photo, "This morning. A lot earlier than planned I watched the love of my life, bring a new life into the world. We are overwhelmed, overjoyed, and apprehensive of what's to come. Mummy and baby are well and resting. We are so grateful for all of the love, support, and positivity we've received over the last 8 months".
Stacey Solomon: 2020's Proposal
It was Christmas eve of 2020 when Stacey's beau proposed to her. The Loose Women actress confirmed the happy news on Instagram as she showed off the diamond ring on her finger.
The Reason Why The Wedding at The Pickle Cottage was Illegal
So, as we mentioned earlier in this article Stacey Solomon and Joe Swash's wedding at the Pickle Cottage, Essex was not legal. It was Stacey who revealed this to social media after much confusion. She said that they plan to register their union legally after the celebration. 
The couple Stacey and Joe tied knots in a private Jewish ceremony at their Essex mansion at the Weekend. It was a private wedding with only a few close friends and family members. Stacy is yet to share any pictures from the big day. However, she did clear up the confusion with her fans.
As for the ceremony, she said, "we are having a relaxed private blessing in front of our closest friends and family and a ceremony of our love to each other, and we will register our marriage legally after." Currently, Stacey Solomon has quit social media over the weekend because she wants to focus on the wedding. In other words, she wants to put the phone away for a while because of the wedding plans and time. 
Also read: Take A Peek Into Avril Lavigne's Life: Her Net Worth