Indeed, Hajime no Ippo watch order is extremely crucial for you to arrive at a better understanding of the entire plot. The anime explores the story of the main character, Ippo Makunouchi, who embarked on a journey of boxing to answer one question .. What does it mean to be strong ? Hajime no Ippo (The First Step) is a Japanese manga series from George Morikawa. The theme is boxing.
However, the anime adaptation is a vast world with 76 episodes. And it's important to maintain a sequence to enhance your understanding of the storyline. We will come to that watch order later. Really, the anime deconstructs the 'fighting spirit' in the most palpable way possible. Indeed, fighting and character development are yoked together in a terrible, mysterious tango.
In fact, the form and the manner in which the anime travels across the heart of Ippo ask for attention. The pureness of his heart touches us. His unrelenting determination inspires us. Thus, we participate with him as he comes across a passion for boxing after veteran fighter Takamura saves him from bullies.
The story
Ippo works hard to keep his family afloat. In his father's absence, the teenager Ippo lives a life of hardship. He has to help his mother run her fishing boat rental business. Indeed, Ippo is very shy and timid. Also, he can hardly afford enough sleep. In fact, there is also the smell of the sea about him. All these leave him vulnerable to the bullies. In fact, the bullies are relentless. They assault him on a daily basis. Thus, we see a bruised and beaten Ippo. However, one day, Mamoru Takamura, a promising boxer, releases Ippo from a violent after-school incident.
Ippo then goes along with Takamura to the Kamogawa Boxing Gym for recovery. Indeed, the boxers there are drawn into astonishment after experiencing Ippo's powerful punches. Ippo has cultivated his strength from the honesty of pain. Indeed, his muscles are the by-product of him serving his physically taxing family business down the years.
As Ippo takes lonely infant steps in his official boxing career, he encounters a series of challenging opponents, each more powerful than the last. Indeed, we travel with Ippo across victory, loss, and a cycle of dedicated training. Thus, the kind young man is on the quest to discover himself and prove himself to the world. Indeed, his unstoppable fighting spirit is something to experience.
Watch order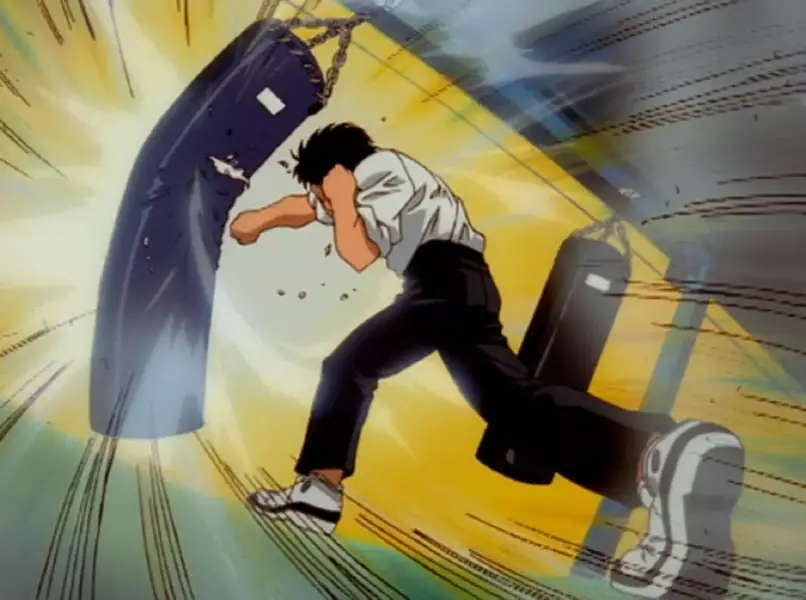 Below is a sequence of titles which you should follow to unravel the meaning of the anime :
Fighting Spirit.
Boxer no Kobushi
Champion Road
Mashima vs Kimura
New Challenger
Rising
Therefore, you should experience the anime in this order to make your experience of participating in Ippo's journey a more lucid and intense one. 
Also read: Best Sites to Watch NHL Streams for Free