To get the best results from a face wash, you need to choose the right one. Take a look at what skincare experts recommend.
"Not all face washes are made equal, and believe me when I say it's one of the essential elements of your skincare routine," says celebrity esthetician Nicole Caroline.
Whether it's Mamaearth face wash for dry skin or Body Shop cleanser for tightening pores, skincare experts agree that selecting the right face wash for your skin type and concerns is essential for a healthy complexion. However, the dizzying array of face washes available today makes it tough to select the best one for your skin. 
Here are some tips from skincare experts to make a choice easier for you.
What to Look for in a Face Wash?
Cleaning your face with a high-quality face wash removes pollutants and excess oils, making the skin look clean and refreshed. Reading the ingredient list of any skincare product is one of the most important things specialists recommend. This is because chemicals like parabens, silicones, sulfates, mineral oils, and many more can cause skin damage rather than offer benefits.
An efficient cleanser should ideally offer your skin hydration as well as exfoliation. Irrespective of your skin type, replenishing moisture is imperative for an optimal outcome. Skin-soothing ingredients like Aloe Vera Extract, Vitamin E, Shea Butter, and so on help in both hydrating as well as gently but effectively exfoliating your skin to remove impurities.
Some of the ingredients that experts recommend in the best face washes are:
1. Time-Tested Ubtan
Ubtan is an age-old recipe that began with homemade masks that you needed to keep on for 15 minutes. It gradually expanded into face and body care products such as face wash, body butter, and others. Ubtan, created from traditional and proven natural ingredients, provides many benefits to your skin, including removing impurities and dead skin cells, preventing wrinkles, fading tan and scars, and soothing the skin. Washing your face with an Ubtan face wash every morning can protect your skin from the damaging UV rays of the sun.
Some of the most trusted brands like Forest Essentials, Juicy Chemistry, and Mamaearth use Ubtan as the core ingredient in their face care products. For instance, Mamaearth Ubtan for Face comes with the goodness of Ubtan core ingredients like Turmeric, Saffron, and Walnut Beads, which aid in exfoliating dead skin cells while removing excess oil and germs.
2. All-Powerful Vitamin C
Regardless of size or severity, pimples are usually caused by pores clogged with impurities, dead skin cells, and oil. Vitamin C face washes offer excellent cleansing properties and have been considered an effective way to combat pimples. Vitamin C is necessary for the growth and repair of tissues in all body parts, including the skin, but our body does not produce it. It has potent characteristics that fade scar marks, delay signs of aging, and lighten pigmentation by controlling oil secretion. Vitamin C also acts as a protective barrier for your skin against UV rays and provides an equal skin tone.
The two clear winners are Mamaearth face wash with Vitamin C for pimples that penetrate deep into your pores to cleanse it without stripping your skin of essential moisture. This go-to face wash perfectly preps your skin for the day ahead by infusing the skin with antioxidant Vitamin C. Another popular Vitamin C face wash is Clinique Fresh Pressed Renewing Powder Cleanser. It comes with Pure Vitamin C that instantly brightens and deeply cleanses your skin.
3. Acne-Fighting Tea Tree Oil
"People who have acne know that the burden of maintaining a healthy regimen may be overwhelming at times, but the right cleanser can help handle it all in a way that is sustainable for your skin," says board-certified dermatologist Dr. Stacy Chimento of Riverchase Dermatology.
Tea tree oil contains antibacterial and anti-inflammatory qualities, making it an effective and widely used blemish treatment. Past research has proven that a tea tree oil gel combination containing 5% tea tree oil is an excellent therapy for mild to moderate acne. It can destroy acne-causing germs while also having a soothing and relaxing impact on the skin.
With the goodness of Salicylic Acid, Mamaearth Tea Tree Face Wash for acne cleanses pores and eliminates excess oil, thereby treating and preventing acne, pimples, acne scars, and blemishes. You can also try Globus Remedies Glycolic Acid & Salicylic Acid Face Wash. It has powerful ingredients that get absorbed into your skin to unclog pores and refresh them.
4. Gently Exfoliating Apple Cider Vinegar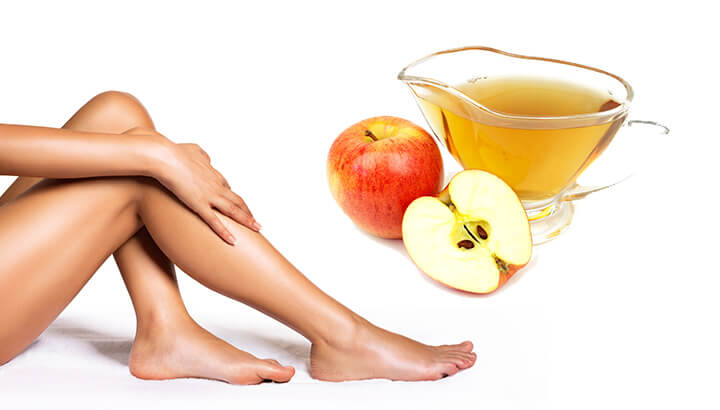 Apple Cider Vinegar (ACV) is well-known for its numerous skin benefits. It brightens the skin tone, fights skin irritation, and conceals imperfections. In addition, ACV helps to tighten skin pores and regulate the skin's natural oils. It also repairs skin cells and helps strengthen your skin while preventing wrinkles.
"Apple cider vinegar has a naturally acidic pH and can help balance the pH of the surface skin layer," explains Joshua Zeichner, MD. He adds that because of its pH balancing ability, ACV helps the skin function at its best by regulating the appropriate amount of oil and fighting acne-causing bacteria.
Morpheme Remedies Organic Apple Cider Vinegar Face Wash For Oil Control and Mamaearth Apple Cider Vinegar Face Wash has a blend of natural ingredients that eliminate pollutants from the skin's surface and pores while relaxing and hydrating it.
Regaining a Radiant Glow
While it's essential to clean your face, you don't want to strip your skin of vital oils completely. If this happens, the skin will overcompensate by producing excess oils, leading to skin concerns such as acne flare-ups, oily skin, and irritation. Applying a mild moisturizer soon after washing away impurities can help to reduce excess oil production without leaving your skin feeling sticky or heavy.
You may also read: How To Get Rid of Pimple Scars Using 6 Home Products