Are you a fashionista? Well, then in the world of accessories and fashion, new trends pop up all the time and spread super quickly. All of it happens due to social media, the internet, and fashion influencers. So pretty recently, we have come across the trend of the permanent bracelet on social media platforms. Once a few influencers post about a new trend, it does not take long to become popular among the youth. 
So this bracelet is exactly as it sounds. It is something permanent which means you cannot take it off since there is no clasp. As per the sources, several jewelers and designers offer them from coast-to-coast and many influencers on social media.
Since it is a permanent one, many of them might have certain questions before putting it on. For instance, what kind of material is it made of? Will it be a problem with the metal detectors at the airport? Therefore, here are some of the significant details regarding permanent bracelets.
Some Relevant Details About Getting A Permanent Bracelet
Are you thinking about opting for a permanent bracelet? Well, then you must know that people mostly chose to wear permanent bracelets with a friend or a loved one. So you can also think of it as a friendship bracelet that can last for a lifetime. Also, you can wear it as a sign of love and pair it up with your partner.
However, do not worry the process is also pretty quick. As per the sources, it hardly takes 15 minutes to "zap" the bracelet onto your wrist. Well, the process is essentially welding the two ends together into one "claspless" permanent bracelet. So now, you must be wondering what material are they made of. Well, most jewelers use solid gold to create a permanent bracelet.
You need not worry as they do not have to be removed for things like MRI scans or any such tests. However, if you need to remove it for any emergency, you can easily cut it with a special scissor. But firstly check if you have any allergic reaction to wearing gold or not. If you find any such allergies, it is best to avoid them.
How Did The Concept Of Permanent Jewelry Come To Be?
As a concept, jewelry that's never taken off is nothing new. So backing up to ancient Egypt, burying Pharaohs with their jewelry was common practice. Moreover, people considered it as a way to ensure that they have these adornments for the afterlife.
So this idea of keeping your jewelry on as protection, a rite of passage, or a symbol of identity spans different cultures, religions, and stages of life. Also, it's not hard to see how it has laid the groundwork. Moreover, it is also the precursor for the permanent jewelry trend to take flight (namely, bracelets without a clasp).
How Much Do Permanent Bracelet Cost?
As you know, permanent bracelets are mostly made of solid gold, they are always on the expensive side. Some of the stores offer them at a starting price of $98 and can go up to $334. Some of the stores like Catbird require the person getting a bracelet to be at least 10 years of age. Also, anyone under 14 should have an adult accompany them.
So are you looking forward to purchasing this unique kind of bracelet? Well, you can opt for it indeed. There are a lot of styles that you can choose from as per your preference. Let us now discuss some other details regarding the permanent bracelets.
Permanent Bracelet: How Does It Work?
You might feel a little panicky if something is "welded" to your body. However, the beauty of the process is that it is quick and 100 percent painless. So there is nothing to worry about. It's also quite simple. Let us find out more details!
So a jeweler custom fits a solid gold or silver bracelet around your wrist. At times, it can also be with a gemstone or charm attached and welds the two ends together. Do you know the actual 'zap' takes all of a few seconds? "When we first got lasers in our studio, our jewelers started zapping bracelets on all of us," Catbird Chief Creative Officer Leigh Plessner
said in an interview.
Moreover, the officer himself wears one of those bracelets for the past five years. The bracelet is the same as the new one. Nothing has happened to it aside from occasionally snipping a tangled thread or fuzzy from it. However, always purchase them from a good jeweler to ensure they do not fall off anywhere.
Why Should You Get A Permanent Jewelry?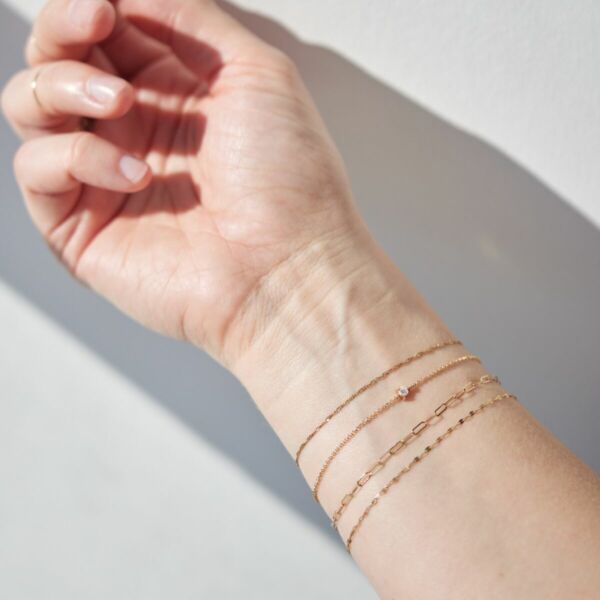 Many of you might be wondering why is it essential at all to have a permanent bracelet or any other jewelry. Well, besides, the innate perks of never worrying about losing your jewelry, there are several other reasons why it is better to opt for this kind of jewelry, especially a bracelet.
According to Kahane, "Jewelry has served as a physical manifestation of emotions since the beginning of time, and I love thinking about how modern interpretations link back to previous eras. She also sees the connection between contemporary welded bracelets and the classic Love Bracelet. So instead of waiting for your husband to give you a hugely expensive Love Bracelet, why not celebrate the milestones of your life with the ones who matter to you the most?
In other words, the simplicity of a permanent bracelet also allows it to be seamlessly worn by all genders and ages. So you can well understand that this sentimental aspect is probably the biggest indicator that this trend will have a big lifespan.
At times, many customers come in for a solo gift for themselves, but mostly they come in groups or as romantic partners. There are different kinds of permanent bracelets available for people of all ages and genders.
Ending Note
So as we conclude, we can say that permanent jewelry has currently become one of the most popular trends, especially in Gen Z. However, this particular type of jewelry often has a sentimental aspect associated with it. You can also get one for yourself if you feel like it. There are various types of permanent jewelry available for people of all ages and gender.