Belly button piercing is one of the most popular and age-old methods of body piercing. In fact, it's a very popular one among the people who love to get piercings on their bodies. Since a belly button piercing is done on the fleshy part of the body, it's relatively painless and easy to manage, and you don't have to rely on the mirrors all the time. So, for those of you, who are looking to get a belly button piercing, it's a pretty good choice.
However, you have to mindful of the fact that it's not for everyone because it depends on the anatomy of the place. Therefore, you might get different suggestions from the piercer. So, if you are determined to get a belly-button piercing, then we have got you covered. Read this article to know some important things
Belly Button Piercing: An Overview
So, if you are completely new to piercings, then you are probably wondering what a belly button piercing is. Well, people also call it naval piercing. It's the process by which a piece of jewellery is inserted through the skin above your belly button. Therefore, the piercing hangs over your belly button. It's a very wonderful way to express yourself. Many people do it for fashion, or to express their selves. Moreover, it gives you a raw, funky, and cool look as well.
Moreover, if you don't want to do the real thing, then you can also make a fake belly button piercing. There are many ways with which you can make one. However, it won't give you the same sensation and feeling. Though, it's a good option for those who don't want to go through the piercing procedure.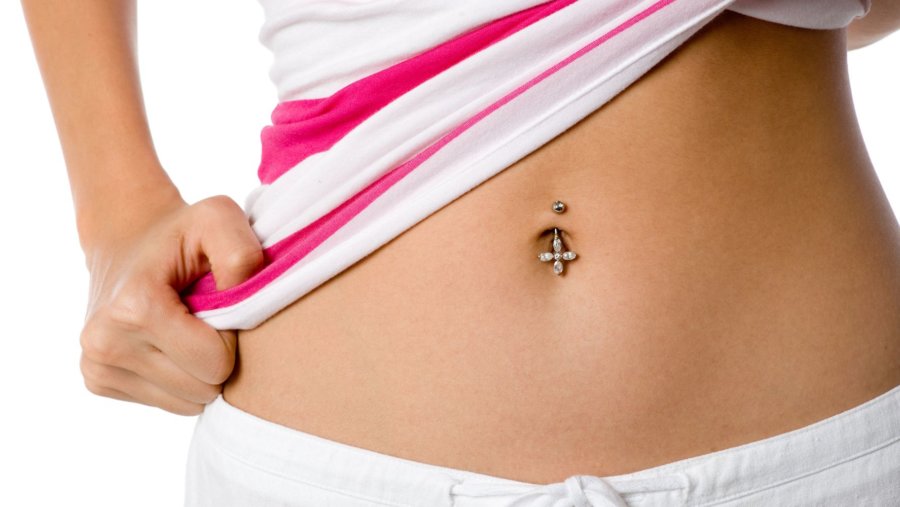 First of all, you should get a professional piercer to do the job for you. On numerous occasions, we see people complaining of bad results because of getting their piercings done by amateur hands. So, now that you are set on the piercer, the first thing he will do is to clean the area. In addition, if you have some hair on the area, they will shave it.
Otherwise, the piercing procedure won't be smooth. Thereafter, the piercing will hold the area with a clamp, and mark where you want the piercing to be. It's better to cross-check whether the marked position is satisfactory for you or not.  Thereafter, the piercer will push a disposable needle through the skin of the location and insert the jewellery.
If you see some blood, redness, or anything related to it, then you don't have to worry because it's completely normal during the process. It will quickly subside after a few minutes or so.
However, be aware of the piercing guns. If you have booked an appointment with a piercer and get to know that they will be using a piercing gun, then you should definitely opt-out. It can have severe side effects.
Do Belly Button Piercing Hurt?
Just like any other piercings, bottom belly piercing will hurt only just a bit. However, it depends on how much pain you can take. If you have a strong will and the determination to withstand the pain, then it won't feel a thing for you. It's all about our mindset.
Though, it won't hurt compared to the other piercings, because a belly-button piercing is usually done on the fleshy area of the stomach. Therefore, it's definitely less painful than, for example, a cartilage piercing. However, since the process involves a needle that would go through your skin, so, there will be a bit of pain.
How Much is A Belly Button Piercing?
So, if you are wondering about how much a belly piercing costs, then it'd obviously depend on your geographical locations and the studio to which you are thinking of going. Generally, if you are planning to go to an expensive studio, then it'd take a few more cash than a regular store. On average, you can expect anything around $30 to $75. However, it depends on the jewellery option as well.
So, if you decide to get expensive jewellery, then naturally the price would go up. Moreover, there are some studios that charge both the piercing process and jewellery separately. So, you can search 'belly button piercing near me' and check out the best available options for you.
How Long Does it takes to Heal?
It will take you anywhere from around six months to a year to completely heal the place. However, it will depend on how much you care for it. If you don't care for it much and go on about your usual lifestyle, then it can be problematic. You don't want an infected belly button piercing, do you? Therefore, aftercare for a belly button piercing is really important. It will boost the healing process for you.
So, you should clean the area twice a day with saline solution or unscented soap water. However, you should completely dry out the area to avoid any infections.
Final thoughts
As a body modification, this is really cool to express yourself. So, if you are thinking of getting one, then hopefully this article helped you to find some useful information about it.
Also read: Guide To Getting an Industrial Bar Piercing