When it comes to the sheer opulence, endurance and excitement that a timepiece has to offer, few recognize the unparalleled accuracy and style in the way that luxurious watch brands such as Seiko, Tissot, Frederique Constant, Balmain and Skagen do. Sharing a mutual passion for incomparable power and precision over the course of a century, these top luxurious watch brands have ensured that their customers can feel a sense of accomplishment and excellence.
Paying tribute to the inspirational journey of aesthetic and watchmaking excellence, here are the top luxury brands that loyally serve their audience and keep compelling and fascinating watch connoisseurs with their extensive range of elegant timepieces:
1. Seiko
Named as the official timekeeper for various sporting tournaments, including many Olympic Games and FIFA World Cups, the "Japanese King of Timepieces" has its own rich history. Innovated by Kintaro Hattori in the late 19th century, Seiko has made its name known all around the world thanks to its "Quartz Revolution" and timekeeping accuracy.
Amassing a wide range of watches over the years, this luxury watch brand has an extensive collection of timepieces catering to various price points. It creates both affordable and luxury watches, ensuring that Seiko becomes collectable for everyone.
The striking feature of Seiko lies in its watchmaking expertise and experience. No matter what, the brand never compromises on the watch movement quality and the materials used in making them. Seiko uses PVD plating in most of its watches to make them visually appealing and scratch-resistant, ensuring durability that can last for generations.
Also read: Authentic or Replica Luxury Watch: How To Know The Difference
2. Tissot
Favoured by many dedicated luxurious watch collectors, Tissot boasts of a long horological history in the watchmaking industry. Known as one of the first iconic Swiss watch brands, Tissot has been heavily linked to sports. Admired by famous athletes and sports enthusiasts, this luxury watch brand aims to provide gold value at silver prices with each new addition to its collection over the years.
Being a luxurious watch brand, Tissot offers premium materials and movements in all of its watches. The brand uses a wide range of watch movements to cater to the various lifestyle needs of its consumers. In order to serve these needs properly, this luxury watch brand has been consistently innovating its watch designs and introducing multiple materials such as Titanium, Ceramic and Gold in its collection.
3. Frederique Constant
A luxury watch brand that is known for its consistent effort in producing classics and luxury timepieces, Frederique Constant has been trendy in recent times with its exceptional style of watches. One of the striking features of this brand is the Swiss-Made marker on its collections, which focus heavily on its in-house movements. All of the watchmaking components of Frederique Constant are manufactured in Switzerland, ensuring watch collectors earn an authentic "Swiss-Made" timepiece.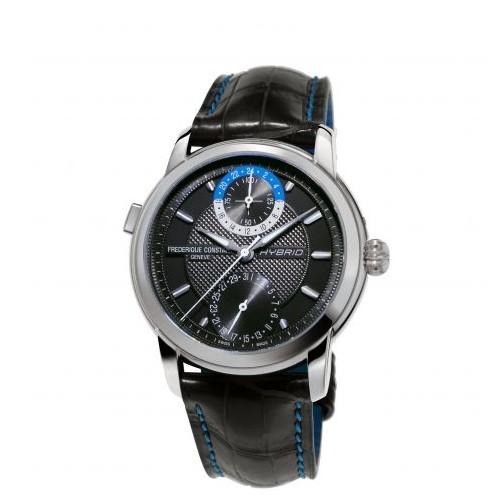 Flaunting a range of quality watches that are both catalogued in affordable and luxury collections, Frederique Constant timepieces display beautiful designs with sleek and sophisticated styles and functionalities such as tourbillon, flyback chronograph and perpetual calendar. It is one of the reasons why even Gen-Z and watch connoisseurs are fond of Frederique Constant luxury watches today.
Also read: Luxury Branding: The Hype Around Buying Fancy
4. Balmain
Founded by Pierre Balmain in 1945, this French luxury watch brand is an absolute must for anyone that loves a unique and luxurious look. Balmain is a one-stop destination for watch collectors who love to own a downtown collection of both trendy and classic timepieces. Some of the most popular Balmain watches are made today, keeping the style aesthetic of fashionistas in mind.
This luxury watch brand incorporated two significant features of watchmaking in its timepieces – a durable sapphire crystal for dial protection and a powerful quartz movement for ground-breaking horological precision. Balmain's signature "Arabesque" pattern makes it a must-have in every wardrobe.
5. Skagen
Traditionally known for its collection of stainless-steel mesh timepieces, Skagen watches have always adhered to their philosophy of "good design for better living" and versatility in simplicity. This luxury watch brand offers no-nonsense design in its timepieces with a particular aesthetic that makes them the perfect accessory to wear with any choice of outfit.
Most Skagen watches provide additional flexibility with a quick-release pin construction on their watch band, which makes it easy for their customers to interchange straps based on their attire of the day. Apart from stainless steel and leather, this luxury watch brand has introduced titanium into its material portfolio with varying dial styles to consolidate its reputation as a high-end watchmaker.
At Helios- The Watch Store, browse an ensemble of luxury watches for men and women from the house of every high-end brand. You can check out the full luxury range and enjoy fantastic offers from your nearest Helios store. We take a personal interest in helping you choose the best timepiece that suits your personality and vibe!
Also read: Luxury Brands in The World