Singapore has been referred to as a playground for the rich, and it is true that it does have a certain gloss of affluence. But Singapore offers more than just posh shopping malls, luxury hotels, and delectable food. In addition, there are lots of kid-friendly attractions and lovely public spaces, which make it enjoyable to explore this somewhat futuristic city. Neighborhoods with a rich history and a variety of ethnic backgrounds can also be explored.
Singapore has an excellent public transportation system that makes getting about the city quick and easy. Once you have a grasp of the metro map, moving from one part of the city to another won't be a problem. English is a commonly used language for both spoken and written communication.
Singapore Flyer Tickets is one of the most convenient and comfortable options which lets you explore the famous attractions like Madame Tussauds Singapore, one of the most popular attractions that has wax figurines of some of the popular personalities from all over the world. .
1. Singapore Flyer
Only at the Singapore Flyer, indulge in Sky Dining and spend a special evening under the stars in the centre of Singapore. You and your special someone can enjoy the stunning views of Marina Bay at night for a totally elevated dining experience while having an in-flight host at your disposal for the duration of the hour-long encounter. You must get a unique view of the city from the heights if you visit Singapore.
With these Singapore Flyer tickets, you may take a relaxing 30-minute ride on one of the tallest Ferris wheels in the world. You will get a distinctive view of Singapore, its magnificent buildings, the Esplanade Theatre, and lovely Merlion Park from the cabin, which rises to a height of 500 feet. You may even see as far as Malaysia and Indonesia on a clear day.
2. Madame Tussauds
Madame Tussauds Singapore is packed with incredible, lifelike wax replicas of famous people that visitors can interact with and take pictures with. At the Madame Tussauds Wax Museum in Singapore, walk down the red carpet with your favourite A-list celebrities and historical figures. At Madame Tussauds Singapore, you can take pictures with A-list celebs that will make your pals jealous.
From ancient times to modern-day international sports, music, and entertainment personalities are represented in the renowned wax museum. Parents can enjoy a welcome trip down memory lane as their children learn about history and popular culture in a fun and engaging way.
3. Orchard Road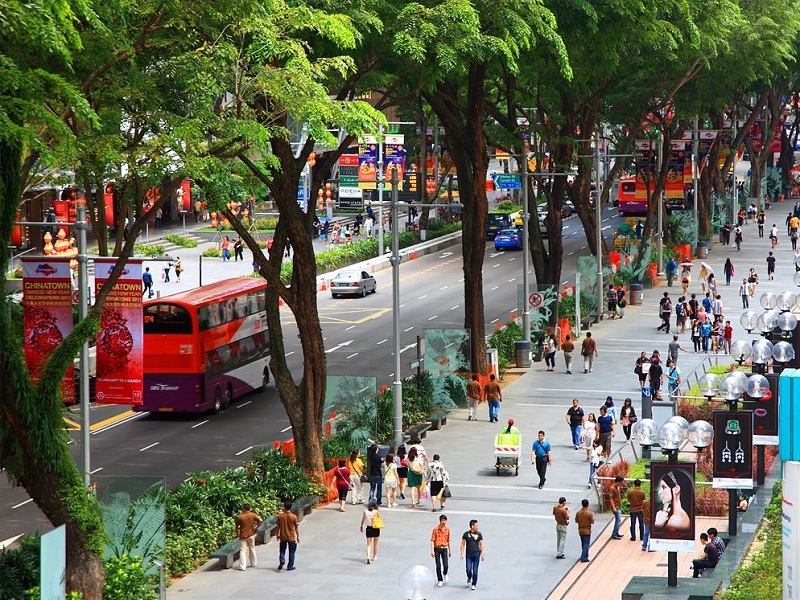 Orchard Road is the well-known resting place for shoppers while visiting Singapore. This location is jam-packed with the newest trends and several retailers. Orchard Road is a terrific site to start a shopping binge in this world-class metropolis because it is home to 22 malls and six department stores. It can be challenging to make your way through every store without stopping to shop. A popular tourist destination in Singapore, Orchard Road features four movie theatres in addition to well-known apparel retailers.
Therefore, you can unwind and enjoy a movie in an IMAX while your girlfriend goes shopping; the venue also has a KTV karaoke. Therefore, you can unwind and enjoy a movie in an IMAX while your girlfriend goes shopping; the venue also has a KTV karaoke. Singapore is a place where the best of both worlds may be found, where the modern with the best of the past.
No matter if you are on a family vacation, a honeymoon, or a budget trip, Singapore is unquestionably your location to visit in 2020. It is a must-see gem of South-East Asia. A vacation to this always thrilling location is undoubtedly in order. We provide a variety of travel packages that will allow you to see the finest of this incredible country, so you may create your ideal vacation with us in Singapore.
4. Clarke Quay
Singapore is a destination for night owls in addition to its exciting daytime activities. Singapore's Clarke Quay is a hotspot for nightlife, home to several eateries, boisterous bars, rooftop lounges, and energetic discos. This location is teeming with craziness and fun, and many tourists and even residents think it's the best place to spend an exciting evening.
Prepare to be dazzled by the neon lights, mouthwatering cuisine, and reflection of the skyscrapers on the dazzling Singapore River as you meander around the busy streets. Bungee jumping at the "G-Max Reverse Bungy" in Clarke Quay will make your heart race as you soar 60 feet into the air while travelling at a speed of 200 km/h.
5. Pulau Ubin
Traveling to Pulau Ubin will make you feel different. One of the two remaining kampongs, the other being Kampong Buangkok, is this tiny island off the coast of Singapore. Although beach lovers may not want to visit this island, it does have a few things to offer everyone. The lush vegetation and plentiful wildlife on Pulau Ubin make it the ideal location for travellers who want to take pictures of nature.
There are various routes in the area, and one of them, the Sensory Trail, is 1.5 kilometres long and includes tags of unusual plants. Pekan Quarry and Butterfly Hill will help you develop a deeper appreciation for the natural world. Pulau Ubin has a boardwalk and the Chek Jawa wetlands for adventure seekers. Viewers can witness marine life by strolling along the 1.1-kilometer promenade.
The Jejawi Tower, on the other hand, offers a panoramic view of the island and is an excellent location for bird watchers. Even thrill seekers can find plenty to do on Pulau Ubin. You can bike along the Ubin's biking routes, which range in difficulty from easy to challenging. You should also pay a visit to the shrine for the German girl, and kayaking through the mangroves will be an unforgettable experience.
6. Punggol Waterway Park
Singapore's Punggol Waterway Park is a family-friendly tourism destination. Four themed zones in this park allow visitors to enjoy some downtime along the promenade. This park's features include Nature Cove, which let visitors unwind and take in the Waterway's picturesque scenery. The park's Green Gallery is home to a variety of beautiful plants and animals.
You may observe the stunning mature trees in this area by taking a stroll. Family-friendly activities like sand and water play can be found at the Recreation Zone, making it a perfect spot to spend time together. In this area, there is a fitness area that is appropriate for everyone. Another location where you can stroll around the historic Punggol Kampong is the Heritage Zone.
7. Sentosa Island
Since there are so many things to explore in Singapore, it is difficult to decide what to see. So where are we going now? Sentosa Island is one fantastic location where you can find everything from fun to cuisine to entertainment. The places described above are just a few of Sentosa Island's attractions; the island is a well-known travel destination in Singapore. Siloso Beach is a terrific hotspot for having some sand time if you're seeking for a vacation to refresh in the beach among the tall constructions.
By far, Sentosa Island is crammed with different activities and a number of other beach attractions. Volleyball is one of the must-do beach sports in Siloso, and it can be played on public courts for free.
By far, Sentosa Island is crammed with different activities and a number of other beach attractions.
Kayaking, skim-boarding, and volleyball, which may be played on public courts, are a few must-do beach activities in Siloso. The Underwater World Aquarium, where you may swim with dolphins, is another noteworthy experience this island has to offer. The Merlion, a famous statue in Singapore, is a must-see while visiting Sentosa Island.
On Sentosa Island, Fort Siloso, the only preserved fort in the nation, is another must-see destination. Here, taking the kids won't be a hassle because there are many of kid-friendly activities available. In addition to being entertaining for children, the Trick Eye Museum is also enjoyable for adults.
Also read: 5 Things To Do at A Singapore Rooftop Bar