The Carolina Panthers have searched far and wide to find a quarterback to replace the many years of production they received from Cam Newton. The franchise has attempted to play rookie signal callers and brought in veterans to help stabilize the position, but nothing has worked. They even reunited with Newton for a few games last season to see if he could rekindle the magic from earlier in his career.
The front office needed to take drastic steps to address this issue and decided to acquire Baker Mayfield from the Cleveland Browns in a trade this summer. With the potential of competence at the helm of the offense, fans realistically had higher hopes for Carolina and would bet on their improvement.
While the early returns on Mayfield in his new home have been mixed at best, you can bet on the future of the former first overall NFL Draft pick on this site. 
Cleveland Browns Resume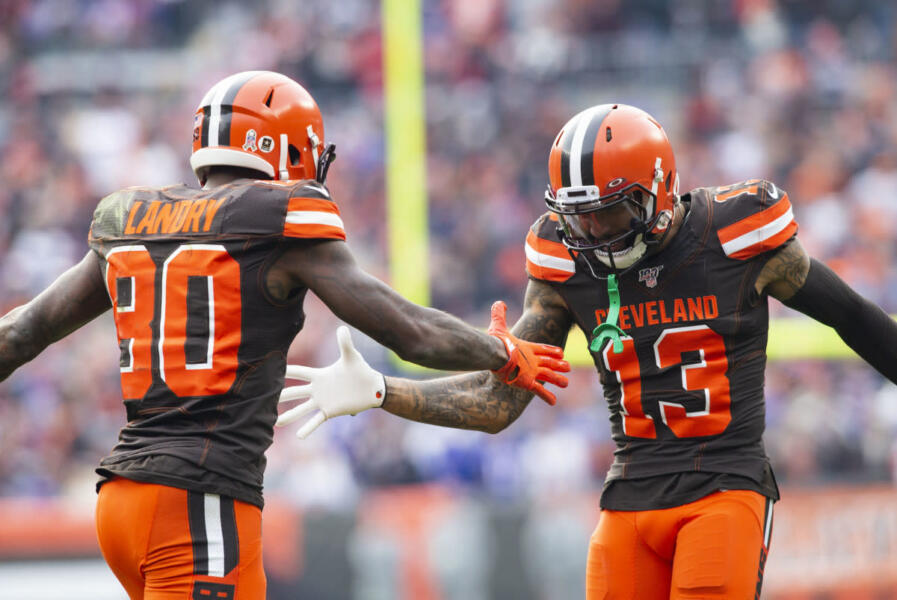 For a couple of years, it seemed like the Browns finally had their franchise quarterback. Cleveland decided to start Mayfield after the first three games of his rookie season, and he played pretty well in his first NFL campaign. He threw 27 touchdown passes to 14 interceptions and flashed the ability to make big plays with a receiver group that was largely unproven.
He regressed somewhat in his second year with the Browns, as he turned the ball over way too much for the team to overcome. Mayfield's 21 interceptions were a career high and put the team's defense in difficult positions far too often.
With one positive season and one negative campaign on his ledger, Mayfield's performance in Year 3 was going to be critical to his development. Cleveland hired former offensive coordinator Kevin Stefanski as their head coach before the 2020 season, who would completely revamp the Browns' offensive strategy. Instead of placing a tremendous amount of responsibility on his young quarterback's shoulders, Stefanski elected to deploy a run heavy attack anchored by Nick Chubb and Kareem Hunt.
The results were fantastic for both Mayfield and Cleveland. The change in philosophy limited Mayfield's turnovers, and the Browns were able to control the clock on their way to an 11-5 record. They defeated the Pittsburgh Steelers in the first round of the postseason that year and played a very competitive game with the eventual AFC champion Kansas City Chiefs in round two before falling.
During the 2021 campaign however, things fell apart for Mayfield. While playing through a myriad of injuries, his accuracy fell while his ability to drive the ball downfield was also compromised. He deserves credit for playing through the pain, but the lack of effectiveness was a red flag for the organization at a time when they needed to decide whether he would be the long-term solution.
Carolina Panthers Opportunity
As it turned out, Cleveland decided to invest a lot of draft capital and money into a trade for Houston Texans starter Deshaun Watson, signaling the end of the road for Mayfield as a member of the team.
After the trade to Carolina, head coach Matt Rhule wanted to create the perception that there would be a competition under center between rookie Matt Corral, incumbent starter Sam Darnold and Mayfield. Taking what the Panthers gave up into consideration, it was always the likely outcome that Mayfield would be under center Week 1, and that is exactly what unfolded.
In his first few games with the Panthers, Mayfield is off to a bit of a slow start. His completion percentage is down from what he averaged during his four years in Cleveland, which is an interesting development considering who he plays with. Running back Christian McCaffery is one of the best receivers at his position in the NFL, so one would think that Mayfield's completion clip should have gone up with a player like that at his disposal.
If Carolina doesn't turn things around and sniff the postseason, it is anyone's guess as to how the franchise will decide to approach the rest of the campaign. The Panthers have already fired head coach Matt Rhule, and elevated Steve Wilks to the interim position for the rest of the season.
McCaffery has been traded to the San Francisco 49ers for a significant haul of draft picks, and wide receiver Robbie Anderson has been moved to the Arizona Cardinals. Even if Mayfield is able to get back under center at some point this season, the weapons that he will have at his disposal will look very different.
Potential Suitors
If the Mayfield experiment fails in Carolina, it will be intriguing to see which other NFL teams take a shot on the former Heisman Trophy winner.
For a long time during the offseason, the Seattle Seahawks were rumored as a possible landing spot, and still might end up being an option if the team is not satisfied with Geno Smith's play at season's end. However, given the franchise's infrastructure and trust in head coach Pete Carroll, Seattle might be willing to stand pat with the current setup of their team since it has competent enough to stay in the NFC West race.
With an offensive attack that has been mediocre at best, it might not be surprising to see the Chicago Bears take a look at Mayfield as well, if their new regime is convinced Justin Fields cannot produce. Fields has a lot of potential as an athlete under center in the NFL, but Chicago is throwing the ball at a rate that is at the very bottom of the league. That style of play is generally not sustainable for a 17 game season, and makes it difficult for teams to come back when they are losing.
The Washington Commanders might also end up being a landing spot for Baker Mayfield. Carson Wentz has not run away with the job in the nation's capital and is now missing time due to injury. Washington has a pretty decent roster surrounding the quarterback position, and the Commanders might believe Mayfield can help turn things around.
Also read: T.J.Watt Of Steelers Reaches His Zenith In 2017 NFL Re-Draft: The Details