Who doesn't like sushi? The Japanese delicacy has kept tantalizing the taste buds of many individuals from around the globe. Hence, the national delicacy has reached the point of globalization where it has become a favorite for many. While everyone has a preference when it comes to sushi, there aren't many who know much about them. This blog is dedicated to understanding the phenomena that we know as sushi.
What is Sushi?
Sushi is a traditional dish of Japan that uses a particular variety of short-grain rice. Normally, one uses sushi rice to create the base. Hence, the rice is the base of the dish. The well-cooked rice is then seasoned with vinegar, mirin and then served with raw, or cooked fish.
Most of the time, sushi goes with the accompaniment of veggies as well. Moreover, many know these accompaniments as toppings. The toppings and filling of the sushi include raw fish, tofu, avocado, chicken, vegetables, shellfish, and sushi-grade fish. It can also include wasabi, cooked fish as well.
What Are The Different Types Of Sushi Available?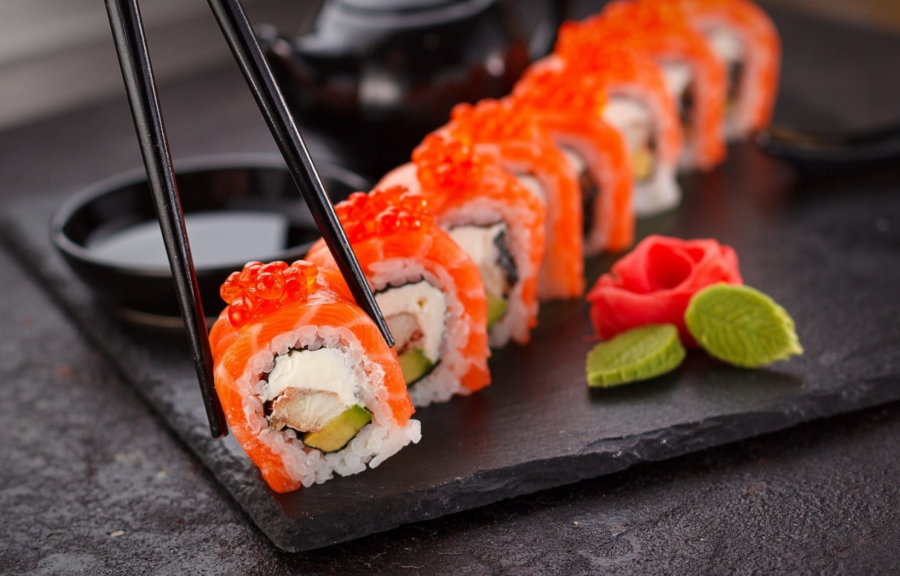 Depending on the topping and assortments, there are different types of sushi available. From Hana sushi to make, there are many varieties that you will never get bored of.
Sashimi
Sashimi comprises slices of sushi-grade fish. Normally, the chefs serve them along with anything but a slight citrus dressing. Though you may find cooked versions of sashimi as well. Cooked versions of sashimi include squid, crabmeat, and shrimp.
Maki
Maki are generally sushi rolls that include ingredients like rice, avocado, and salmon. Then the chef will roll the ingredients using seaweed. Depending on the ingredients, the chef may roll it using sesame seeds as well.
Uramaki
These are similar to making rolls. However, the rice is on the outside but the seaweed is on the inside. The chef uses the seaweed to wrap the filling.
Temaki
Temaki is a form of sushi that follows the shape of a triangle. Moreover, the chef often wraps the temaki around seaweed.
Nigiri
Nigiri is a type of sushi that follows the style of sashimi. However, the chef serves the nigiri with rice.
Is Sushi Healthy?
Now comes the big question, is sushi healthy? Many people are concerned about eating raw fish. However, a serving of RA Sushi is very healthy. It contains….
225 calories
9grams of protein
7grams of fat
38grams of carbohydrates
Sushi is a healthy choice. However, how healthy the sushi is, depends on the one you have ordered. Fishes that are oily like tuna and salmon are rich in Omega-3. It is an essential fatty food for our body. Moreover, The World Health Organisation approves consuming at least one portion of oily fish a week.
Moreover, the veggies that accompany the sushi normally include cucumber, avocado, and aubergine. These veggies are a good source of vitamins and minerals.
For example, aubergine is high in fiber, vitamins B1 and B6, and potassium. Meanwhile, avocados are a good source of monounsaturated fat and vitamin E. Seaweeds are an essential element of sushi.
The chefs either use the sheets to wrap it around the sushi, or normally use it as a filling with the salad. The seaweed is a good source of iodine, zinc, and vitamin B12. So, all in all, sushi is an excellent grub if you are looking for something new.
How To Make Your Order Of Sushi More Healthy?
Here are some tips and tricks you can use to make sure that your order of sushi is healthy.
Keeping the amount of rice to the minimum is the key. You can order sashimi-style sides, or the ones wrapped in seaweed to decrease the amount of carb intake.
Moreover, to increase the healthy points, you should add miso soup and edamame as a side dish.
Soy sauce is high in sodium. Also, sushi includes soy sauce as seasoning. So going heavy on soy sauce while eating sushi isn't a good idea.
Do not include deep-fried dishes or heavy mayonnaise dishes.
You have to be way about the portions you are eating. Sushi comes in bite-sized pieces so one may lose oneself in confusion. Hence, do not eat more than 8 pieces.
Ending note
Focus on ordering sushi that includes ingredients like salmon, cucumber, avocado. So, now that you know the hack of ordering sushi, order the Sushi near me.
Also read: 18 Delicious Breakfast Ideas from Different Parts of The Globe Are Worth Giving A Try on Alternate Days