The Ford F-150 Raptor R is the advanced version of the best-selling F-150 full-size pickup truck. It comes with lots of off-road-enhancing features and the Ford f-150 Raptor R can drive through the roads smoothly. It has amazing off-road features too. This is the best model which Ford is going to release soon. The Ford Raptor will become a champion for every driver and it has the power to conquer many challenges.
The inspiration behind it is the desert racing tracks. It is widely expected to have a 700-plus horsepower V8. Here you can find out Raptor R specifications, price details and release date.
When will the Ford f-150 Raptor R be released?
The release date of the Ford f-150 Raptor R will happen in the third or fourth quarter of 2022. It will be available to buy at the Ford dealerships located in the USA and also in the international markets.
What is the cost?
Ford has not revealed any price details about the Ford f-150 Raptor R model. But it seems the Raptor R will cost around $70,000. Comparably the base price of the standard 2022 F-150 Raptor model is $65,375. It will be offered with a crew-cab body style known as SuperCrew. There are also individual options and packages and also a comprehensive 801A High package which is made up of several packages and features like the 4.10 front-axle ratio, and an 18-speaker B&O sound system.
You can also find a heated steering wheel, interior work surface and a lot more.  One package is called as Power Tech pack which includes2-kW ProPower onboard generator.
Also read: Ford Bronco Release Date, Specification and Price
What are the fantastic specifications of the 2022 Ford F-150 Raptor R?
You can find an entirely new performance in the Ford F-150 Raptor R as it has a variation of a supercharged 5.2-litre V-8. This is the same aspect available in Mustang Shelby GT500. Also, it has an output of 760 hp and 625 lb-ft of torque. Further, the 760 hp and 625 lb-ft of torque come with 3.5-liter twin-turbo V-6 engine and it generates 450 hp and 510 lb-ft of torque.
The reason why Ford is going to release F-150 Raptor R is to make it a competitor to Ram 1500 TRX off-road truck. The Ram has a 1500 TRX which has a 6.2-litre supercharged V8 engine. It produces 702 hp and 650 lb-ft of torque and its time of acceleration is only 4.5 seconds.
Along with that, it has a supercharged 5.2-litre V-8 engine. Also, the F-150 Raptor R is going to top the Ram 1500 TRX for horsepower and torque output. You can expect a great rivalry between the Raptor R and Ram.
Beneath the Raptor R's new hood you can find a prominent heat extractor. It comes with the new 3.0-inch exhaust system and also improves the truck's V-6 soundtrack. Also, the engine can still pair with a paddle-shifted 10-speed automatic transmission that offers all four wheels with a standard all-wheel-drive system. Ford is also planning to counter Ram's 702-hp, half-ton pickup truck. It also has an equally powerful engine in the coming Raptor R.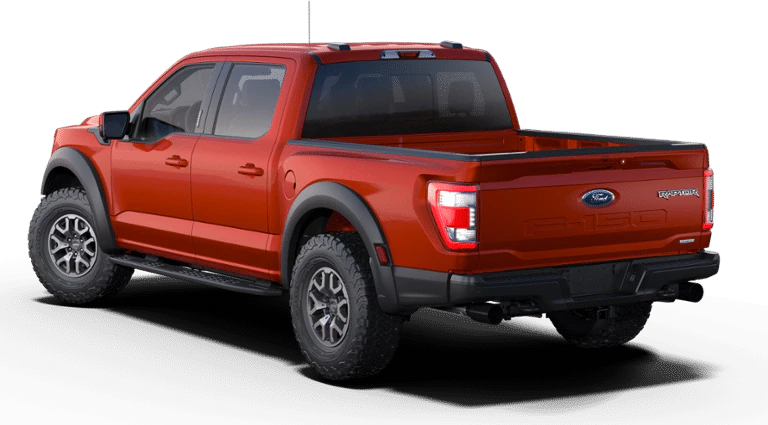 Some rumours say that R can get the version of Shelby GT500's 760-hp supercharged V-8. But regardless of that, the Raptor can still ride on a sophisticated suspension which includes bigger internal-bypass dampers.
The Raptor R can tow even more than the previous versions. The maximum payload of the car and its conventional tow ratings can increase by 200 pounds to 1400 and 8200 pounds. Further, the Raptor is rated at 15 mpg in the city and 18 mpg on the highway. It may have larger 37-inch tires which can decrease the figures to 14 mpg city and 16 highways.
The Raptor's interior cabin will enjoy many amazing comforts. It will have the same design layout and passenger space as the regular F-150 SuperCrew. You can expect the high-performance version with a standard 12.0-inch digital gauge cluster. Also, it boasts more interior space and also made up of nicer materials according to Ford. The new steering wheel has the laser-etched logo and also a race car-style orange mark in the 12. 00 clock position.
The main aluminium paddle shifters will still lurk in the spokes. It can also work with a standard aluminium interior trim and the car will have optional carbon-fibre interior accents as well. For the front buckets, you will have aggressively bolstered Recaro. Also, the high flying pickup will have no extended cab bοdy style. But the SuperCrew version will offer more back-seat space. It also pairs with a 5.5-foot cargo box.
The Raptor's dashboard will have a huge 12.0-inch touchscreen which will support the truck's standard Sync 4 infotainment system. In the car, you can communicate with Amazon Alexa to get over-the-air updates. Then it will feature wireless Apple CarPlay and Android Auto. Another appreciable thing is that Ford will even include physical volume and tuning knobs for the steering-wheel controls and voice commands. For improving the audio experience you can choose an 18-speaker B&O sound system. It can also equip with a useful 2.0-kW mobile generator fixed in the cargo bed. It can also run the power tools and other equipment. Along with that, you can also find many high-performance variants like driver-assistance technology.
What are the design and features of the 2022 Ford F-150 Raptor R?
Ford has not shared the details and design of the Raptor R. But it seems that it will have a more aggressive styling when compared to the standard F-150 Raptor. It will have a different grille and wheels and also great exterior graphics and fenders. Further, the F-150 Raptor will come with an upgraded suspension with larger trailing arms. In the interior, you can expect exclusive design touches as well.
More and more details about the 2022 Ford F-150 Raptor R will become available for you soon. The official release date, specification and a lot more will also be revealed. Also, the off-road capable models are popular nowadays and the Ford is going to meet the demands.
Conclusion
The 2022 Ford Raptor R is going to become a popular model after its release. If you are a truck lover do not lose the opportunity to know about it.
Also Read: 2023 Toyota Sequoia SUV: Things You Should Know About All-new TRD Off-Road Package