The top climate advisor Gina McCarthy has decided to leave her position. Now many are thinking about the person who will replace her. It is tough to take her place because she is the White House's top domestic climate policy adviser. She has not announced the time frame of her departure. So it is assumed that she will step down this week. Her exit is going to create an opening for policy experts to take care of the work towards climate change.
You can find out all the details of Gina McCarthy. Also know about the person who may fill her shoes after her departure.
Who is Gina McCarthy?
Regina McCarthy is a sixty-eight-year-old American air quality expert. She is holding the White House National Climate Advisor position under U.S. President Joe Biden. Before that, she served as the 13th Administrator of the Environmental Protection Agency (EPA) during Barack Obama's presidency.
McCarthy is from Brighton, Boston. She began her health and environment career in 1980. Then in 1985, she worked in a hazardous waste safety council. Also, she had many top positions in the civil service of the Commonwealth of Massachusetts. She has worked on many environmental issues in the state as well as at the local levels. Plus she developed policies regarding the increase of energy, transportation and the environment. She was commissioner of the Connecticut Department of Environmental Protection. In that position she implemented the first regional policy.
On December 18, 2020, when Biden was president-elect he made McCarthy his choice to become the first National Climate Advisor. So she started to serve as the Biden's chief advisor on the climate policy. For this position, she had her staff at the white house. It was really difficult for her to accept this big position at first. But she got a broad view of climate change which made her accept it.
Regina McCarthy's husband's name is Kenneth McCarey and they have three children.
Who will take Gina McCarthy's place as climate advisor?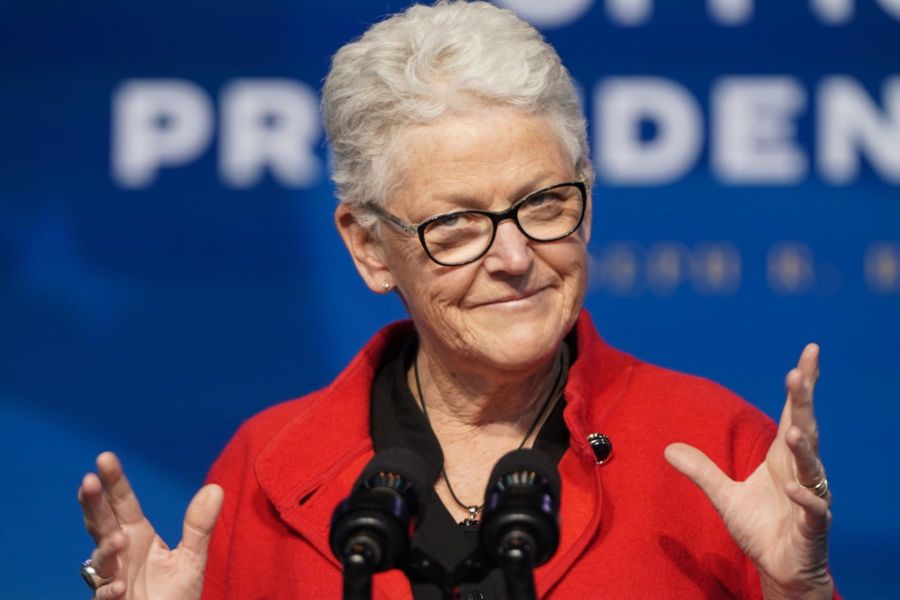 The energy and environment insiders are discussing who will come next to serve as the climate advisor. It is going to affect Biden's plans for climate change. They will be instrumental in working with reluctant lawmakers to compromise on the sweeping legislation. Many sources are collecting information on who will be the new climate advisor. But they are reluctant to share about the personnel decision that has not been revealed publicly now.
Some of the people assumed to take over the job are the deputy of McCarthy Ali Zaidi, Christy Goldfuss who led the Council on Environmental Quality during the Obama administration, climate guru John Podesta, former Obama Energy Secretary Ernest Moniz and a lot more. It is not a sure thing if they will take the job but they are the likely candidates for the job.
What did Gina McCarthy say about the news?
McCarthy replied last month to the news about her leaving the job. She said that she still has lots of work to do and has not resigned yet. Also, she revealed that she will not quit her job at the White House "until the end of my days". She has planned to be very much involved in the climate policy even when she leaves her position.
A White House spokesperson Vedant Patel shared through an email "there are no plans for her departure or anything — so your story and your reporting are pre-mature".
Further when she does steps down it will be hard for the new person filling her shoes. This is because McCarthy has a lot of experience in the EPA. Also, she has a certain sway with the environmental groups. Kevin Minoli, a former top EPA career attorney opined about this by saying "I think the person who comes behind her should recognize they are not Gina McCarthy, "She is a well-regarded person who is well known. The next person is likely not going to be as well-known as her".
As the news broke out that she is going to exit the white house, McCarthy seems to post a lot about her work in EPA, and DOJ on Twitter. One insider shared that they have a lot on their plate right now. He also added that they are making tremendous progress.
During the Obama presidency, the climate advisor often dubbed csar by many people was occupied by Carol Browner. She left her position in 2011 and her former deputy filled her role from then onwards and she is Heather Zichal. So we could expect the same transition when Gina McCarthy leaves her role. Her deputy Zaidi may be the next climate advisor to work toward the climate change.
Conclusion
Gina McCarthy is a climate advisor who is well known in her field of expertise. No one could be able to command the popularity she had in her role. But if she leaves the role another one has to fill her shoes and take on the task.
Also read: First Time With A Psychic Advisor? Here's How to Get the Most Out of Your Session