Have you ever been surprised to see a wide variety of food making games in your Android or iPhone play store? Well, cooking and food serving games are not only interesting and fun games but also help in enhancing critical thinking abilities. These virtual restaurant games have gained immense popularity in almost all age groups. Indeed, restaurant games are becoming more and more popular because it helps to learn different types of cuisines & recipes from restaurants in New York City and other famous cities. For children, it is an added advantage as playing these games allows them to learn cooking as well as other essential skills related to it.
But why exactly are these virtual cooking and restaurant management games getting so popular? Keep reading to know the reasons behind the popularity of these online food games.
1. Improves Cognitive Skills
With more and more chef cooking shows being cast on television, people are getting closer to the art of cooking. These online food games encourage kids as well as adults to cook new dishes. Playing these games not only helps kids to learn some essential skills but also improves their memory and cognitive skills from a developing age. Online food making games are also a great way to learn to interact with various types of audiences while serving dishes or organising events.
Not only that but kids can also learn to master hand-eye coordination by playing virtual restaurant food games. As the player needs to manage every cooking step from getting the ingredients to preparing a dish, these games help them learn management skills as well.
2. Fun Game for Any Age
Perhaps everyone in this world loves food. Just like real cooking, virtual food games also fall under a genre that does not restrict any age group. Any interested user can enjoy playing the game to the fullest irrespective of their age, gender, or geography.
So, whether you love cooking or want to learn cooking skills, virtual restaurant games can be fun as well as an informative platform to start with.
3. Learn New Recipes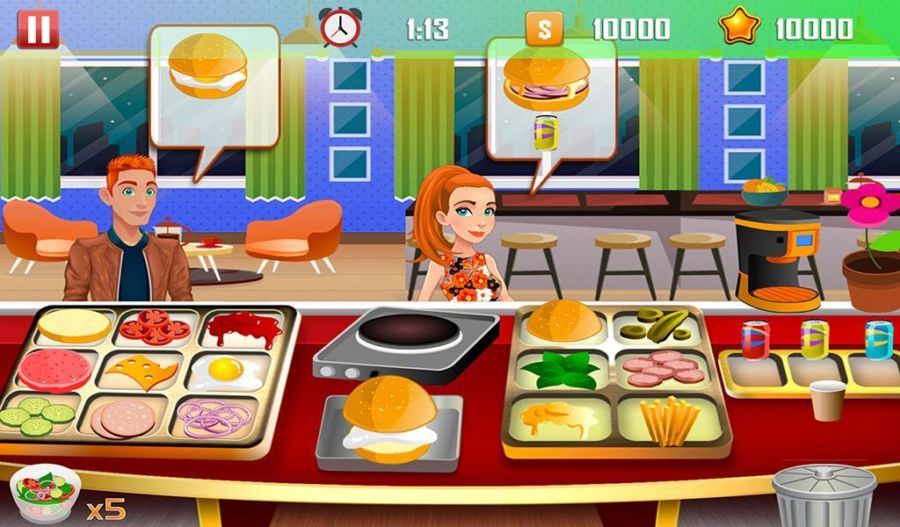 You will find several food making game apps on your Android and iOS smartphone that feature real recipes. This is because the developers try to maintain the authenticity of the game. Thus, playing these cooking games helps you to learn about new recipes from famous restaurants in New York City and other places that you can try cooking for your friends and family.
You will love playing these games if you are a real foodie whose mouth waters on the site of delicious recipes.
4. Builds Social Interaction Skills
Want to find people who share the same cooking interests just like you? Well, you will be happy to know that most online cooking games offer in-built social space in the form of groups or events. This allows the users to interact with real people, make friends, and even discuss recipes or manage an event together.
These virtual restaurant games offer a platform where different users can help each other with cooking to improve their gaming experience. Interacting in such a virtual space further helps in building social interaction skills.
5. Improves Critical Thinking Abilities
Virtual food games are an effective tool in improving the intellectual capacity and critical thinking abilities of the users. These games include several stages that are unlocked for playing in a step-by-step process. The users are responsible for receiving the kitchen tasks, keeping the kitchen clean, and managing various things in the restaurant. These tasks help the users to build self-confidence.
6. Relieves Stress
Do you love cooking but not getting time for it due to your busy schedule? Playing food-making games on your smartphone can act as therapy for you. Although cooking games cannot replicate real-world cooking, these games are a great way to bust your stress. No matter if you are new to the world of cooking or not much aware of the cooking skills, these virtual food-making games can help you learn several things about cooking.
7. Stay Occupied
Do you get frustrated when someone asks you to wait to avail of their service? Well, then you are not alone. Regardless of being a hospital, school, bus stop, airport, or any such area, it has become a trend to keep people waiting. While waiting can get pretty annoying, cooking games are a great way of staying occupied while waiting.
8. Kids Learn Reading
While playing a virtual restaurant game, the users need to read the instructions carefully to cook a savoring and tasty meal. From selecting the ingredients to following the preparation method, kids get a chance to read the entire recipe.
That's why you should always encourage your kid to read the recipes carefully, especially emphasizing the correct pronunciation of the ingredients, labels, and procedures. In addition, these online food games also emphasize the importance of nutrition by selecting healthy as well as nourishing foods and menus.
Conclusion
Hope this article has helped you to understand why virtual restaurant games have gained so much popularity in recent times. With a wide variety of bright colors, fun activities, and challenging levels, these games are really fun to play for anyone belonging to any age group.
Also read: Free Offline Games for kids & adults