Older Riders May Get Benefit From E-bikes
"As we age, our cognitive abilities decline, which can also affect what we feel about ourselves. Studies support two big ways to lighten up both: outdoor stimulation and exercise."
Should getting older imply a lack of vitality? No way! All human beings, regardless of age, should have the right to engage in physical and social activities. Riding a bike provides healthy doses of each of those brain boosters. Additionally, e-bikes may provide an even greater mental boost for those over 50 than traditional cycles.
Nowadays, there are many things elders may do to preserve their health, happiness, and quality of life; one of the finest possibilities is riding an electric bike.
Electric bikes mainly offer two things to seniors: health benefits and safety.
1. E-bikes' Overall Health Benefits
An excellent cardiovascular activity for seniors that can prevent the aging of the brain, increase nervous system agility, and enhance cardiopulmonary function is riding an electric bike. Riding is a good form of exercise for many senior people, particularly those with injured knees who can complement their regular jogging with cycling. Additionally, cycling can strengthen the immune system, which is crucial for keeping us healthy, especially after the COVID-19 epidemic.
Aside from general exercise, electric bikes engage the core muscles and develop strength. Cycling improves the function of the lower limb's bones and muscles. The more you ride without or with a half-motor, the better your core muscles will get.
2. Great Security Protection
When facing steep hills, electric bike assist bikers in moving uphill effortlessly, as the electric bicycle is equipped with a motor—the stronger the power, the more effortless going uphill, minimizing hurdles for the elderly to go uphill, assuring their safety and a wonderful riding experience.
Electric bikes are suitable for all types of terrain and weather, and they provide a better level of security and comfort. They often have fat tires and are known for their durable construction and outstanding performance. It provides a wide contact once they hit the roads, which converts to enhanced balance to ensure safety. With this feature, you may ride with greater stability and have fewer injuries.
Additionally, you have protected against the hard impact thanks to the deep tread on the tyres. In fact, when navigating over rough terrain, the big, imposing design of a fat tyre is quite useful since it increases air capacity in both wheels.
Steep downhill descents, quick acceleration across the ice, and other tricks should be doable with a fat tire bikes, and the increased grip for the deeply grooved tyres will allow you to ascend quite smoothly. Seniors with good balance and fitness might use fat tyre electric bikes; those with health issues or poor balance should look at three-wheeled fat tire electric bikes instead.
3. The Need To Get Around
"E-bikes might address many of the issues that the current senior transportation options create."
Older individuals often have very few transportation alternatives. Driving is not always the best choice, though, even for people who can drive. When a person ages and suffers vision loss or other physical limitations, driving alone may be an unpleasant and even terrifying experience. (Not to mention how bad it is for the environment when a person drives alone.) Older adults typically have three mobility alternatives in addition to driving alone: public transportation, paratransit, and ride-hailing.
4. The Shift To E-bikes For Better Health
But, what about seniors whose health issues might restrict their balance and range of motion—two crucial skills for operating a bike? Biking may really help with overall health and the symptoms of conditions like Parkinson's and Alzheimer's, according to research. E-bikes are a key component in extending these advantages because they allow older riders to ride for longer distances and more frequently.
The e-bike has the potential to empower older persons, even those with neurological impairment, to maintain an active lifestyle.
Electric Bikes Safety Tips For Seniors
Everything from speed restrictions to broad roads to light timing that prioritises car traffic actually harms elderly persons walking in their communities. What might be done, then? Here we are sharing some safety tips for elderly Ebike riders.
1. Pay Attention To Your Surrounding
Since many electric bikes include lights, they must always be turned on when riding at night or in poor light. Additionally, you must always be aware of your surroundings, particularly if there is traffic around.
2. Tell People Your Route You Have Taken
Make sure they know where you're going and when they can expect you back home if you have an emergency contact in case something happens to you while you're riding your electric bike. If you're going out after dark, it is necessary. It's best to let someone know where you'll be even while it's bright outside in case something happens to delay your return home.
3. Check E-bikes Parts Before The Journey
Ensure that every part is in good working condition and is connected properly before you get on the road. You should maintain your bike's brakes, saddle, battery, tyres, and other equipment. Ask a mechanic at a nearby bike shop for help if you're unclear how to carry out these inspections.
4. Have An Insurance Policy
E-bikes cost more than traditional bicycles because they need more sophisticated materials and technology to operate securely. Additionally, they feature lithium-ion batteries, which pose a risk if handled improperly or incur weather-related damage. Any harm brought on by such incidents will be covered by an insurance policy.
5. Have Accident Insurance
You should get accident insurance to cover your medical expenses in the event of an accident involving another vehicle or a pedestrian.
6. Bring Safety Gear
Some electric bicycles may reach speeds of up to 30-40 mph, thus when riding an e-bike, you must wear safety gear. Protective gear consists of:
7. Helmet
It is essential to always wear a helmet when riding any type of bicycle.
8. Gloves
A pair of gloves is encouraged for added protection in case you fall off your E-bike. Additionally, the gloves will assist prevent your hands from developing blisters after several hours of biking.
9. Protective Clothing
It is not advised to ride in shorts because if you fall off your E-bike, you might get road rash. The finest clothing is long pants. Wear knee and elbow protectors as well for additional protection.
Wrapping Up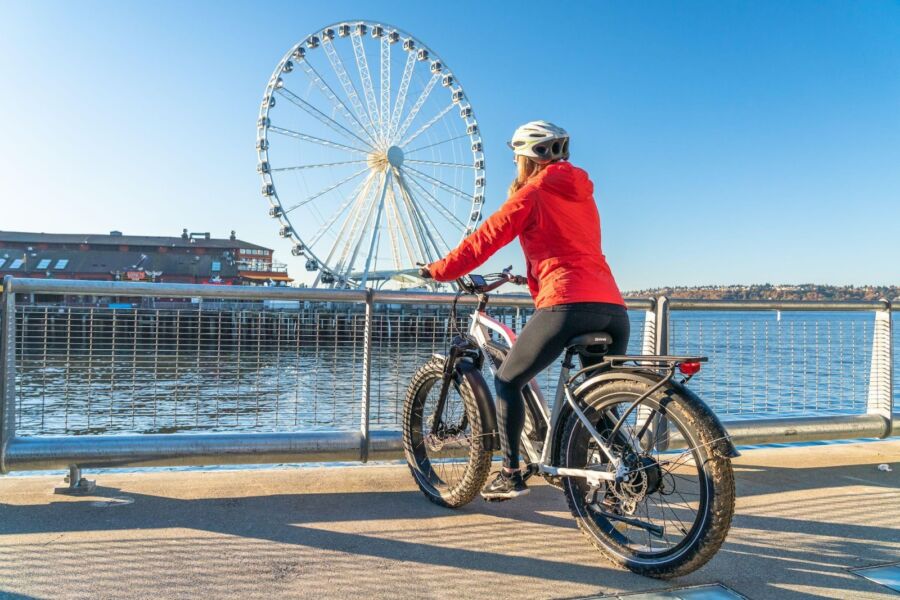 "Ebikes provide a low-impact workout that can assist you in improving your cardiovascular health, making them senior-friendly."
Electric bikes are an excellent way to keep active, exercise, and enjoy nature. Additionally, they're good for maintaining health, enhancing mobility, and having fun. If you feel an electric bike would be the best choice for you, make sure it is comfortable and ride with the proper safety protocols.
And if you're looking for the best site to purchase an Ebike for an elderly person, Himiway is that really. Himiway has received overwhelmingly positive reviews from its customers thanks to the quality of the service it provides both before and after a purchase is made. Contact us right away if you have any more questions.
Also read: 10 Things to Know Before Buying A Used EV, According to Experts