Gone are the days when interior designers and architects relied on handwork for their projects. Instead, technological advancement has offered them multiple benefits of dedicated design software. First, it helps interior designers to create and implement house design plans effectively.
Interior designers and architects bank on the design software's pre-designed templates, design tools, and other elements. Creating floor plans, interiors, and layouts becomes easy and quick for impressive visualization. Teams rely on the design software to ensure a classy look to the project with its impressive real-time features. Hence, multiple design software is available in the market.
Out of all the possible options available to interior designers and architects, Wondershare EdrawMax is an outstanding floor planning solution. Let us know more about this design software in detail. We'll cover its key features and provide a quick overview of the parent group. Starting with what it is all about.
Wondershare EdrawMax is the complete drawing solution for creating different types of diagrams, especially useful in architectural and interior design planning. It supports more than 280 file types, including project management diagrams, org charts, electrical diagrams, genograms, p&id, business process diagrams, flowcharts, etc. It has more than 1,500 built-in templates and 26,000 ready-made symbols for creating different diagrams.
Also, it is a cross-compatible platform operating on Windows, Mac, and Linux operating systems. The web-based version goes perfectly for interior designers and architects who don't want to download it on a specific system. Let us now move to some of the impressive features of Wondershare EdrawMax.
1. Floor plan
It is easy for architects or interior designers to go for the dedicated floor plan templates offered by Wondershare EdrawMax. These include home plans, office layouts, seating charts, garden designs, fire evacuation plans, wardrobe layouts, etc. It offers a flexible method for designers to maximize the floor space according to the client's requirements.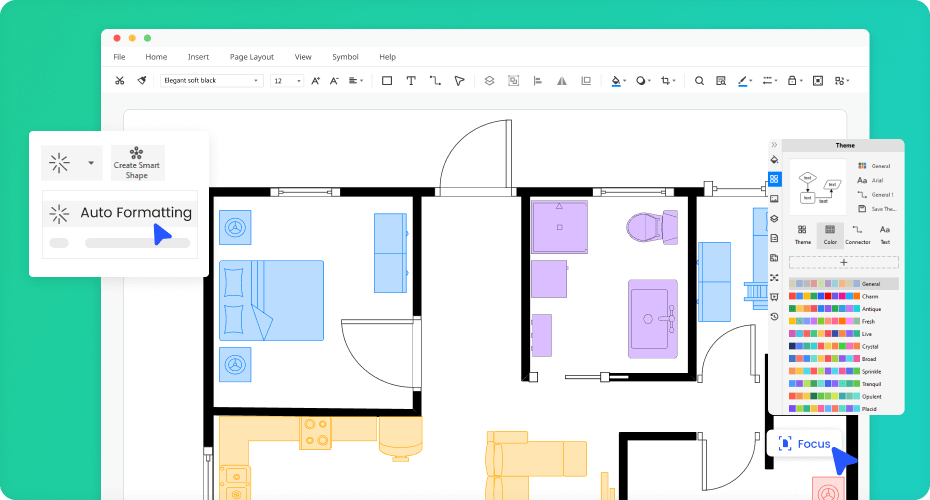 2. Visual Workflow
Interior designers and architects rely on the visual workflow of Wondershare EdrawMax for planning, visualizing, and presenting better results. The visual interface is similar to Microsoft products and comes with a dedicated interface, drag and drop feature, and professional template resources. Teams can use EdrawMax for every stage of workflow with more than 280 diagram solution types.
3. Collaboration
Interior designing and architect firms may go for quick file sharing using a shareable channel. Hence, all the different members of the team can share and collaborate on any file format to make final decisions on any project.
4. Enterprise-scale security
One of the crucial features of Wondershare EdrawMax is its security. All file transfers and information are protected with the highest levels of SSL encryption. Hence, no other entity can access the drawing data without permission. Data security and customer privacy are protected with an encrypted file option using a password.
Pricing
Wondershare EdrawMax is available in different pricing plans for individuals, teams & businesses, and the education sector. These are:
1. For Individuals
Subscription Plan for 69 USD yearly when billed semi-annually and 99 USD yearly when billed annually.
Lifetime Plan for 198 USD as a one-time payment.
Lifetime Bundle Plan for 245 USD as a one-time payment.
2. For Team & Business
Team Annual Plan for 505.75 USD yearly when billed annually for five users. This can be set for three years and 99 USD yearly; when billed annually, the number of users can be varied accordingly.
Business Plan for more than 20 users based on customized pricing.
3. For Education
2-Year Plan (EDU) with a one-time payment of 139 USD.
Annual Plan (EDU) when billed annually at 85 USD.
Semi-Annual Plan (EDU) when billed semi-annually after six months at 62 USD.
Conlusion
Interior designers or architects looking to convey the plan ideas to everyone as accurately as possible can go for a dedicated diagramming solution like Wondershare EdrawMax. It works seamlessly on Windows, macOS, Linux, etc., or can be used online. Download the Wondershare EdrawMax from the official website for free right now to visualize your ideas in drawings.
Wondershare EdrawMax comes from the family of leading tools, a global leader in software development and digital creativity. The company takes charge of offering creative solutions, PDF solutions, diagram and graphics solutions, and dedicated utilities. With more than six offices and more than 1,200 employees, Wondershare is leading the markets in delivering exciting products.
With so many software products launched in the market, it is a pioneer in software development. In addition to it, Wondershare has won the Reader's Choice Award and Best Creative Software Suite award.
Also read: 4 Common Errors in Estate Planning and How to Avoid Them