The warm weather of summer has come to an end, and in many locations, a chill can be felt in the air. Mornings appear to have just a tinge of cold that makes you doubt wearing summer clothing as the sun sets earlier and earlier each night.
As the weather begins to shift, make it a priority to make the most of everything that the autumn season has to offer. If you want to enjoy some fall outdoor activities, this is the right time.
Go through the writing below to know the best outdoor activities you may enjoy this fall.
1. Visiting Corn Maze
Outdoor enjoyment is guaranteed when you make your way through these enormous puzzles. Corn mazes are fun for people of all ages since they are so intricate. As a result, it is the ideal outdoor autumn activity for groups of people or a romantic outing with your significant other. Work together and figure out how to get out of this maze!
2. Biking 
One of the best fall activities that you can do is to return to biking, whether it is for the purpose of mountain biking or simply for exercise. Riding an electric bike can be particularly energizing in the fall and spring. You should always make sure your tires have adequate air, your brakes are working properly, and you are wearing a helmet when cycling. If you are yet to ride more than 10 miles round trip, make sure to have some food and water.
3. Going for Apple Picking
Although most of us can find apples in stores all year long, nothing beats an apple plucked from the tree around harvest time. This is the best time of year to enjoy the crisp, sour, and sweet taste of apples.
Many industrial orchards offer pick-your-own services. It's a fun activity, and it's also an excellent opportunity to teach kids about the farming process. Pick up a few extras to use in apple pie or sauce canning. Take a break and relax with a cup of mulled cider once you're done.
4. Hiking 
Waterfall paths, public parks in your area, or somewhere with the scenery – there are trails everywhere, and once the leaves begin to change, even those regular trails transform into something spectacular! Wear appropriate footwear, and be cautious of trails when it has rained. The leaves can become very slick and make paths more challenging than they appear online.
Always have water as well as a snack on hand, and inform someone where you're going on the hike—especially when you anticipate losing mobile service. Additionally, notice the trail's closing time; you wouldn't want to get trapped.
5. Renting a Cabin on Weekend
Who says that once fall arrives, you should no longer travel? Given that the rent is typically less expensive, the fall is the ideal time to organize a quick weekend escape. A rustic cottage will give you the impression that fall has arrived, whether you choose the mountains, the forests, or a lake. All you need to curl up by the fireside are a raincoat, a warm sweater, and a pair of walking shoes.
6. Going for Stargazing 
For many stargazers, fall is the best time to view the night sky. Why? since numerous unique constellations are only visible throughout this time of year! See the last of the summer stars and the first of the winter ones. The best part is that even though it gets dark sooner, it's still a pleasant nighttime temperature. Just bring a blanket and a warm sweater!
7. Pumpkin Patching
The pumpkin patch is a fun outdoor activity for anyone. Put on the hiking boots and go collect your pumpkin this year. If you choose a large enough pumpkin, you can get a wonderful all-over workout without worrying about your arms for days. 
And while you carve the pumpkins, do not forget to save the seeds; they're delicious! Also, keep in mind that the pumpkin you select isn't the same pumpkin used to prepare pumpkin puree. Smaller and sweeter, those pumpkins are known as sugar pumpkins.
8. Visiting Local National Parks or Monuments
Once classes resume, even on weekends, attendance at these landmarks drops significantly. Time to visit that national park or nearby historical site you've been eyeing all year. The best preparation is a curious mind, so do your homework and also be prepared to take in fresh information.
9. Going for Fishing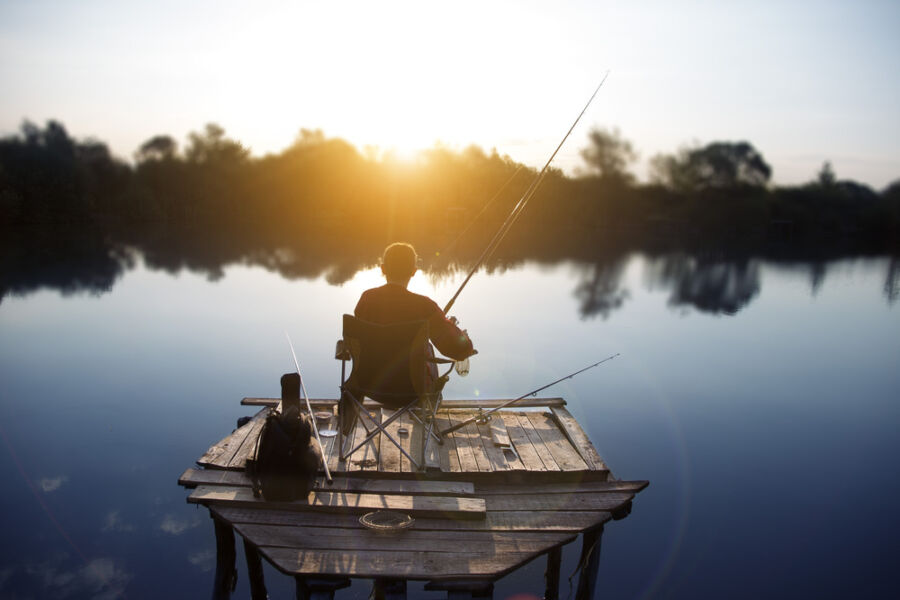 One of the nicest things to do in the fall is go fishing. Nothing beats spending a lazy afternoon on a lake or river and taking in the beautiful landscape. If you like being outside but have never gone fishing before, stop by a fishing store and ask a knowledgeable employee where you can rent gear and get tips on where to fish. Bring along some warm clothes and a pair of waterproof boots. And enjoy your time!
10. Collecting Materials for Arts & Crafts
Did you know that these raw materials may be transformed into stunning works of art? It's simple! Just collect some of the fallen pine cones and colorful leaves and place them in a bucket. Drop them off at your house and locate a free counter. Simply arrange the components in an appealing fashion, and you'll have a lovely new autumnal display for your home.
The shelf that's adjacent to your dining table could be a great destination. Every time you look up from your plates, you will be reminded of autumn's splendor. Bear in mind that it's vital to only collect leaves and pinecones off the road, as doing so from the forest itself could disrupt the sensitive ecosystem.
Final Words 
Outdoor activities in the crisp autumn air are beneficial for both your body and your mind. Getting some fresh air and sunshine is a great way to get in shape before the holiday parties and indulgences. So, enjoy this fall like you never did with the different above-mentioned outdoor activities. Get the most out of this season to have a great memory to carry throughout the upcoming season.
Best of luck!
Also read: 8 Essential Tools for Your Next Outdoor Adventure