A gift (care package) goes a long way towards making a statement. It communicates love, care, affection, appreciation, or any kind of emotion. You don't need to break the bank to give an appealing gift. All you require is your level of thoughtfulness and creativity.
Are you thinking of the right kind of gift to suit that event or personality? Here's a special list we have made just for you.
1. Maison 21G
A nice luxury perfume brand of Parisian origin, Maison 21G, is here in Singapore. It's a perfect gift item for both romantic and casual relationships. They have a wide range of fragrances. Maison 21G is an amazing house perfume for every household.
What more? You can request a customized fragrance by taking a priority test on their website.
2. The Hamper Story
The Hamper Story is a special kind of creativity that communicates value and attention. Gifts are not just thrown into the basket at random. They are properly thought of and assembled in proper perspective.
This Singaporean company has been of immense value for years. They have taken things to another level. Their range of hampers is made to fit the desires of recipients, such as:
The Desktop Desire
A care package that comes in a designer's leatherette tray set, and contains a strict collection of tools for a working individual. It comes with a huge photo frame, a ceramic mug, Samsung Power Bank (1000mAh), Von Braun Notebook, and fairy lights together with Ferrero Rother chocolate.
Fifty Shades of Pink
A special feminine collection that comes in an encased multipurpose basket. A mix of bath bombs, manicure set, face mask, bath towels, body lotion, shower gels made by Bath and Body works, and fragrant wax diffuser are the contents of this amazing care package.
Mamma Bella
A special care package for mommies, encased in a wooden container that is of use in storing baby items. This amazing package consists of Protein Bakeshop Truffles, shower cream, organic milk tea,     shower butter, bath duckies, a swaddle, and a romper.
3. Noel Gifts
Do you want to take things further, with a special touch? A leading Singaporean company specializing in packaging gifts with a fantastic flowery touch will help you achieve it. Noel Gifts is an expert in the flower and gift industry in Singapore. As a leading brand for more than 40 years of existence, they have helped mend relationships and establish friendships. The care packages they offer are top-notch; they include:
Anti-oxidant Booster:
Revitalize Wellness Hamper
Organic Harvest Hamper
Organic Breakfast
4. Sweet Surprises
They specialize in packaging a collection of all things sweet. Cakes, chocolates, candies, and many more are their favorite kinds of items.
They offer:
Smash Boxes
Sweet Boxes: There are various kinds of Sweet Boxes; Netflix Night Box, Chocolate Bouquet Box, O.M.G Box, Tea Lover Box.
5. Lush
Lush is a bath product maker of numerous varieties. Its products are perfect gift items that can leave a recipient with a long-lasting impression. Be it a bath bomb, splash gift set, or Dirty Gift Set, your recipient will enjoy every moment in the shower.
6. Hush Candles
Hush is a Singapore boutique home fragrance studio. They specialize in all-natural, essential oil-based candles, home fragrances, and other lifestyle products.
At a pocket-friendly price, you can get the perfect gift for a candle lover. The candles are created entirely naturally using therapeutic-grade essential oils, quality biodegradable soy wax, and cotton core wicks.
7. Fusspot and Foodie
It's a kid-focused Singapore brand that is out to provide nourishing, healthy meals. They have a variety of products, such as:
Spinach pesto mini pizzas
Baked chicken tenders
Chicken meatballs
Almond chia cookie dough
Also read: What Do I Want For My Birthday? Gift Ideas for Birthday Wish List
8. Happy Bunch
If your recipient is a flower lover, Happy Bunch is your go-to brand. They aren't just good at what they do, but they add passion to it. The brand is willing to train you to do it for yourself. Make an order of your choice and have it served at your time.
9. Gudsht
A leading brand in the food and beverage industry with exceptional products. If you are looking for a nice cocktail as a gift, your search should end at Gudsht. When it comes to packaging them for a special gift, you can never go wrong. You can select from the following options:
Unicorn Barf
Mao Cha
Mao Cha Nude
Sangrila Utama Red and White
10. Bubble Tea Care Package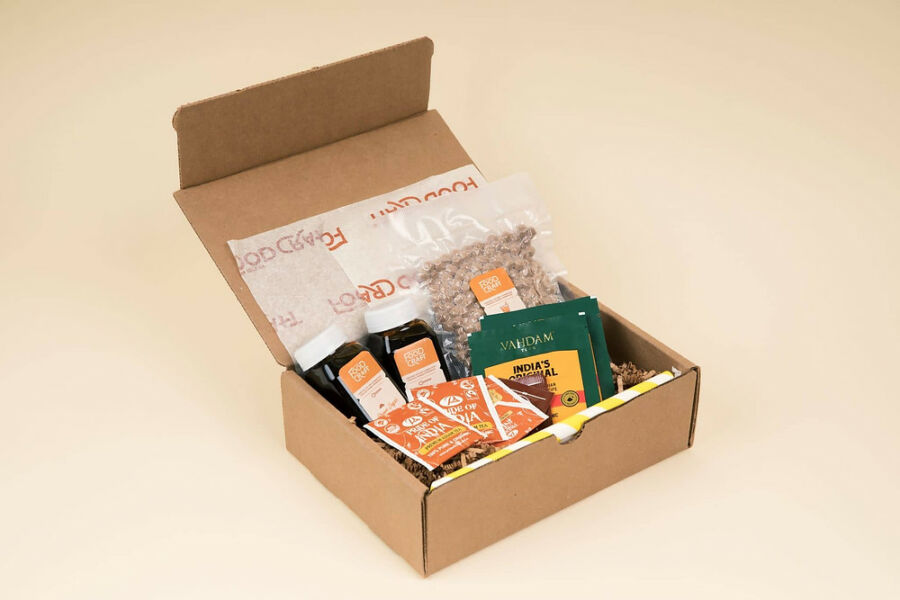 FrothTea Singapore Bubble Tea is a pioneer in the bubble tea catering industry in Singapore. With so much experience, they have developed the skills over time to serve delicious tea. They have a wide range of products that can make it into your gift package. You can choose from a variety of flavors, including Classic Milk Tea, Green Milk Tea, Oolong Milk Tea, Passionfruit Tea, Brown Sugar Milk Tea, and Brown Sugar Fresh Milk.
11. Ollie
If you need essential oils or wellness products as gift items, Ollie is the right brand. Their products are made from natural sources. Based on their customers' reviews, their hand sanitizers, mosquito repellents, and yoga mat sanitizers are very nice.
12. Botana & Tea
You can choose from a list of their products to make a perfect gift package here:
Free Saffron Herbal Tea
Organic Greek Mountain Tea
Organic Greek Lavender Tea
13. Adriatic Pantry Care Package
Natural products from the Adriatic Coast are special gift items. Pick a comprehensive package that contains:
Tartufata Gourmet Truffle Spread
Sea Salt with Dalmatian Spices
Pag Sheep Cheese
Dark Chocolate with fleur de del
Chiavalon Organic EVOO
14. WeCare Pack
As a token of appreciation, the WeCare Pack is a special care package to show respect to those who fought the COVID-19 pandemic to save Singapore. We are not unaware that you gave your lives away for some of us to stay alive. Some essential workers died in their lines of duty. Some left their loving families behind to battle the monstrous virus for days. All we can say is thank you with a special package dedicated to you and your family.
Final Thoughts
To give is to live! A gift makes the world go round. A nice care package speaks so much about where you place a recipient. If you need professional advice, never hesitate to get in touch with the right contacts. Make your gift as classy as your intentions.
Also read: 8 Personalized Gifts for Your Partner