Who doesn't enjoy watching enthralling and thrilling shark movies? That prompted us to gather various choices for our shark-obsessed audience to binge on. Find the finest shark movies on Netflix right here! Looking for new shows or movies on Netflix, or want to catch up on some old favorites? Perhaps the Netflix shark movie category includes several recent blockbusters and oldies like Jaws. They should still appear in the top searches.
We have assembled everything in this article, whether you prefer new shark movies or want to spend time viewing vintage shark movies on Netflix.
1. Jaws (1975)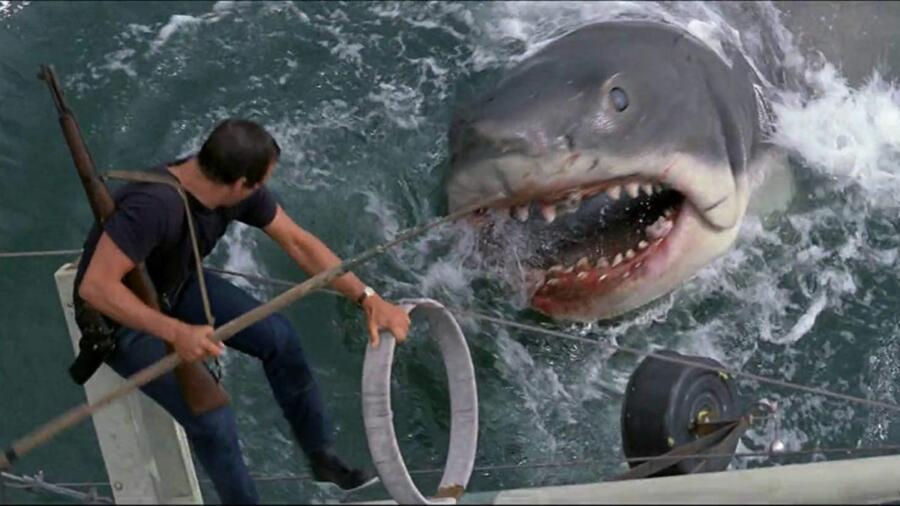 IMDB Rating: 8.1
Rotten Tomatoes Score: 98%
Genre: Thriller and Adventure
Director: Steven Spielberg
Actors: Roy Scheider, Robert Shaw, Richard Dreyfuss
Jaws, the famous shark film, revolves around Peter Benchley's 1974 novel of the same name. In this horror film, a great white shark terrorizes beachgoers in the New England beach village of Amity Island. It is up to the responsible local sheriff, a marine biologist, and a skilled shark hunter to keep the shark at bay and the humans safe.
The narrative of the film is similar to that of the novel. However, it introduces several new aspects, such as police chief Martin Brody's wife and children being threatened by the shark, which does not appear in Benchley's novel. Not only are the film's frightening tale and excellent performances noteworthy, but so are its remarkable effects. We now take special effects for granted since we see them in almost every movie. However, they were still relatively fresh and intriguing to viewers.
2. Jaws 2
IMDB Rating: 5.8
Rotten Tomatoes Score: 61%
Director: Jeanot Szwarc
Genre: Horror, Thriller, and Adventure
Actors: Roy Scheider, Lorraine Gary, Murray Hamilton
Roy Scheider reprises his role as Police Chief Martin Brody in this sequel to Jaws. A new hotel attracts more visitors to Amity Waters. Another great white shark terrorizes the seas by preying on scuba divers. Chief Brody's concern was verified by a string of disappearances, as he now faces another deadly creature at sea.
When Jaws 2 was released in theaters in June 1978, it soon became one of the most successful blockbusters. Despite its film office success and critical acclaim, many fans believe it is inferior to its predecessor. It is one of the greatest shark movies on Netflix.
3. Sharknado
IMDB Rating: NA
Rotten Tomatoes Score: 74%
Director: Anthony C. Ferrante
Genre: Action, Mystery & thriller, Sci-fi, Adventure, Comedy, Horror
Actors: Ian Ziering, Tara Reid, John Heard, Cassandra Scerbo, Jaason Simmons
Sharknado is a 2013 film that combines horror, science fiction, and humor. The plot revolves around a hurricane that floods Los Angeles and brings hundreds of sharks. All of the people are fighting for their lives. Fin, a local surfer, attempts to save his adolescent daughter and estranged wife.
4. The Meg
IMDB Rating: 5.6
Rotten Tomatoes Score: 45%
Director: John Turteltaub
Genre: Action, Horror, and Science Fiction
Actors: Jason Statham, Li Bingbing, Rainn Wilson
In this loosely adapted version of Steve Alten's 1997 novel Meg: A Novel of Deep Terror, fancy the attractive British actor Jason Statham exercising his muscles while confronting a megalodon shark? He was despatched to the depths of the Pacific Ocean to rescue several researchers in this iconic shark film. They must work together with the marine experts to outsmart the gigantic beast.
Warner Bros. Pictures released the Meg in the United States on August 10, 2018. It earned mixed reviews from reviewers and made $373 million worldwide against a production budget of $150 million. Not as popular as most of the other top-billed shark movies on Netflix, but still a good show.
5. Ice Sharks
IMDB Rating: 3.0
Rotten Tomatoes Score: 24%
Director: John Turteltaub
Genre: Sci-fi, Horror, Action
Actors: Edward DeRuiter, Jenna Parker, Kaiwi Lyman, Clarissa
Ice Sharks, a 2016 film, may be an excellent fit for genre fans, yet, it's strange from start to finish. The film's narrative centers around hungry sharks are attacking an Arctic research facility. The captive individuals had no choice but to battle the evil beast.
6. The Shallows
IMDB Rating: 6.3
Rotten Tomatoes Score: 78%
Director: Anthony Jawinski
Genre: Action, Drama, and Horror
Actors: Blake Lively
Nancy Adams, a medical student, reflects on her mother, who died on a remote beach in Mexico. As she surfs back to the beach, a great white shark bites her leg and knocks her off her board. Nancy battles the waves to reach the shore, her largest challenge being the shark, which prevents her from reaching safety.
When the continuous pursuit of the great white shark pushes Nancy beyond her limitations, the film is at its most powerful. She must figure out how to ride the waves and avoid the shark.
7. 47 Meters Down
IMDB Rating: 5.6
Rotten Tomatoes Score: 53%
Director: Johannes Roberts
Genre: Adventure, Drama, and Horror
Actors: Mandy Moore, Claire Holt
Two sisters on vacation in Mexico decided to go into the sea to see sharks from a diving cage. Accidents occur. When their cable snaps, the sisters are stranded at the bottom of the ocean, surrounded by voracious sharks.
Labeling 47 Meters Down a shark film is like calling Jaws an ocean film. The shark plays a role in the plot, although it is not the primary emphasis of the picture. There are just two moments with the namesake marine predator, and even those are more of an afterthought. 47 Meters Down debuted on June 28, 2017, at Regal South Beach Stadium 18 in Miami and was released theatrically on July 6, 2017.
8. Open Water 3: Cage Dive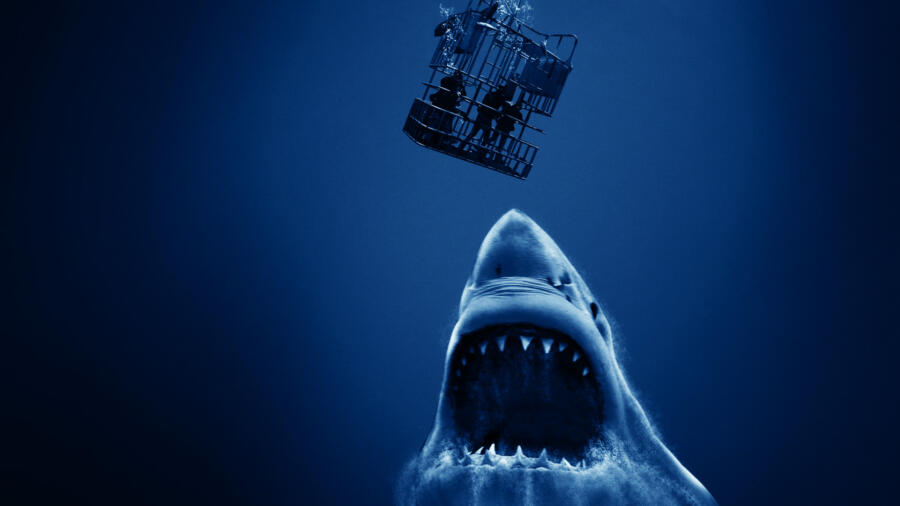 IMDB Rating: 54.2
Rotten Tomatoes Score: 25%
Director: Gerald Rascionato
Genre: Mystery & thriller, Horror
Actors: Joel Hogan, Josh Potthoff, Megan Peta Hill, Pete Valley
Open Water 3: Cage Dive is a 2017 film about three friends who participate in a reality TV show and wind up in a shark cage. However, things did not go as planned, and you will have to wait and see how things turn out.
9. Open Water
IMDB Rating: 5.8
Rotten Tomatoes Score: 71%
Director: Chris Kentis
Genre: Adventure, Drama, and Horror
Actors: Blanchard Ryan, Daniel Travis, Saul Stein
Based on an accurate tale, Daniel Kintner and Susan Watkins resolved to save their marriage by scuba diving. Due to an error in counting, the tour boat departed, assuming everyone had returned and was on board.
Soon after, Daniel and Susan found themselves trapped miles from shore in shark-infested waters, precipitating a dramatic change in their lives. They must find out how to live on the open ocean for many days before being rescued. Open Water is a low-budget film with a production budget of 150,000 dollars. It was shot in Belize, Central America.
10. Deep Blue Sea
IMDB Rating: 5.9
Rotten Tomatoes Score: 59%
Director: Renny Harlin
Genre: Action, Adventure, and Science Fiction
Actors: Thomas Jane, Samuel L. Jackson, Saffron Burrows
Are you ready for some high-octane action with one of the most exciting shark movies on Netflix? Deep Blue Sea is about a group of experts who come together to do research in the hopes of discovering a cure for Alzheimer's disease. They require the brain tissue of a shark with changed DNA. Unfortunately, they had no idea that they had become prey for the genetically enhanced shark with exceptional intelligence. The squad must now survive this massive beast.
11. Seal Team
IMDB Rating: 5.5
Rotten Tomatoes Score: NA
Director: Greig Cameron, Kane Croudace
Genre: Animation and Comedy
Actors: JK Simmons, Dolph Lundgren, Sharlto Copley
Seal Team, a South African animated action-comedy film, is a fantastic family movie to watch with children. Quinn, the courageous seal, gathers a motley crew of misfit recruits to battle against a swarm of relentless sharks to restore their independence in the broad sea. It is also beneficial for laughs!
12. Sharkdog
IMDB Rating: 6.3
Rotten Tomatoes Score: 100%
Creator: Jacinth Tan
Genre: Animation and Comedy
Actors: Liam Mitchell, Dee Bradley Baker, Kari Wahlgren
Sharkdog is an outlier on this list of the finest shark movies on Netflix. It's a cartoon (your kids will enjoy it! ) and a series. Watch as Sharkdog and his tiny buddy Max get into all kinds of mischief on their escapades. Is that a shark or a dog? You may make your own decision after viewing this series.
13. 47 Meters Down: Uncaged
IMDB Rating: 5.6
Rotten Tomatoes Score: 53%
Director: Johannes Roberts
Genre: Adventure, Drama, and Horror
Actors: Mandy Moore, Claire Holt
This standalone sequel to 47 Meters Down follows Mia and her stepsister Sasha as they relocate to a new location. Feeling out of place, they did the unthinkable: they explored an underwater Mayan city, only to cross up with a swarm of ravenous and deadly sharks in the cramped submerged caves.
14. Shark Tale
IMDB Rating: 6.0
Rotten Tomatoes Score: 35%
Director: Bibo Bergeron, Vicky Jenson, Rob Letterman
Genre: Animation, Comedy, and Adventure
Actors: Will Smith, Robert DeNiro, Angelina Jolie, Renée Zellweger, Jack Black,
If you're bored of being stalked and fighting off a great white, check out this critically praised comedy. This animated film was nominated for an Academy Award and included a star-studded ensemble. Oscar, a mediocre little fish, is the focus of the humor.
A shark crime leader's son, Frankie, is killed by him, throwing his life into turmoil. All in the name of grandeur, Oscar's deception sadly led him to even deeper waters while attempting to maintain the illusion.
15. Great White
IMDB Rating: 4.2
Rotten Tomatoes Score: 43%
Director: Martin Wilson
Genre: Horror and Thriller
Actors: Katrina Bowden, Aaron Jakubenko, Kimie Tsukakoshi
Five individuals boarded an exciting trip to the magnificent Hell's Reef. They stumble and uncover a probable shark attack body after landing. They realized there might be another survivor somewhere out there. They ultimately took off in pursuit of the survivor, who was said to be on a missing boat.
They discovered the submerged wreck as well as a partly devoured corpse. In the wake of a great white shark sinking their aircraft, they were left on a life raft with no idea what lay ahead.
Conclusion
So, here's a list of shark movies on Netflix that will undoubtedly cause episodes of screaming and suspense, at least in most of them. As you binge on shark movies on Netflix this weekend, prepare your sofa, put on your comfortable jammies, and embrace your fuzzy cushion while delving into a bowl of chips.
Also read: Rosie The Shark: Unfortunate Story of The Great Creature Turns into A Happy End