AJ Andrews, a Major League Baseball superstar and the proud holder of the first-ever Rawlings Gold Glove Award that went to a female individual, has become the official BetMGM ambassador. In the forthcoming baseball season, she is scheduled to make multiple appearances promoting the brand at various events and in several different publications, broadcasts, and social media channels.
Andrews is grateful for the opportunity
AJ Andrews expressed her appreciation for the opportunity presented to her in an official statement and is honored to become BetMGM's official ambassador. Her goal is to advocate for women in sports, so they receive more opportunities to shine. She is convinced that the new platform she has joined forces with will serve as a springboard for creative sharing and being an inspiration to others.
Her early beginnings in sports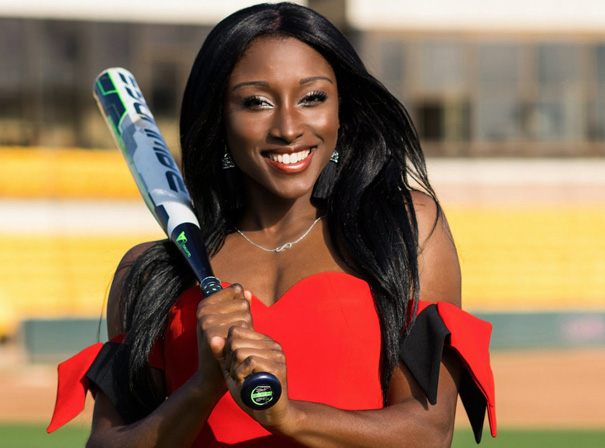 One of Andrews' early accomplishments in sports is leading the Lady Tigers as they made two appearances at the Women's College World Series. Her career in professional sports began in 2015 as she joined the Chicago Bandits. The year that came after, this is when she truly carved her name in history as the very first female to have ever received a Rawlings Gold Glove Award (she was with Akron Racers at the time). As time went on, her success continued, and her outstanding performance earned her other prestigious industry awards, such as the Rally Spike Award.
On the path of empowering women
Andrews' primary vision and goal are to empower young women worldwide so they can develop the confidence to succeed in life. To that end, she works with community non-profit organizations and offers mentorship to them. She is also the creative force behind the empowHer discussions and the host of Unapologetic: The Black Female Athlete, an ESPN special. Matt Prevost, CRO at BetMGM, described her as an all-around powerhouse who is also a trailblazer in sports. BetMGM is proud to have her on board without a shred of doubt!
BetMGM is the leading brand in the sports betting industry
Currently having a presence in 22 markets in the global sphere, BetMGM is the leading brand in the sports betting industry. The operator offers a unique sign-up bonus to get new customers through the door. Those new to the platform can take advantage of the BetMGM sportsbook promo code as they sign up for a new account, and upon entering it, the bonus will be credited to them. Since an official app is available for both iOS and Android devices, there are virtually no barriers to entry.
Responsible gambling remains the key focus
To protect their customers, BetMGM always promotes the importance of responsible gambling. To that effect, you can find numerous responsible gambling education resources on BetMGM's official website. By their definition, the concept of responsible gambling involves gambling for entertainment purposes only (as opposed to relying on it as a source of income). Another critical element of it is sticking to a pre-determined budget no matter the outcome and taking regular breaks as you play. Last but not least, bear in mind that a responsible gambler only gambles with the money they can afford to lose.
A company that values its workers
Those who work at BetMGM enjoy a professional company culture that involves treating each and every employee as a respectable member of the team. Like intricate parts of a machine, the company was built on unique contributions from every single one of its team members. At the same time, the company also fosters a culture of empathy where everyone's needs are respected, tended to, and heard. At BetMGM, everyone is encouraged to present their authentic side and operate in accordance with their values.
BetMGM's recent business ventures
The year 2018 marked the abolishment of the PASPA sports betting ban. Later that year, a 50-50 joint venture between MGM and GVC Holdings was announced, a U.K. gambling operator that later changed its name to Entain. Together, they started working on creating a platform that would target the parts of the US market where gambling is considered legal. The platform offers a combination of casino and sports betting products. In 2019, it became known under a single name of Roar Digital.
A slew of new partnerships emerge
BetMGM's focus on sports betting brought about several emerging partnerships with key industry sports leagues, including Major League Baseball, the National Basketball Association, and the National Hockey League. Outside of sports, the company later announced a partnership with Buffalo Wild Wings, a sports bar chain with multiple units across the country. As part of their offerings, the customers can enjoy custom sportsbook content broadcast on TVs inside their bars (examples include live odds streams).
BetMGM becomes a proud holder of a sports betting license
Fast forward to 2021, 8 sports betting operators in the US received their sports betting licenses from the New York State Gaming Commission, and BetMGM was among them. New York is anticipated to solidify its place as one of the strongest gaming markets in the entire country. Based on this, BetMGM is in a strong place to continue its mission as we move forward, and the multi-year partnership established between the company and Madison Square Garden Sports lays a solid foundation for what's still to come.
Also read: What to Watch in The U.S. Sports Betting and iGaming Industry in 2022