The United States of America has many records about the tales of several crimes and criminals. However, Albert Fish's story is entirely different from others. Albert owns the distinction of killing several people cruelly and unbelievably. In Albert Fish's Letter he described the murders he had done.
The main fact is that the man killed his victims and ate children. This makes you feel scared and unimaginative about this serial killer, Albert Fish.
Who was Albert Fish?
Albert Fish was born on May 19, 1870, as Hamilton Howard Fish. At his time of birth, his father was 75 years old. His mother was 43 years old and much younger than her husband.
Albert had three siblings, and he was the youngest of all. During his childhood days, other children called him 'Ham and Eggs.' After the death of one of his siblings, he took his name, Albert.
When he was 5 years old, Albert's father passed away. This eventually led to poverty in his family. Without any other way, Albert's mother had to leave her children in an orphanage. She planned to leave there until she could get a job to run her family.
So, Albert and his siblings spent their childhood days in Saint John's Orphanage. It was during such a time that made Albert changed into a monster. The main reason for committing serious crimes in the future was his time in an orphanage.
Albert Fish was popular by various other names, such as
The Gray Man
The Werewolf of Wysteria
The Brooklyn Vampire
The Boogey Man
The Moon Maniac
Childhood Days Of Albert Fish:
While in the orphanage, Albert suffered from many problems and physical abuse. Instead of suffering from such pain, he started to enjoy the pain. At age 10, his mother finally got a Government job and took back her children from an orphanage. But Albert could not get back to leading a normal family life. The abuse that he went through in the orphanage left a black mark on his life.
At 12, Fish started a consensual relationship with a boy. This boy made him learn several sexual abuse practices. He even made Albert drink urine and eat feces. Fish then began to spend most of his time in public baths. To watch the young boys naked, he purposefully went to public baths. During such a time, he was running his teenage life.
Albert Fish – Sexual Perversions:
In 1890, Albert moved to New York City and became a prostitute. He joined this job to satisfy his sexual feelings. However, this job didn't satisfy him, and thus he began raping small boys. He continued this same thing even after his mother arranged his marriage. Albert married a woman who was six years younger than him. With her, he had six children.
Then, he was in jail for a few years after he was involved in embezzlement. During his time in jail, he was involved in sexual relations with many men. After his release, Fish had an affair with a man even though he was already married. One day, Fish and his lover visited the waxworks museum, where the pair witnessed the penis bisection. As a result, Fish got an interest with castration.
Albert Fish's Letter And Victims:
Albert sexually abused Francis McDonnell in 1924. As a result, Albert hanged Francis from a tree and killed him. Since Fish wanted to enjoy with Francis sexually, but it didn't happen.
So, he killed Francis in the unsecured area. In 1927, Albert kidnapped and tortured a 4-year-old boy, Billy Gaffney. He took this child from the apartment hallway in Brooklyn and killed him. Fish described what happened to the small child in a letter.
In 1928, Albert Fish saw a classified ad in a newspaper by Grace Budd's brother, Edward Budd. In such a classified ad, it was all about seeking employment. But Albert acted like a farmer looking for farmland to work at them. Once he met Grace Budd, he changed his plan and took her. He convinced her parents to take her to a party, but the little child didn't return home.
Albert Fish's Letter With Chilling Details:
After six years of Grace Budd went on missing, Fish sent a letter to them. In Albert Fish's letter, he mentioned that he killed Grace Budd and cut her body into pieces. Also, he cooked her meat and took 9 days to eat the entire body of Grace. Albert didn't rape her before her death, and she died as a virgin. 
How Did Albert Fish's Letter Help Police To Caught Him?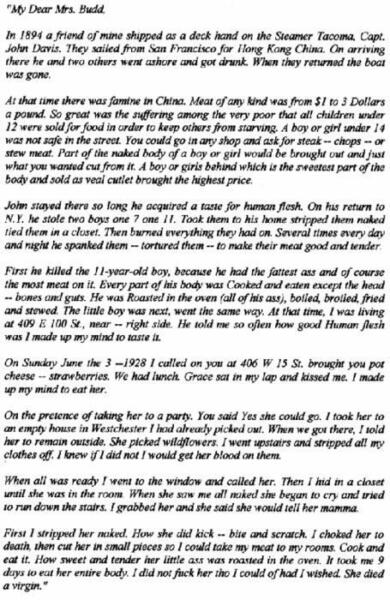 After receiving Albert Fish's letter, the Budd family took the letter to the police station. The investigators got the old address of Fish which is on 52nd street. Then, investigators noted a small hexagonal emblem in the Fish letter. Such a symbol represents an association with private chauffeurs. 
After enquiring about the landlady, they got the name Albert, but he checked out of the house. They made the landlady call Albert and pretend to be claiming a check for him. Soon after he heard this, he visited the place. But surprisingly, the investigators arrested him on December 13, 1934.
The main reason for his arrest was Budd's murder. Based on the inquiry, Fish was suspected of killing nine and more people. But there is no proof for such crimes, but he admitted Budd's murder.
On January 16, 1936, Fish died via electrocution at Sing Sing Prison. It was completely a planned execution. Though he was no more, the families of his victims continue to suffer even now.
Conclusion:
This article is about the brutal murderer, Albert Fish, and his sexual perversions. His letter to Budd's family became the clue for investigators to arrest him.
Also read: Horrific Story of a Serial Killer, Rapist and the Cannibalistic Joe Metheny